Are Men More Prone to be Sexually Deviant than Women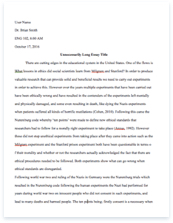 The whole doc is available only for registered users
A limited time offer! Get a custom sample essay written according to your requirements urgent 3h delivery guaranteed
Order Now
Every time sexual offenders or sexual deviance is mentioned, the society normally brings to mind the male gender. For what reason, it is not precisely recognized why the society eliminates the female gender. Yet in reality, there are female sexual offenders as well. In reality, it is only the society's long-established perspective of men's supremacy and strength over the women that make them surpass the latter in the area of sexual deviance.
Seeing that women are relatively viewed and conditioned to be more emotionally, physically and socially fragile than men, they can not exactly carry out sexual deviance as effortlessly as a man does. Nevertheless, the fact remains that both men and women with indistinct sexual mentality, similarly and continuously perpetrates sexual deviance.
Men vs. Women
Sexual deviance consists of a variety of irregular sexual expression from rape, masturbation, incest, pedophilia to sexual sadomasochism, prostitution, homosexuality, cross dressing and fetishism, etc. at the farthest end of the scale (Medindia.com, 2009). It refers to unusual sexual behaviors normally characterized in medical, legal or moral terms.
However, depending on the culture, the prevalence of sexual deviance differs in countries because culturally, the stigma or condemnation is dependent on the person who is doing an act of deviance. Moreover, sexual deviance is an idea regarding which most persons embrace very strong perspectives, and reacts in ostracizing and stigmatizing ways (Tewksbury, n.d.). A survey conducted out by Philip Elmer-Dewitt entitled "Now for the Truth About Americans and Sex," accounted the following conclusions:
1. The most pleasurable form of sexual practice was the conventional penile-vaginal sex and was generally pleasing, according to 78 percent of women and 83 percent of men of the sample respondents (Medindia.com, 2009).
2. A third of the women and a half of the men of the sample surveyed alleged that observing their partner remove their clothes was very pleasing (Medindia.com, 2009).
3. Oral sex was normally performed by 19 percent women and 37 percent men (Medindia.com, 2009).
4. Lesbianism was experienced by 4 percent of the women and homosexuality by 9 percent of the men (Medindia.com, 2009).
5. Roughly 85 percent of the women and 75 percent of the men alleged that they had been sexually faithful to their partner throughout their marriage (Medindia.com, 2009).
In addition, interesting results have been generated by researchers who conducted a study on sexual deviancy among men and women. Women normally perpetrate sex related misdemeanor either on men who are younger to them or on the members of the same sex (Article Base, 2008). They further concluded that those sexually deviant women are very much vulnerable to acquire mental disorders in the long run (Article Base, 2008). On the contrary, men were not as much vulnerable to mental disorders subsequent to their perpetration of sexual misdemeanors.
Conclusion
After a while, the term sexual deviance has changed, in view of the fact that in the last 20 to 30 years there has been a shift in society's point of view towards acknowledging a number of these behaviors as acceptable and normal. All the same, sexual deviance is considered as a manifestation and expression of the roles of men and women. Because of gender inequality in sexual deviance, male sexual behavior is not as much of a question to social restrictions as female sexual behavior. As such, women in general are not demonstrating as much sexual deviance as men do, and as compared to men, the rate of sex related deviance among the women is undeniably lower than men.
Related Topics