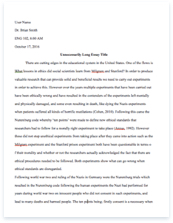 The whole doc is available only for registered users
A limited time offer! Get a custom sample essay written according to your requirements urgent 3h delivery guaranteed
Order Now
In Letter of Rejection Samuel Johnson is asked by a women to acquire the archbishop so that her son can go to the university. Johnson later replies with many different factors on why he cannot grant her request. He successfully shows his reluctance to complete the lady's request by utilizing definition appeal to logos and subtle tone shifts to gracefully deny her request and remain cordial. In the beginning of the letter, Johnson uses the word madam when talking about the woman, because of this use of formal addressing, Johnson reflects a very respectful and formal tone.
In the first sentence of the letter Johnson states " I hope you will believe that my delay in answering your letter could proceed only from my unwillingness to destroy any hope that you had formed. " through Johnson's tone and use of certain words he shows eloquence. Johnson remains polite so there is no confute back to him because of the rejection of the woman's request. In this letter Johnson shows he cares by using Euphemisms and letting her down easy instead of harsh and blunt. He does this because he understands she is only asking for a favor so he doesn't want to sound impolite.
Through the use of his euphemisms and light heartedness he shows the softer side of the situation and gives a sense of hope and the feelings it brings with it. Johnson proceeds with a statement that informs the lady of her mistake of requesting such a thing from him. Johnson says "the excess of hope must be expiated by pain; and expectations improperly indulged, must end in disappointment. " Johnson uses his tone shift of lightheartedness and upbeat to subtle shame through the acknowledgement of pain and disappointment.
Johnson states that the woman should have considered his point of view before requesting the favor of contacting the archbishop when he states " a great man, to whom I never spoke" he continues, "for a young person whom I have never seen, upon a supposition in which I had no means of knowing to be true. " Johnson also states "Madam, you must allow, that there is no reason why that should be done by me, which every other man may do with equal reason, and which, indeed, no man can do properly, without some very particular relation to the Archbishop and to you.
Which shows that he is shaming the woman in a nice way about how he cannot do her this favor and that she really shouldn't have asked him for this favor. This is also communicating that he is in no position to attain her request no matter if he wanted to or not. In Johnson's last paragraph he once again shifts his tone from a eloquent shamefulness of the woman to a, once again, lighthearted tone that he previously used in the beginning of his rejection letter.
Johnson conveys this tone change when he says, "I have seen your son this morning; he seems a pretty youth, and will, perhaps find some better friend than I can procure him; but though he should at last miss the University, he may still be wise, useful and happy. " In this Johnson reinforcing his rejection of the womans request for the student but doing it in a way where he is wishing the best and giving a sense of hope.
He gives the sense of hope when he says "he seems a pretty youth.. " which is Johnson using his diction and punctuation as a form of finality if his rejection of the woman's request. Samuel Johnson very eloquently denies a woman's request for Johnson to contact the Archbishop for her so her son may attend the university. Johnson remains formal and shows cordiality throughout his letter of rejection through utilizing definition appeal to logos and subtle tone.
Related Topics