Position Paper on Psychology and Christianity Integration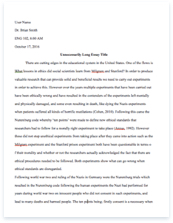 The whole doc is available only for registered users
A limited time offer! Get a custom sample essay written according to your requirements urgent 3h delivery guaranteed
Order Now
First of all to make counseling truly Christian we must bring our faith and our counseling together in our mind. We do this by recognizing Christ as the only wonderful Counselor and he becomes our model. Most importantly we not only make Him Lord over our lives, but also over our clinical education and practice. We look to Him as our clinical supervisor who oversees all we hear and say in the counseling office. Regardless of the theoretical orientation of our training (dynamic, cognitive, behavioral, object relations, eclectic, etc.) we need to place all we have learned about counseling from our education, training, and experience into the hands of Christ. Then, we can trust Him to help us apply our skills as we believe he wants us to in ministering to those who seek our help. In this report I will show how it relates to psychology and discus the perspective of integrating it into Christianity. Psychological Perspective
Psychology is both an applied and academic field that studies the human mind and behavior. Research in psychology seeks to understand and explain how we think, act and feel. As most people already realize, a large part of psychology is devoted to the diagnosis and treatment of mental health issues. Psychology evolved out of both philosophy and biology. Discussions of these two subjects date as far back as the early Greek thinkers including Aristotle and Socrates. The word psychology is derived from the Greek word psyche, literally meaning 'life' or 'breath.' Derived meanings of the word include 'soul' or 'self.' I view psychology and theology/Christianity as fields that have common concerns, and elements of focus. I believe the purpose is to provide sound, biblical counseling that deals with complexities and pain found in a fallen world and in the human heart. We are dedicated to providing competent, compassionate care that leads clients to respond to life's problems in good and healthy ways while resolving the issues that brought them into counseling. Biblical or Christian Perspective
Biblical Counseling involves ministering to men and women who suffer from the pains and miseries that stem from personal sins. Biblical Counseling helps to change people's thinking (and thus their behavior) in a way that touches to the depths of their inwardness. The counselor must teach right thinking (i.e., Biblical truth) by first identifying negative feelings, behaviors, and thinking. Narramore (1960) advocates that counseling is helping people to meet specific needs and to address personal problems, at the deeper level, through two-way communication, with a view to bringing about personal, spiritual, and behavioral change. According to the Scriptures, the concept of 'the word' constitutes the essential meaning of counsel; and to offer counsel simply means to provide a directive or instructive word. The psalmist prays, "Nevertheless I am continually with you; you have taken hold of my right hand. With Your counsel, you will guide me, and afterward receive me to glory" (Psa 73:23).
Thus, Solomon writes, "I, wisdom, dwell with prudence, and I find knowledge and discretion…. Counsel is mine and sound wisdom; I am understanding, power is mine" (Prov 8:12,14); also, "Listen to counsel and accept discipline, that you may be wise the rest of your days" (Prov 19:20). Such counsel has the design of morally changing behavior and conduct. Biblical Counseling is the springboard for Christian or pastoral counseling, and may be defined as one of the primary means of helping people to change, by providing instruction and direction, through a specified, skilled, and straightforward communication of Biblical truth and wisdom.
The key and central issue in Christian Counseling concerns covenantal change (that is, living in a way that is pleasing and honoring to God). The main focus and the goal should be assuming more of the image and character of Christ (Rm 12:1f.). Thus, counseling should be primarily directive, with the emphasis being on understanding absolute Biblical truth, rather than pervasively non-directive, with the emphasis being on getting in touch with one's true feelings and personal values (e.g. Carl Rogers – Client-centered Therapy). My personal hope is that the community of clinicians and scholars that make up Christian integration are not a ship that is tossed on the sea, but that we set our sail for a set of goals that will enliven us towards the mission to fully integrate Christianity and Psychology. How Is the Holy Spirit Involved in Counseling?
In John 14:26 Jesus said, "But the Counselor, the Holy Spirit, whom the Father will send in my name, will teach you all things and will remind you of everything I have said to you." The Holy Spirit is a teacher. He will not only bring to our remembrance the teachings of Christ, but He will also bring to our remembrance things we need to recall about our counselees. The Holy Spirit will also take the things we have learned from the social sciences and teach us how to translate them into a higher realm of spiritual insight. Specifically, if we have an ear to hear what the Spirit says, He will teach us how to take what we have learned about human development, mental illness, diagnosis, and counseling techniques to a new level. At the same time the Holy Spirit is functioning in the mind of the counselor He is also at work in the mind of the counselee. In John 16:8 Jesus says, "And when he is come, he will reprove the world of sin, and of righteousness, and of judgment" (KJV).
As you compassionately and lovingly confront the counselee with the circumstances that brought him to you, you can rely on the Holy Spirit to create uncomfortable levels of tension within the counselee that will motivate him to make the redemptive changes Jesus wants him to make to find the healing and deliverance he needs. At the same time, you can count on the Holy Spirit to give you the inner strength necessary to tolerate increasingly intense levels of stress created by the counselee's conflicting attempts to simultaneously escape from and deal with his spiritual and emotional pain. Without the ability to deal with your own mounting levels of anxiety, your need for comfort may lead you to retreat from issues in the person's life that need to be pressed further. At that point the limits of your comfort level interfere with the mounting level of stress needed for motivating change in the counselee. Allowing the Holy Spirit to help you build your tolerance for rising levels of tension when facing difficult counseling moments will make you more effective in precipitating the redemptive changes Christ wants to bring to your counselees. The Three Faces of Integration
The integration term was developed so that Christians could participate in and contribute to American intellectual life with integrity. The term "integration of faith and learning" implies that one will be bringing together one's faith and one's learning. This rightly resonates with the deep desire Christians have to live their lives integrally related to their God. So labeling a psychology program as integrative, using the term integration periodically, and perhaps including a capstone course on integration can help reassure faculty and students that they are being consistent with their faith, in spite of the fact that very little time in the program was actually spent practicing integration.
Three approaches to integration have arisen in psychology and therapy. dissociated integration, which, overwhelmed by late modernism, practices according to its rules and so unwittingly maintains an implicit separation between the Christian faith and psychology and therapy; strategic integration, which also practices according to late modern rules of discourse, but does so to impact contemporary psychology and therapy as much as possible; and maximal integration, which practices according to Christian rules of discourse for the Christian community and seeks to integrate the Christian faith and psychology and therapy to the fullest extent possible. Strategic and maximal integration are both essential to the fulfillment of God's purposes in the world today. Catholic Christianity Addressing the Integration Problem
There is no doubt that all denominations agree/disagree that psychology is intimately connected with many moral issues. It is a commonplace that many psychological problems involve sexual values and sexual behavior. And dealing with them of necessity involves a moral stance by the psychotherapist, as well as by the theoretical psychologist. Most secular psychologists tend to let the patient determine the morality of the relevant sexual behaviors, but even here this stance is not reliable. Many have an equally positive attitude towards abortion, and of course today the official attitude of most psychologists toward homosexuality is one of acceptance, typically of a supportive kind. These are clearly moral issues, and not part of any kind of scientific knowledge. It is significant that all of these secular moral positions are also commonly advocated within the major Protestant denominations.
The official acceptance by many Protestants of premarital sex, contraception, abortion, divorce, and homosexuality is well known. The acceptance of this "new" morality goes against their own Protestant traditions, which for hundreds of years was essentially the same for all Christians. At the start of the 20th century the major Protestant denominations condemned birth control, divorce, abortion, and could not have imagined homosexual Clergy and same sex marriage. When the Church of England first broke in the 193O's with the long established Christian moral position on these issues the other Protestant denominations condemned them. But as the years went by these moral changes were slowly accepted. In any case, although changes in Catholic moral positions are possible, these are rare, and if made, are made clearly and explicitly. The result is that Catholic moral theology has a specific belief that enables it to be integrated, at least potentially, into psychology. In contrast, the moral ambiguity and the moral disagreements found in so much of Protestantism make integration ambiguous or contradictory. Conclusion
When working with clients, I hope to embody some of the characteristics, values, and qualities of Christ. I want my clients to experience me as a supportive, empathetic, compassionate, trustworthy, honest, ethical, just, realistic, balanced, insightful, discerning, counselor who is a good listener. I privately invite God to be present during my sessions with a client, and think of my time with the client as sacred, and as a time in which God is intervening. My approach as a therapist is informed by my clinical psychology training as well as by the principles, knowledge, wisdom that I have gained from Scripture. I believe that my experience in relationship with God, knowledge of Him, and love that I have experienced from Him, impact who I am as a person, and who I am with a client during the therapy hour. The main goal is to bring healing to the individual. However, there is a different perspective on what constitutes healing. For the unredeemed healing is the capability of fitting oneself into society and being productive in that setting which allows for the grace of God to drive out the depression. God's healing might not help one to fit into society, but it will bring healing to the soul.
Reference Page
The Dake, Annotated Reference Bible, King James Version
http://www.christianpost.com/news/how-are-christians-to-treat-homosexuals-54886 http://www.civilliberty.about.com/od/gendersexuality/tp/History-Gay-Rights-Movement.htm 2013 http://www.freeministry.org/h/articles/art5.htm published in Moody Magazine, May 5, 1994 Scholarly journals to consider:
The Journal of Psychology & Christianity
Perspectives on Science & Christian Faith
The Journal of Teaching Christian Integration in Psychology and Counseling The Journal of the American Scientific Affiliation
The Journal of world Christianity
Related Topics