A popular Person In Your Own Age Group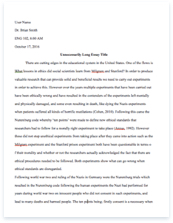 The whole doc is available only for registered users
Pages: 3
Word count: 692
Category:
A limited time offer! Get a custom sample essay written according to your requirements urgent 3h delivery guaranteed
Order Now
I always thought about having a life like Becky had. The she was confident cheerful and helping. She always had a bunch of girls surrounding her. If any one wanted a suggestion or help regarding anything, he would go to Becky. The surprising thing was that even the teachers treated her as if she was one of them and not one of us. Even though I wished to have a life like Becky's I, myself, felt a sense of attraction towards her. I cannot even count the number of times she had complimented on my clothes, hair or even on my smile.
If she saw any one sad or depressed, she would take him aside and ask the problem and was sure to cheer him up. My own experience of sharing my 'troubles' with her was one which led me to discover the secrets behind her life. I had been having a lot of problems with my parents lately. I told Becky that they never even tried to understand me. "Just because I slammed my bedroom door hard, my allowance was cut to a half! " I told her at the verge of tears. I saw a tear falling down Becky's cheek. I was satisfied that she understood how serious my problem was.
Trying to keep her voice stable, she said "I have an idea" I knew this was not the usual cheerful voice in which she always said that she had an idea. "You can run away from home for a day to teach your parents a lesson. " She said that I could stay with her for the day. I thought that it was a perfect idea. She got up and told me to wait for her in the shed after school. I waited for her as excitement arose in me. I would finally be able to see the background of the seemingly care-free angel. I did not know that Becky was calling my parents home to tell them that I was spending the day with her.
At last she came out. I looked around us to see her car or bus. she held my hand and told me she went on foot. That struck me. Perhaps Becky's life was not as comfortable as it seemed. It was extremely hot. We kept on crossing roads, and about what seemed to be an hour, we stopped out side a restaurant. I was happy that the tiresome walk was worth it! "Is this a good place to have lunch? " I asked Becky. She smiled but did not answer. I could not believe what I saw. Becky worked as a waitress in the restaurant. She ran about for three hours, taking orders in the same cheerful manner.
After that, she led me out of the restaurant and jumped with joy once we were out side. Becky told me that her monthly pay had been increased to Rupees 300 from Rupees 250. That was less than half of my monthly allowance that I got for grumbling and grouching the whole month. I was so abashed that I did not speak a word. Again, we kept walking. I was too tired and hungry to ask any questions. All that I had seen that day told me that Becky's house would not be a very luxurious one. It was beginning to get dark and my legs were about to give up when we stopped.
I was stunned when we stopped out side an orphanage! I did not know what to say. All that time this care free angel had been an orphan. I stared in beck's deep brown eyes, now seeing the pain in them and all the hardships she had had to face. "My parents died in a car crash when I was three" Becky said with her voice shaking. I understood the reason she had let me know about her life. I wished that the earth would swallow me up. She led me inside and a bunch of cute little children came to greet Becky. She bent down to kiss all the poor orphans one by one. "This" she said looking up at me, "is my family! "
Related Topics