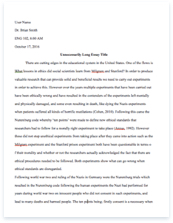 The whole doc is available only for registered users
A limited time offer! Get a custom sample essay written according to your requirements urgent 3h delivery guaranteed
Order Now
Law enforcement executives are facing situations where employee misconduct occurs through the private use of social media. Situations have presented itself where police officers have accessed social media on duty at workstations and in patrol cars posting degrading content disrespectful to the profession. With the increased accessibility to social media, professions including law enforcement are under scrutiny; especially considering police officers' constitutional rights and the regulations of individual use of social media. International Association of Chiefs of Police (IACP) was established to assist the law enforcement department in developing procedures and guidelines for an official and personal use of personnel media usage.
There must be a set process to deal with violations of media abuse. Social media has proven to have positive usages in communication including but not limited to community collaboration including policing and investigations, and community outreach and information including recruitment and employment. Unfortunately, social media has negative implications toward law enforcement; thus, the IACP suggests the departments' usage of a Public Information Officer (PIO) or press representative to authorize, oversee, confirm, and evaluate requests for media use as well as verify authorization of staff usages, confirm training completions, maintain an active list of media domain names and employee administrators associated (IACP, 2010). Oversight is a needed practice in department regulations as the misuse of personal media usage is consequential to the department's reputation.
Negative usages extend to blogs that can reveal sensitive information or disclose plans compromising undercover identities; sexually explicit comments, statements, pictures, or videos that identify police officers; defamatory mentions damaging the reputation of a colleague, posing a lawsuit risk against the department, officer, or supervisor; commenting derogatory or racial statements to a protected class of individuals (IACP, 2010). With the amount of negative misuse of social media, the consequences of such misuse extend far beyond embarrassment and diminished reputation among its contributors. Although there is no clear legal guideline pertaining to the standards set by legal precedent, law enforcement departments seek policies to discipline employee inappropriate use of social media. Defense counsels search social media outlets for material posted by the officer in question with hopes of finding material that will impeach or excuse the testimony of the officer as a credible witness.
Police officer unions such as Fraternal Order of Police and Patrolmen's Benevolent Association express opposition to departmental policies that infringe on police officers' constitutional rights. The most focused constitutional right on the topic of regulated social media expression is the First Amendment right against the prohibition of the freedom of speech. Though regulations seem to infringe upon freedom, the First Amendment is not unlimited. When the exercise of speech causes harm to government interests, it may be curtailed for the protection of the government's mission and its employees.
It is difficult to distinct between a public employee's official capacity and as a private citizen especially as a police officer when he/she is always expected to be on duty. To implement appropriate policies, it is important to understand the legal implications from an official and private implementation. If speech is made by an employee in an official capacity, that speech is not protected under the First Amendment (IACP, 2010). Speaking to official capacity statements, the 2006 U.S. Supreme Court case Carcetti v. Ceballos held that the public employee statement in question fell under official duties; hence, the First Amendment is not applicable. Quoted by the U.S. Supreme Court, "when a citizen enters government service, the citizen by necessity must accept certain limitations on his or her freedom" (Carcetti v. Ceballos, 2006). Public employees speaking from the role of private citizens may be protected under the First Amendment if the speech touches on matters of public concern (IACP, 2010). Public concern being matters concerning government policies that are of interest to the public at large defined by the City of San Diego v. Roe (2004).
Departmental implementation of employee discipline for inappropriate use of social media is evident when regulating individual officer's social media activity. Most cases of conduct deal with unofficial personal communication. Discipline within the department is possible when the situation is not a matter of public interest, or the Pickering balancing test, stated in City of San Diego v. Roe that evaluates the balance of the interests of the employee and the interest of the state in promoting efficiency, finds that the departmental interests outweighs the interest of the officer under the First Amendment (IACP, 2010). Since many cases result in the findings of social media being contrary to public interest, officers are not shielded from disciplinary action; thus, action by the department is advisable.
City of San Diego v. Roe was the best-known decision that provided a prerequisite example for employee speech regulations. This case involved sexually explicit behavior by a police officer. Because the speech in question did not relate to public concern, the First Amendment was not applicable, thus, the interest of the San Diego Police Department was compromised by Roe's speech implicating him to disciplinary actions. Law enforcement agencies might discipline or terminate employment for improper usage of social media.
Even for private personal use, social media usages still encounter an assessment of challenges. Even when privacy settings are on, media posts are made available even to those whom its not intended for. Any improper posts, with or without privacy settings, can be made available putting employment and the agency at risk. As stated before, defense attorneys are known to use media as leverage against the prosecutions use of police officers as credible witnesses. When, an officer personal or department issued devise is accessed while on duty its content can be subject to departmental oversight as well as discovery in court proceedings.
Practices related to regulations of police officer's use of social media involve education to new and seasoned personnel on the uses of proper and improper use of social media. Proper training mechanisms can emphasize responsible social media use and inform awareness of the repercussions to the misuse of online behavior.
Related Topics