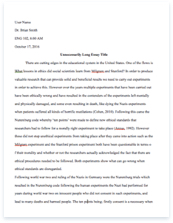 The whole doc is available only for registered users
Pages: 6
Word count: 1329
Category:
A limited time offer! Get a custom sample essay written according to your requirements urgent 3h delivery guaranteed
Order Now
The step that Kelly should take to organize and prioritize her business growth strategy is by reviewing detail of her the organization's current strategic plan to identify where growth strategies should be initiated.
Build a tactical plan that integrates the staff and service line efforts into the overall strategy. These plans may be built and focused on the customer population or from the service line approach (Killing 1982) .Once this has been done at the senior management level and had identify the task force or staff who will be involved in the implementation and/or delivery of services. It is important to build employee reward and recognition as a part of the organization's new way of thinking. Human resources, training and organizational development departments should be involved in this part of the strategy (Carnegy, 1995). This can be achieved by creating team accountabilities for customer retention and growth. Although this is sometimes difficult to build in a measurable result, it supports the customer experience model.
A market expansion growth strategy, often called market development, entails selling current products in a new market. There several reasons why Kelly may consider a market expansion strategy. First, the competition may be such that there is no room for growth within the current market. If a business does not find new markets for its products, it cannot increase sales or profits. (Grant Baden 2004).A small business may also use a market expansion strategy if it finds new uses for its product. For example, a small soap distributor that sells to retail stores may discover that factory workers also use its product.
The form of business that, Kelly should consider is direct investments since it is the greatest commitment since there is a 100% ownership. There are two primary ways for direct investments: firms can make a direct acquisition in the host market or they can develop its own facilities from the ground up and this form is called Greenfield investment (Carnegy, 1995). Acquisition has become a popular mode of entering foreign markets mainly due to its quick access. Acquisition is lower risk than Greenfield investment because the outcomes of an acquisition can be estimated more easily and precisely (Terpstra and Sarathy 2001).
Greenfield investment is the establishment of a new wholly owned subsidiary. It is often complex and potentially costly, but it is able to full control to the firm and has the most potential to provide above average return. This entry strategy takes much time due to the need of establishing new operations, distribution networks, and the necessity to learn and implement appropriate marketing strategies to compete with rivals in a new market (Yip 2002). In general, the implementation of an international development strategy is a process achieved in several steps. Indirect exporting is often used as the starting point; if the results are satisfactory, more committing agreements are made by associating local firms.
As business grows Kelly need for funding doesn't diminish. Chances are Kelly will need some form of capital to introduce new products or services, expand into new markets, hire or contract additional help, expand facilities, or purchase new equipment and machinery. Kelly can raise new capital to grow her business in several ways: e.g. Bootstrapping means finding the means within her company to come up with additional funding. For example, can look at ways at reducing her expenses so that she can use profits or retained earnings to grow her business, instead of borrowed money. The main advantage of bootstrapping is business will have more equity because of lower debt obligations. A lower debt load also makes it easier to raise additional capital if need it.
However, Kelly should be careful not to get into a negative cash position by being undercapitalized. As an established business, Kelly may have more success with banks. Make sure her business plan is up to date, showing the ability to manage loan payments, and includes a clear description of business and contingency plans. She should be aware that banks are usually reluctant to make unsecured loans, so must be willing to put up the collateral needed to get the loan. If she is willing to share the ownership she can look into finding equity investors or Other Equity Partners to finance her business growth.
Organizational structure affects organizational action in two big ways. First, it provides the foundation on which standard operating procedures and routines rest. Second, it determines which individuals get to participate in which decision-making processes, and thus to what extent their views shape the organization's actions Kelly must make sure that she uses the One of the newest organizational structures developed in the 20th century which is team.
In small businesses, the team structure can define the entire organization (Campbell and Reuer 2001). Teams can be both horizontal and vertical. While an organization is constituted as a set of people who synergize individual competencies to achieve newer dimensions, the quality of organizational structure revolves around the competencies of teams in totality (Campbell and Reuer 2001). For example, every one of the whole food markets stores, the largest natural-foods grocer in the US developing a focused strategy, is an autonomous profit composed of an average of 10 self-managed teams, while team leaders in each store and each region are also a team.
The promotional activities of an organization continue long after customer acquisition. Kelly should incorporating communications tactics that are effective in reminding current customers why they should continue purchasing a brand's products is just as important as promoting to potential customers (Jagersma 2005). As more brands compete for consumer attention in an increasingly crowded marketplace, organizations must develop marketing communications strategies that address customer challenges, appeal to customer needs, and drive repeat sales.
One method organizations use to show appreciation for existing customers is personalized marketing. This practice had been most useful in online marketing, particularly via websites and email marketing (Zou, Cavusgil 2002). For example, a website can track a customer's interests and make suggestions for future purchases. The emergence of database technology for developing personalized products, ads, and services for specific users with particular profile attributes has helped organizations tailor their offerings for existing customers.
Kelly can also use retention strategies which include one or more of the following: Product bundling (combining several products or services into one "package" and offering them at a single price) Cross-selling (selling related products to current customers), cross promotions (giving discounts or other promotional incentives to purchasers of related products) Loyalty programs (giving incentives for frequent purchases or customer referrals) Other marketing communications tactics include discounts, offer redemptions, and point systems. The interactivity between brands and consumer occurs through the offer redemptions recorded by the point-of-sale systems, which can then update each individual shopper's profile (Zou, Cavusgil 2002).
Being socially responsible means making decisions that can benefit society or at least not go against society in any way. Being ethical is about conforming to society or an organization's morals and principles.
The theory of social responsibility is built on a system of ethics, in which decisions and actions must be ethically validated before proceeding Geringer , Hebert 1989) Kelly should make sure that her business is legal. If the action or decision causes harm to society or the environment then it would be considered to be socially irresponsible. Businesses have developed a system of social responsibility that is tailored to their company environment. If social responsibility is maintained within a company than the employees and the environment are held equal to the company's economics. Maintaining social responsibility within a company ensures the integrity of society and the environment are protected. In conclusion if Kelly follows these guidelines her business will defiantly be the best and will attract all the customers.
Reference
Campbell E., Reuer J.J. (2001), International Alliance Negotiations: Legal Issues for General Managers, Indiana
University Kelley School of Business, Business Horizons Copyright.
Carnegy H. (1995). Struggle to save the soul of IKEA, Financial Times (27 March 1995).
Geringer J.M., Hebert L. (1989). Control and Performance of International Joint Ventures, Journal of International Business Studies, 20(2), 235-254.
Related Topics