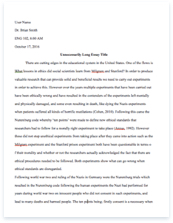 The whole doc is available only for registered users
Pages: 8
Word count: 1939
Category:
A limited time offer! Get a custom sample essay written according to your requirements urgent 3h delivery guaranteed
Order Now
Personal selling refers to face-to-face communication between a seller and potential customer or a group of customers persuading them to make purchase. This definition points out to the core objective of personal selling which is to make a sale. In order to succeed in personal selling, various different techniques are used. These techniques entail sales persons to convince customers that their products or services are the best compared to those of competitors. The main aim of this paper is to provide detailed information about personal selling.
Personal selling involves selling a product, service, or solutions to a customer. With respect to the functions that sales persons enact, they can be divided into three groups. One of the groups is referred to as order takers.
The second group is order getters while the third one is support personnel. Personal selling is basically a five stage process. The first stage is known as prospecting, which entails finding the targeted new customer. The second stage is approaching the customer, which is all about making the first contact. The third stage is sales presentations. This stage entails proving the customer with relevant information of the product or service being sold. The fourth stage is closing the sale and the final stage is making a follow-up. All these stages will be discussed in detail. The paper will also provide information about ethical issues that need to be addressed in personal selling.
Groups in Personal selling
Order getters
Order getters are the people who introduce a product to the customers and provide detailed information about the product or service. They are always required to employ creativity and a high degree of professionalism. They are considered the most important people in the sales process since they create or find outlets for a company's products from scratch. Order getters are paid commissions per sale and a salary.
Order Takers
Order takers on the other hand are the people in a supermarket flow or a drug store who help a customer find the right product. As opposed to order takers they don't make a sales pitch to a prospective customer. Their role is to assist a customer during purchase with packaging, selection advice and after sales services. They ask the customer what they want as well as waiting for an order. For example, technical assistance in installation of a machine is a routine job that can as well be classified as order taking (Koekemoer, 2004).
Support Personnel
Support personnel do not directly involve themselves in selling but tends to act as support staff. There are two types of support personnel. One of them is missionary salespeople. The main role of this group is to introduce new products or new programs with the actual order that is bready to be taking by the company's order taker (Koekemoer, 2004). An example of missionary salespeople is the medial sales representatives. The other group under support personnel is the technical specialists. The main role of this group is to assist order-oriented sales people to make their sales effectively. The assistance provided in this case includes provision of technical information about the product.
Stages in Personal Selling
Prospecting and evaluation
Prospecting enables a salesperson to identify a group of customers who have both the need to buy the product and the ability to buy it. In this stage, sales person are entitled to determine the best products or services that will meet the potential customer's expectations. Successful prospecting offers an opportunity for sales person to focus on sales presentations and closing of the deal (Cant & Heerden, 2007).
Approaching the Customer
This stage entails making the first contact with the customer. Adequate preparation is crucial at this stage simply because the first impression has a long lasting effect. Sales persons tend to create a strong relationship with their customers at this stage. Therefore, adequate preparation is always important when meeting with the customer for the first time (Cant & Heerden, 2007).
Making the Presentation
Making a perfect presentation for the product or service is another important stage in personal selling. This stage requires sales persons to be enthusiastic with the products or service they are selling. Making perfect presentation entails providing all the relevant information that the client needs to know about the product. The sales person is also entitled to answer all questions that the clients may have.
Closing the Sale
Closing the sale involves asking the customer for a final decision when there is a higher probability of making a purchase. At this stage, the seller worries about rejection while the customer worries about not making a mistake, therefore, further dialogue is always recommended in order to arrive at a comprehensive conclusion. The sales person should at this stage summarize everything that the client needs to know. Moreover, the sales person ought to offer a client chance to make decision without much influence.
Follow-up
The purpose of this stage is to entice the customer make another purchase in future. This stage also offers a perfect opportunity for the sales person to develop a strong relationship with the customer. It is always recommended to offer after sale service to the customer (Koekemoer, 2004).
Relationship in personal selling
Relationship selling is a technique of trying to understand customers better. This simply means that a sales person is supposed to know customers' needs and problems in order to solve them accordingly (Matiske, 2012). This technique is used to build long-term relationships with the customers so that there is more repeat business in future.
The process of selling is fast changing to include methods such as selling via phone through cold calling and client account management among many others. The concept of relationship selling has changed the role of the sales person. These changes are mainly brought about by developments in science and technology. Examples of these changes include the fact that sales people nowadays contact with customers through various means such as telephone sales, customer service and technical advising (Bäckström, 2008).
Firms are now focusing on how to enhance their relationships with customers in order to create a long-lasting relationship. In considering this development, firms and their sales people need to evaluate the relationship with their customers. Past experiences have shown that interpersonal relationships between the sales person and the customer are more effective than that between the business and the customer (Bäckström, 2008). Therefore interpersonal relationships are emphasized.
With respect to relationship selling, sales people should employ consultation as a way of engaging with the customer. Matiske (2012) states that sales persons should try to know how the product will make the customer feel rather than what the product will do for the customer. Relationship selling has evolved into a kind of support service where customers can get all the information they want about the product or service (Matiske, 2012).
Partnership selling
According to Matiske (2012), relationship selling matures to become partnership selling. Partnership selling is achieved when the customer regards the seller as a true friend and a business partner. At this point the customer does business easily with the sales person. The sales person is also advised to use reinforcement for the customer to buy more or try new products. In order to be successful in partnership selling, it requires a sales person to be well conversant with relationship selling.
Partnership selling is well practiced between two different businesses. A perfect example of this kind of business is where a graphic design firm seeks printing services from a printing firm. In this case, the two firms can develop a relationship which can be termed as a partnership. The graphic design firm can offer to print a client's work by outsourcing that function to the printing firm. The printing firm takes advantage of this by offering a discount which will be passed down to the consumer. Partnership selling requires both the supplier and the buyer to form a kind of partnership that is complimentary.
The other significant example of partnership selling is the case of computer maker Dell Corporation whereby it relies on Intel Corporation for the supply of microchips for their Personal computers. Most managers involved in partnership selling do it for a couple of reasons. Examples of these reasons include lowering cost of production, reducing waste by increasing efficiency or finding cheaper goods or services (Ellis, 2011).
Ethical Issues in Selling
Ethics can be defined as the general codes of conduct, moral principles and values that dictate's an individual's sense of what is right or wrong. In managerial practice, ethics is defined as a standard of determining what is wrong or right particularly on decision making
Ethics in management of sales
A manager should do investigation to discover what is considered ethical or not within the company. He should make himself aware of all written codes of conducts and policies. Apart from these provisions, he should seek opinion about the written codes from the sales people, family and friends. The manager should also analyze himself so as to
identify how comfortable he is with the set of conducts stipulated by the company (Cant & Heerden, 2007).
Ethics in dealing with customers
When dealing with customers, management of companies usually encounter ethical issues such as bribing and misinterpretation by the sales people. However, companies always pass messages to their customer warning them from taking bribes from their sales people.
Many sales people tend to close a sale without following the right procedure. In some cases, sales people tend to exaggerate and sometimes make false statement about a product in order to make a sale. Most sales people are ignorant of the fact that they take full legal obligation of what they are doing once they engage a customer. When the customer relies on the information from the sale person, buys the product and finds out that that it fails to deliver, he or she will probably sue the supplier of the product for misinterpretation and breach of warranty (McClaren, 2000). Therefore, addressing of ethics is always required in personal selling.
Ethics in dealing with sales people and employers
Sales managers are ethically and socially responsible to their sales-force. There are various areas that managers face ethical considerations. One of these areas is pressure on the sales people to deliver. Since managers are entrusted with the burden of attaining goals set out by the company, they tend to put a lot of pressure on the sales people to deliver. Managers should set realistic and achievable goals. They are also required to motivate their sales team to achieve the set out quotas. The other concern for managers is whether to tell the truth or not.
Sometimes an employee is a poor performer or is transferred to the most difficult area that buys very little from the company. Most managers prefer not to tell the sales person anything by keeping quiet about it. According to McClaren (2000), the best thing for the manager to do is to tell the employee the truth.
Conclusion
Selling is one of the most important components of a business. Persons selling, which is a form of selling tends to be the most effective because sales persons contact with customers face-to-face. When the appropriate mechanisms are employed, personal selling tends to be always successful. However, a mistake conducted by a sales person in the process of selling can break the relationship with the customer. Therefore, it is always recommended to employ the right skills when engaging in personal selling.
References
Bäckström, L. (2008). Personal Selling and Relationships – A Review and Explorative Essay.
Cant M C & Heerden, H.C. (2007). Ethics In Personal Selling. Lansdowne SA: Foremeset Printers Cape.
Ellis, N. (2011). Business to Business Marketing: Relationships, Networks and Strategies. New York: Oxford University Press.
Koekemoer, L. (Eds). (2004). Communication Marketing; Personal Selling in Practice. Lansdown, SA: Foremeset Printers Cape.
Matiske, C. (2012). Understanding Relationship Selling. Sydney AU: The performance company Pty Ltd.
Related Topics