Personal Philosophy of Nursing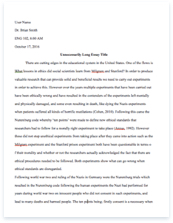 The whole doc is available only for registered users
A limited time offer! Get a custom sample essay written according to your requirements urgent 3h delivery guaranteed
Order Now
To formulate my personal philosophy of nursing, I had to look at what my core values were. I am a kind, compassionate, honest, and caring. I chose nursing as my profession because nursing is something that always has been in my blood. I believe human life is precious and is to be valued. Not only do I consider my patient's wellbeing, but I also look at the wellbeing of the families. Families take care of the patient when they are discharged. I also look at my fellow health care workers. Without being able to work alongside them, I could not take care of the patient properly. Lastly, I consider my own health. An unhealthy nurse cannot properly do their job. Caring for patients and their families, working well with coworkers, and taking care of your own health is what makes a difference because no matter how small the task, little things add up to big things. That is why I believe the world will get better one small step at a time. My Patients
My patients are human beings. They are people with feelings and souls, and they are to be treated with just as much respect as everyone does. It does not matter if they are on their deathbed or just coming in because they have a cough. Being a positive role model is an important philosophy. I was raised watching my mother be a nurse and always enjoyed going to work with her and helping with small things such as passing out ice to the residents of the nursing home. It brought so much joy to their hearts that a child would take time out of his or her day to come and spend it with them. Patient advocacy is also very important to me. I care for a diverse group, anywhere from ambulatory patients to comfort care and hospice patients. Nurses are also providers of most of a patient's education. Even though a doctor gives a patient details about their treatment plan, alternative treatments, the risks and effects, the patient depends on the nurse to educate them on all the details and questions he or she may have (Vaatio-Rajalin & Lee, 2011).
Vaatio-Rajalin and Lee (2011) stated, "Nurses often are able to translate complex and confusing information, such as treatment plans, into lay terminology for patients and his or her families. In addition, patients may need information on side-effect management, nutrition, emotional coping, and other skills key to their care" (pp. 529). It gives me a sense of purpose when I can sit down and talk with my patients. I want my patients to know they are the reason I am in this profession and that his or her care is very important. Just showing up for a shift to work and put in time is not what a nurse needs to do. Professional nurses have certain characteristics, including adherence to the code of ethics, continuing education, autonomy, and self-regulation (Smalley, 2005). By attaining these characteristics and treating patients with dignity and respect, I can make sure that all patients are cared for to the best of my ability. Patients' Families
My patients' families can become just as scared as the patient. The families want to be part of his or her loved ones care so involving him or her as much as possible. This will allow the family to feel more comfortable as well as the patient because the family will be able to support the patient more in their recovery. Unfortunately, many caregivers experience caregiver burden in which they are more worried about his or her family's health than their own (Picot & Lee, 2008). Trying to assess if someone is vulnerable to caregiver burden can be difficult because everyone is different, according to Picot and Lee, but practitioners should look for certain things such as (1) background of the stress, (2) primary and secondary stressors, (3) mediators, and (4) outcomes of stress (2011).
When I have a family member that comes in who has been a caregiver, being able to identify these stressors gives me a chance to educate him or her on how to relieve some of the stress and better care for themselves while caring for their loved ones. Picot and Lee (2008) says "To maintain his or her own health, caregivers may need assistance in identifying and coordinating acceptable family and professional helpers and in planning for anticipated changes, including transferring care of the elder to others. Caregivers may also need support or counseling to accept that transferring care responsibilities can have positive consequences for both the caregiver and the elder" (pp. 112). As a nurse, being able to direct the caregivers for the needed support can help ensure that his or her health will improve and help the patient as well. My Fellow Health Care Professionals
Working in a team is essential for the care of patients. I work with many disciplines within the hospital for the purpose of providing a positive healing experience. All members of this team need to respect one another and work professionally together to achieve synergy (Cribbin, 2011). Trust is also essential between coworkers. Tan and Lim (2009) define trust in coworkers as "the willingness of a person to be vulnerable to the actions of fellow coworkers whose behavior and actions that person cannot control" (pp. 46). I do this when putting in consults, or delegating tasks to the nursing assistants or secretaries. Physicians do this when giving verbal orders and trusting that the nurse will carry out those orders. Not being able to trust other healthcare professionals can cause time and stress management problems. Trust between coworkers can facilitate openness in communication and be confident that the information you are receiving is accurate that will ensure a better performance (Tan & Lim, 2009). In order for the healthcare team to provide the best care, we must be respectful for others, no matter what his or her title is, actively listen, possessing a nonjudgmental attitude, and be accepting of others as well as "the conscious use of feedback, appropriateness, efficiency, and flexibility" as mentioned by Chitty and Black (2010, pp. 212).
My Health
Many nurses are so focused on caring for others, we often forget about our own health and wellness. When I do not take care of myself, I start to feel tired and unable to focus or think well. This can cause more potential for making mistakes. Employers ensure that the nurses' health and safety are not compromised, such as infection control and proper handling of sharps (Satusky, 2011). Cribbin suggests that in order for nurses to provide complex care to his or her patients, they must maintain a healthy diet, participate in regular exercise activities, and put aside time to engage in playtime to keep his or her life in balance (2011). He states "playtime is important as it brings happiness and enthusiasm for life so essential to motivate the body to strive for optimal health" (Cribbin, 2011, pp. 15). As long as I maintain my health, I can be confident that I will be able to take care of my patients efficiently. Conclusion
In summary, we must consider all aspects of care when making sure our patients are properly taken care of. The patients are the most important part of nursing, but we also have to involve his or her family to ensure that his or her care continues outside the healthcare facilities. There must be a good coworker relationship built on trust to work with the difference disciplines. I also have to make sure that I take care of myself or the patient can suffer the consequences. Sticking with my core values for my philosophy of nursing is what will help me continue to grow to be a better professional.
References
Chitty, K. K., & Black, B. P. (2010). Professional Nursing: Concepts and Challenges (6th ed.). Philadelphia, PA: W.B. Saunders. Retrieved from the University of Phoenix eBook collection database. Cribbin, M. (2011, May). Philosophy of nursing: Improving the environment, improving myself. Nevada RNformation, 20(2), 15. Retrieved from http://search.proquest.com/docview/874154230?accountid=35812 Picot, S., & Lee, J. (2008). The Encyclopedia of Elder Care (2nd ed.). New York, NY: Springer Publishing Company. Satusky, M. J. (2011, Nov/Dec). Caring for the caregivers. Orthopedic Nursing, 30(6), 349-350. Retrieved from http://search.proquest.com/docview/916420718?accountid=35812 Smalley, J. (2005, December). What's your nursing philosophy? Nursing Management, 36(12), 59-61. Tan, H. H., & Lim, A. K. (2009, January). Trust in coworkers and trust in organizations. The Journal of Psychology, 143(1), 45-66. Retrieved from http://search.proquest.com/docview/213832207?accountid=35812 Vaatio-Rajalin, H., & Leino-Kilpi, H. (2011). Nurses as patient advocates in oncology care. Journal of Oncology Nursing, 15(5), 526-532. doi:10.1188/11.CJON.526-532
Related Topics