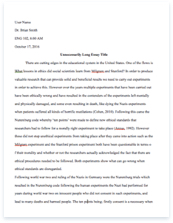 The whole doc is available only for registered users
Pages: 6
Word count: 1497
Category:
A limited time offer! Get a custom sample essay written according to your requirements urgent 3h delivery guaranteed
Order Now
"Our biggest fear is not that we are inadequate.  Our biggest fear is that we are powerful beyond measure….." This was an all power quote by the president of South Africa, Nelson Mandela.  The latter was a personality, I personally felt compelled to bestow him. He must have thought about mankind.  He must have been closer to God than any other man.  He must be immortal! I always thought to myself.  He seemed to have such an understanding for the other beings that only God could grant the power to.  I had fallen in love with him, with his wise choice of words.  These words were engraved in my heart and on my mind as I took in every word slowly and approvingly.
I was only eight years old when I innocently came across this five work of the brain, a great person's brain.  Was really innocent? I may have been so young to understand anything about life, this life that we don't ask for.  This mysterious journey to an unknown place that you got to undertake once you land in the world.  I had no idea the other side of life, bitterness, hate, betrayal, jealousy, poverty, pain and death.  Only paradise was known to me.  There was one demon in me that I could not shake off.  The sometimes undesirable will to have everything your way.  Fortunately for me, inadequacy had never been my biggest fear.  I had always had the notion of power within me.   The fact that I was powerful beyond measure worsened otherwise acceptable situations.   Realization that I could conquer everything that came my way increased my class-mindedness.
            Mum and dad on the other had had their ideas about me.  Dad was a man that no one could dare question.  Being an eminent man, he demanded respect from young and old alike.  Sometimes even fear. He had this sort of crashing finality about what he wanted done and how.   It was something that we were born already grasping.  If anyone thought that mum was anything else was right.  Mum was worse! Both would have their children's lives planned out.
Everybody had their future before even getting there.  There was not fear of the unknown.  There was no fear of failure.  There was no fear of ever getting anything less lucky parents.   Everything seemed to fall into place for them.  There was no struggle for anything.  There was not even the need for concern.  The thought never occurred to them.  Why should it?  Everything was so peaceful, so tranquil, nothing evil could find its way in their well thought and planned ideas.  No one had ever been the "black sheep" for generations unknown.  This called for presumption.  The crazy nation about hell and heaven in a land different from what we are never had space in our family lives.  There was not other way about that.  It consisted of angels! No one ever did wrong.  Children conformed to their parents and elders wishes.  I had ever visited people who lived in poverty.  That was hell to me.
            It is sad how nature and fate tend to twist themselves.  I was now seventeen years old.  Already a full blown woman.  Things may just as well be happening to me the way I had foreseen them.  Not in the way my iron-twisted parents saw them.  But the way that was my own.  The little dark secret that is only known to you.  I was now on the range of plunging into dreams so as to make them real.  There was no way four options could all fair.   There was this patriotism that had found its way into my heart.  Always thought about being something that would see my country benefit. My greatest passion, modeling.
This would see my country represented in beauty pageants against other countries.  I had the strongest conviction that I would take home the crown.  The thought of being an air hostess had continually nagged me.  Thought I would be too passive.  How about being a fire fighter?  I would always risk my life in order to save others.  Better still, why wouldn't I join the military? That's how diversified my ideas were.   They are times in life when you have to get what you want regardless of the near impossibilities.  The alacrity to achieve your desires should never diminish.  I was all ready to advice my folks to let me pursue the object that would bring me happiness.   This had always been my secret source of strength; "you either win or win" I was adamant. Had to get my way.
            I may just as well have been at my father's feet beseeching him of what he would have wanted me to do.   It was already known to me.  Sometimes the wildness and the beckon of being your own self is too strong, overwhelming!
            If you know, that you are not likely to be condemned, you had better be careful the ground you are trudging on.  As was expected, I studied business in school.  One thing I was good at for sure.  Mum and dad had no doubt that I would take over the family business that had by now become a conglomerate.  It had been in the family for generations and it was only expected that I would be taking over the mantle from my dad and perpetuate it.  Too sad that it had never been my passion.  It was still too early to let my intentions known.  There was so much love lost between my dad and I.  He had never known me to be contumacious.  Fear began to slowly deep into me.  Time was running out.  I will no longer be able to shut up.
            Having made up my mind, I visited my first modeling agency.  The look was enough to send someone reeling.  I felt as though I was renouncing my rights but the stern look did not put me off.  Remember that I was all-powerful beyond measures.  After all was not the only agency I had set myself out to visit.
            It had never occurred to me that I would be my own worst enemy and that I would sell myself out.  They say that you should keep your friends close and your enemies even closer.  I was always with myself!  Had I seen raised eyebrows? Was that cynicism? Could that be a smile? I seemed to hit it off immediately with this new lady. I seemed to be everything that al the others models were not.  This was indication that I would state off to quite a high note.   A job had just got its way into my hands.
            The hardest part would be breaking the news to my parents.  I have always had the sixth sense but then on this day it jus wasn't aware of what lay ahead.  Had I known then I would have wasted my time replaying the conversation that I had hoped to have with my father in my head.  The decision to arrive home earlier than usual was a rather good idea at that time.  Surprise! Dad was already there! The air in the room felt changed.  Everybody sat spell-bound.  Dad's eyes communicated animosity.  The word had leaked out to my dad.  So mum and my just new employer were on a fist.  Name basis friendship.  She had just called to congratulate mum but found herself having to explain in the first place what she was talking about.  She new me all right.  Oh! What with the name and the many parties that she attended at our place.  I must have seen her several times but what with the ignorance and having to meet new people everyday.  Of course no one can remember everyone that they meet.
            There was nothing I could do about it.  I was twenty-two years old and already qualified to be a model.  Dad was going to be barrier.  It was known to me that he would never allow me to relinquish the right to be the next chief executive officer of Scotts and Scotts Company in exchange for a modeling career.  I was beat.  I decided to do as father wanted but I made a resolution to myself.  The dreams that I had would one day come to pass.  Even if not through me but I had to see them come to pass either way, the idea of giving up all together was unknown to me.  The only good idea I had was for my children to live my dream for me.
            Quite often I found myself reminiscing.  Saw myself as the little eight years old who had the determination to conquer all and be what I always wanted to be.  One thing that I would not allow to happen is to let my dream die.  Someone had to live it!
Related Topics