Personal Development Plan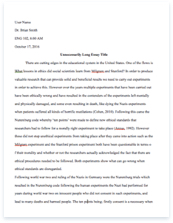 The whole doc is available only for registered users
Pages: 9
Word count: 2236
Category:
A limited time offer! Get a custom sample essay written according to your requirements urgent 3h delivery guaranteed
Order Now
An essential part of maintaining effective individual performance and team leadership is performance management. Without standards, performance cannot be measured and therefore development needs cannot be set objectively. As an individual, managing own performance is an essential part of maintaining the organized performance of work role. Within the framework of the knowledge and skills you already have, you must be able to recognize where improvements are needed and accordingly set your own personal work objectives and a development plan to address this. You must be able to recognize the areas in which you are underperforming and be able to improve yourself!
Performance management, however, is not something that the individual has to do alone. It is the essence of every manager's role. Once a performance agreement has been established, which sets out what is expected in any particular role or job, it is up to the manager to observe and evaluate performance through formal and informal planning, monitoring and reviewing processes.
Many organizations are now using performance management to achieve genuine staff development, either to cope with forthcoming change or to equip themselves and their staff with additional skills and competencies. Performance management is one method whereby a team leader can ensure that he or she devises a suitable personal development plan based on the feedback of others, and then implements and develops the plan on an on-going basis. Although the majority of the responsibility for performance management falls upon the individual worker and the manager, feedback is an essential aspect of the process. In performing your work role you will encounter numerous people who will be able to respond to and advise you on your performance.
A Personal Development Plan (PDP) is a form of self-managed learning that is owned by the individual and enables a strategic approach to setting learning and development goals. It provides people with the opportunity to benefit in terms of receiving feedback, planning their careers and receiving support from their line manager for their professional and personal development. For the organization, PDPs provide a mechanism for managing and developing people effectively, enhancing quality of working life and supporting the provision of quality services on a value for money basis.
PDP is a working strategy which helps identify development needs. The impetus of PDP lays with the individual taking responsibility for own development and not sitting back waiting on someone else to do it. The focus is on development versus task, which signifies that the process is continuous by its very nature. The individual is developing, not just learning, and a new task. PDP is a planned approach to setting development objectives. It ensures that people are equipped and skilled to deal with existing or future job roles – they are not merely reacting to a situation when it happens.
Personal development planning ensures that employees receive recognition for their work through a process which acknowledges their achievements and provides them with as much information as possible about what they do and what is required to do it better. This should have the effect of increasing their motivation. For example, providing positive comments about employees' work, acknowledging their contributions at meetings and allowing them to undertake more challenging and responsible tasks are ways of recognising and endorsing employees' work on a regular basis.
A personal development plan sets out the actions people propose to take to learn and develop themselves. They take responsibility for formulating and implementing the plan but they may receive support from the organisation and their managers in doing so. A PDP provides individuals with a clear framework for assessing their current situation, identifying where they would like to be in the future and developing a plan outlining the learning and development required getting there.
As emphasised above, it is the individual who is primarily responsible for his or her own personal development plan and who determines the scope of the plan. However, individuals should work with those around them (line manager, peers and direct reports) to identify their needs, and any learning and development needs and opportunities should be discussed with the line manager. Personal development plans can vary in focus. Job related development (focusing solely on the individual at work) the development objectives are closely aligned with departmental or organisational objectives and the plan may focus on the individual development needs required for enhanced performance in the current job.
Career development (focusing on the career development of the individual) this ensures the alignment of individual career planning and organisation career-management processes so that the optimal match of individual and organisation needs is achieved (Walton, 1999). Many organisations offer opportunities for career-related training as a means to attract and retain ambitious and highly-motivated staff. Non-work related development (focusing on the development of non-work related skills, the absence of which may be limiting the overall personal effectiveness of the individual) Examples include learning a foreign language, going to the gym, etc and this kind of development can help to decrease stress-related illnesses and aid in the achievement of work-life balance for the individual.
Managers are responsible for the achievement of organisational/service goals, and the delivery of a quality service to a set standard. Training and development can ensure that your staff reach and maintain the required standard, and help you in the achievement of goals. The Chartered Institute of Personnel and Development (1998) collected evidence over a seven-year period from one hundred medium-sized organisations which showed that human resource management practices that incorporate a highly-developed approach to employee development (such as personal development planning), can yield extensive gains for the organisation, with an impact far outstripping investment in either technology or research and development.
The presence of personal development planning also serves to demonstrate the value the organisation places on its employees. Its presence alone conveys a positive message to employees, serving to engender employee commitment and motivation, and can help to create the reputation of the organisation as a 'developer of people' (Shechtman 1999).
PDPs can help in making training and personal development an integral part of daily activities, where learning becomes a continuous process, closely related to actions in the workplace. Argyris (1998) and Altman (1998) provide evidence for this, indicating that employee retention is achieved through the enhanced levels of organisational commitment and employee motivation that personal development planning tends to generate.
Training and development initiatives are likely to yield a higher return on investment and be more effective in an environment where personal development planning is in operation. There are several reasons for this: focused training and development initiatives the structure of training and development can be focussed specifically to the needs of the individual and the needs of the job. It has been suggested that individuals tend to be more motivated to learn when they are managing their own learning. This in turn, implies that individuals will be motivated to extract as much as possible from learning initiatives (Bond 1994). Cost effective personal development planning can provide a cost-effective means of staff development in that plans do not necessarily refer directly to training courses, rather they are more likely to stipulate other less costly development interventions (such as shadowing, job rotation, on-the-job coaching, etc).
Personal development planning is about giving choice to individuals to manage their own development and their own careers. The process helps individuals to formalise their various development needs and encourages them to devise an action plan detailing the activities they must undertake to fulfil those needs. If a holistic, person-centred approach is adopted, the process will assist employees in considering all aspects of their life and will highlight those areas where changes may be necessary. In doing so, the process may assist the individual in striking an effective work-life balance.
Personal development planning may serve to enhance the employability and marketability internally and externally of the individual through the provision of development opportunities that enable the individual to acquire transferable skills and competencies. PDPs can help individuals to acquire more quickly and comprehensively the skills and knowledge needed for their role. They can also lead to a growing ability to take on a greater variety of tasks. The process of developing a PDP allows time for the individual and the manager to get better acquainted. It is also known to help people to focus their career plan within the organisation and to provide them with a greater interest in, and sense of responsibility for, their work.
In engaging in a process of Personal Development Planning, an individual can expect to go through a number of steps.
Step 1 PDP introduction
The starting point for PDP is to contact your organisation's training and development department or your line manager, as a means of providing you with all necessary information Arrange to attend the next personal development planning.
Step 2 Personal evaluations (strengths and development needs)
Begin to complete your Personal Development Planning Workbook Identify your strengths and development needs. In order to do this you may wish to complete self discovery instruments ask others for feedback on your performance use a 360 degree questionnaire in getting feedback
Step 3 Prepare and agree development plan
Meet with line manager to receive feedback share your PDP workbook discuss and agree development opportunities design your development plan based on information received
Step 4 Review and continue
Personally review your plan every 3-4 months and ensure you are monitoring progress in completion of your plan Arrange to meet with your manager every 6-12 months to discuss your plan Modify and update your plan on an ongoing basis Return to Step 2
The decision to implement a Personal Development Planning initiative requires up-front planning and demands that a number of issues are addressed. Lessons learned from piloting personal development planning in the health sector indicated that participants appreciate being able to attend an introductory session on the personal development planning principles and process and they appreciate having access to someone who can provide direction on the process. If you are at the stage of introducing PDPs to your organisation, it is also advisable that local level workshops on personal development planning are run on an as-needed basis to ensure full understanding of the process and the benefits of personal development planning.
Ideally, individual team members partaking in Personal Development Planning need to receive feedback from their line managers as part of their development. They should also discuss and agree their development plans with their manager. Line managers may thus require training in such areas as giving (and receiving) feedback, managing individuals' expectations, negotiation, building trust, conducting one-to-one meetings.
One of the main reported areas of difficulty in completing the personal development plan is time. If team members are participating in this process, line managers and team members need to come to an arrangement over the time allowed to undertake the process. Line managers should introduce the notion of 'protected time' for the time required for one-to-one discussions relating to individual personal development. These discussions are likely to last one hour and should be during the working day of both manager and team member.
The most basic reason for providing learning and development is to ensure that an organization's employees are able to carry out their current role. Some training may be mandatory in relation to health and safety or occupation-specific issues but much of it will be discretionary where organizations appreciate the added value that they will gain from having highly skilled and knowledgeable employees.
Organizations which are keen to improve their productivity, efficiency and profitability will look to move beyond mandatory training and look at more diverse learning and development activities which will enable the employees to maximize their potential and provide a valuable resource for the organization. Learning and development can be a source of competitive advantage where employees gain appropriate new knowledge and skills (Towler and Dipboye, 2009) which provides a strong argument for organizations to invest in their employees so that they can reap the benefits and differentiate themselves from their competitors However, provision of learning and development opportunities alone do not mean that an organization will be more productive and effective, there are many more steps needed.
Firstly the opportunities need to be appropriate in terms of content and the way that it is delivered so that they will add value to the employees and the overall organization. As well as looking at appropriateness from an organizational perspective it is also necessary to consider the fit with teams in the organization and individual employees to ensure that their needs can adequately be met. In addition the learning and development activities need to be delivered in such a way that practical benefits to the workplace can be observed and to enable the employees to be able to transfer their new knowledge and skills to the benefit of all of the key stakeholders.
Chiaburu and Lindsay (2008:199) comments: It is increasingly recognized that employees need to be actively aware of an organization's strategies and objectives and the provision of learning and development opportunities can help to cement this where clear links are drawn between the learning intervention and how it is aligned with the overall strategy Felstead et al (1997).
References
Altman, Yochanan (1998), 'The Big Match', People Management, November.
Argyris, C. (1962), Interpersonal Competence and Organisational Effectiveness, Irwin Dorsey, New York.
Argyris, C. (1998), 'Empowerment: The Emperors New Clothes', Harvard Business Review, 76:3.
Barrie, C., Briggs, I. and Williams, R. (1999), 'Personal Development in Action', Organisations and People, November. 6:4. Bond, Christopher (1995), Life Long Learning.
Bond, Christopher (1995), Life-Long Learning Brelade, Sue and Harman, Chris (2000), "Going it alone", Training, March
Related Topics