Organizational Objectives and Total Compensation in Different Markets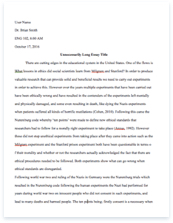 The whole doc is available only for registered users
A limited time offer! Get a custom sample essay written according to your requirements urgent 3h delivery guaranteed
Order Now
Total compensation plays a significant role for a Human Resource consultant as it the key objective for the company to provide knowledge of laws and regulation that effect compensation. It is crucial for one to understand how to apply these laws and regulations in the overall plan that a company offers in regards to their compensation package to support the company's strategic plan. The laws that influence compensation practices are designed to help "ensure that pursuit of goals by any one group does not undermine others goals. These laws make sure that the employees who have the "least amount of power' are protected (Martocchio, 2009). Being a federally contracted employer of over 200 employees, a number of laws and regulation will alter the total compensation package within the organization. The Affordable Healthcare act is considered one of those laws that will be discussed along with two biotech organizations and their total compensation package. The Affordable Health Care Act
The Affordable Health Care Act became into law over five years ago opening doors to affordable, quality health insurance for millions of children, young adults, adults and seniors. According to The White House (n.d), the act was "signed into law putting in place comprehensive reforms that improve access to affordable health coverage for everyone and protect consumers from abusive insurance company practices." The Affordable Health Care Act establishes a new Patient's Bill of Rights that protects individuals from insurance companies who would deny coverage due to pre-existing conditions or put a limit of how much care they would pay for and even cancel coverage due to a mistake on the paperwork (The White House, n.d.).
When first introduced, the Affordable Health Care Act was not well received as many individuals thought it was not very affordable and was difficult to obtain. During the first year of enrollment, many individuals were complaining about various glitches in the system which made it very difficult to navigate through the website. However, those glitches were resolved and now about 11.4 million Americans are signed up for private health care coverage (The White House, n.d.). The Affordable Health Care Act is one of the laws that is currently being thought of when constructing a total compensation package.
The majority of benefits that will be proposed will be centered on the extent and setting of an organization. The organizations total compensation package will entail a selection of benefits that each employee will be offered once they have been employed. The benefits consist of – Medical, Dental and Vision, LTD and STD plans, Flexible spending accounts, 401(k) plans; Tuition reimbursement for continuous education and Employee assistance programs. Similarities among these benefits have been constructed with two biotech organizations – United Therapeutics and Amicus Therapeutics. United Therapeutics
The main focus at United Therapeutics is diversity within its operations and its mission of medicinal discoveries. "United Therapeutics Corporation is a biotechnology company focused on the development and commercialization of unique products to address the unmet medical needs of patients with chronic and life-threatening conditions" (United Therapeutics, 2009-2014). The following are several benefits offered by United Therapeutics – Medical plan (medical, dental, vision and prescription), 401(k) plan, LTD/STD plans, employee assistance programs, stock purchase plan, employee referral bonus and onsite daycare (United Therapeutics, 2009-2014). Amicus Therapeutics
The main focus at Amicus Therapeutics is a commitment to improving the lives of patients and families affected by rare and orphan diseases. "Amicus Therapeutics is a biopharmaceutical company at the forefront of therapies for rare and orphan diseases. The Company has a robust pipeline of novel, first-in-class treatments in development for a broad range of human genetic diseases, with a focus on delivering new benefits to individuals with lysosomal storage diseases (LSDs)" (Amicus Therapeutics, 2015). Their total compensation package consists of – medical plan (medical, dental and vision), flexible spending accounts, 401(k) plan, education assistance, incentive awards and employee assistance programs (Amicus Therapeutics, 2015).
There are various similarities of each compensation package being offered by United Therapeutics and Amicus Therapeutics. The difference between each is that United Therapeutics offers onsite daycare, stock purchase plan and employee referral bonus. The most important benefits that employees are looking for which are offered by biotech companies include medical, 401(k) plan and flexible spending. By presenting other fringe benefits will benefit in retaining the current staff of employees and any future prospects that join the organization. Conclusion
For any organization to retain their current employees and to create an appeal to prospective employees they must consider the importance of creating an attractive total compensation package. The total compensation package being offered has been compared to two different biotech companies which are quite similar and adequate in this particular industry.
References
The White House, (n.d.). Health Care, Retrieved from http://whitehouse.gov/healthreform United Therapeutics (2009-2014). Retrieved from http://www.unither.com/careers-benefits.html Amicus Therapeutics (2015). Retrieved from http://www.amicusrx.com/careers.aspx Martocchio, J.J. (2009). Strategic compensation: A human resource management approach (5th ed.). Upper Saddle River, NJ: Pearson Education
Related Topics