Organization alignment and performance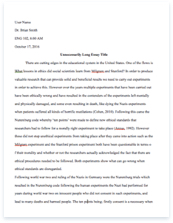 The whole doc is available only for registered users
A limited time offer! Get a custom sample essay written according to your requirements urgent 3h delivery guaranteed
Order Now
Alignment of organization strategy and goals is very much necessary in ensuring individuals see how their effort and performance contribute to the attainment of an organization goals. When alignment is achieved, goals are clearly seen from the top management level downwards to all hierarchical levels. Proper alignment motivates employees as they can clearly see their effort in achievement of the overall objectives of the organization. It is very important for employees to understand the broader context and the interdependencies which exist within the organization so as to achieve particular performance standards.
Alignment can be achieved through open and frequent communication and every staff involvement in decision making, this will enhance employee understanding of organization priority outside their division or section and provide a clear picture as to why decision are made and a particular focus has been adopted. This research paper seeks to examine the various aspects surrounding organizational alignment and performance specifically identifying problem and audience concerns. Rather, the paper will provide recommendation to the solution of the identified challenge. More importantly, the paper will peek on the various potential benefits and investment returns that can accrue to the organization if it effectively the recommendations provided.
The ability to obtain alignment is tedious and can be costly to achieve, its focus between strategic plan and business plan is often tenuous put the consideration of the ability of individual employees to connect their performance agreement to high levels goals not achieved in most of the cases (Kauffman 2003).There are several problems an organization has to face in order to attain this goal, the notable ones are;
Delays and time wastage in pursuit of publishing high level plans which impedes the ability of performance agreement to have a clear line of sight between performance of individual employees and the achievement of organization goals. This not only hinders the attainment of alignment and performance but also diversion from organization main goals. The lack of consistency in and clear communication of goals and priorities is a hindrance to achievement of alignment and performance. Lack of alignment between individual, group goals and the broader organization strategy, leads to uncertainty in role focus. In addition, it leads to unclear expectations of performance. Lack of explicit alignment with high level plans leads to employees working in areas that are not aligned to organization goals. This leads to wastage of resources and inefficiencies (stiffler, 2006).
In many cases performance agreements are not fully utilized to facilitate alignment, this arises as a result of not adequately documenting the tasks the employees were required to undertake in order to achieve the high levels plans. Ongoing changes in implementation of alignment make it difficult for employees to understand how their work is aligned to organization goals and priorities. This issue shows the importance of creating an environment that has clear communication lines to facilitate change.
The problems and challenges with alignment can be solved and tackled through enlisted performance evaluation. The enlisted performance in the United States of America navy has clear guidelines on how to implement alignment in an organization and the need for performance evaluation (stiffler, 2006). The enlisted performance evaluation provides a meaningful feedback to individuals on what is expected of them, how well they will meet their expectations and the best advise on how to meet those expectations. According to Wigdor et al (1986), the U.S navy enlisted performance evaluation provides a reliable, long term, cumulative record of performance and potential based on that performance hence increasing efficiency in duties undertaken. Through performance evaluation sound information is passed to managers to assist in identifying the best qualified personnel (Kauffman 2003).
As noted earlier, the goal of performing organizational performance is to identify the problems faced by the Navy Evaluation and to recommend effective strategies capable of addressing them.  The enlisted navy performance indicates that there are several challenges which hinders smooth working environment. Many of these problems are as a result of poor planning or technological changes.  Organization performance is a key area which greatly determines the success or the efficiency of any organization. According to Dunklin (2008), it is vital for each and every organization to appreciate efforts of their workers in order to motivate them to work harder.  Establishment of an effective working schedule is imperative in addressing major problems which results time wastage.
The basic understanding is that time is a major resource which determines the success of organizations as to the manner at which it was utilized.  It is imperative for the organization to put in place proper communication channels in order to ensure there are no communication barriers.  Effective communication is vital as it ensures all goals of the organizations are achieved as per the set timeframe (Stavridis & Girrier, 2004). Organization alignment can be effectively achieved through involving all staffs in the process of decision making.  This gives them a chance to share their views about planning and making major decisions in the organization.  With proper alignment schedule, workers are able to perform their roles as per the expectation of the organization.  Stavridis and Girrier (2004) affirm that continuous improvement with use of more concrete alignment measures is a good strategy to address all the above listed problems.
With respect to organizational alignment and performance evaluation, the use of enlisted evaluation has been identified as vital as it addresses the various challenges underlying human resources and thus in the same way effective in addressing the problem of coordination and difficulties of determining priorities and organizational goals (Kauffman 2003). With the help of this evaluation process, the organization is able to determine the best goals and organizational priorities thus increasing the responsibility and trust with the organization. This is also vital as it ensures selection and use of well qualified and experienced personnel's that will be vital in the accomplishment of the organizational mission.
Implementation of the above recommendation within the organization can be of great importance to the organization as it ensures diverse form of investment return and benefits. These include enhancement of organizational efficiency in terms of operations and also effective execution of various mandates. More importantly, execution of the above recommendation is of great significance to the organization as it will ensure effective communication thus prevent wastage of time and hence improved overall performance.
Conclusion
        Judging from above research, the use of enlisted evaluation performance in regard to organizational alignment and performance is an essential undertaking by an organization as it ensures evaluation of various challenges and determination of viable solutions. It is also evident that it is essential for workforce within the organization to understand the broader context and the interdependencies which exist within the organization so that so as to achieve particular performance standards an elaborated in the enlisted navy evaluation performance.
References
Dunklin, A. L. (2008). African American men and opportunity in the Navy: Personal histories of eight chiefs. Jefferson, NC: McFarland & Co.
Kaufman, R., Oakley-Browne, H., & Watkins, R. (2003). Strategic Planning For Success. New Jersey: John Wiley & Sons.
Stavridis, J., & Girrier, R. (2004). Division officer's guide: A handbook for junior officers and petty officers of the U.S. Navy and the U.S. Coast Guard afloat, in the air, under the sea, ashore. Annapolis, Md: Naval Institute Press.
Stiffler, M. A. (2006). Performance: Creating the performance-driven organization. Hoboken, N.J: John Wiley.
Wigdor, A. K., Green, B. F., National Research Council (U.S.)., & United States. (1986). Assessing the performance of enlisted personnel: Evaluation of a Joint-Service Research Project. Washington, D.C: National Academy Press.
Related Topics