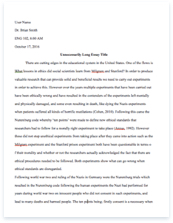 The whole doc is available only for registered users
Pages: 7
Word count: 1645
Category:
A limited time offer! Get a custom sample essay written according to your requirements urgent 3h delivery guaranteed
Order Now
Introduction
     There definitely are great differences between women in biblical times with that of contemporary women. If in ancient times, women were relegated to secondary roles in society and homes, today, a totally broader function has been given and thus the expectations are many among women nowadays. This is the reason why it is very common to hear even in younger ages the cry "women power." Although of course, the writer is much disposed to the equality between genders, the only objection existing is the farfetched definition of women's role today. This, I think, explains for the many troubles and much unnecessary competition between the opposite sexes. This problem progressively impacts the whole segments of society – homes, public and private agencies and organizations.
     This paper attempts to draw a comparison between Biblical projection of women (as portrayed in the Bible and the movie "One Night with the King") and today's popular culture's effort to portray the roles of women (McMurray, 2007).
Discussion
     It is commonly observed today that the feminist's movement has virtually permeated the mind-set of women and this is more or less shown in the changes of women's conduct and position in work and their appearance in public. The movement has so affected our society that even in movies, women in the 60s and 70s are portrayed very differently to women in contemporary times. Just in a span of two or three decades, women have undergone tremendous transformation to the point producers had to spend substantial amount of budget just to accurately depict women living two decades ago in their films.
     Considering this imagine how far removed the story of Esther in the film One Night with the King. It spans not only hundreds but thousands of years.
     The women's movement saw the 60s as its time. The reactions against the stereotyping of women and their work fuelled further these actions. The movement was meant to raise consciousness and increase the efforts by legislators in the changing landscape. The work that is assuredly traditional is characterized by the most menial type of household duties and responsibilities. The only more significant type of work that any woman can do during these times was to take the phone and any transactions with that business (Encarta, 2006).
     From the most plain type of task such as that of staying at home and do the budgetary undertakings, bear children and do the most common chores at home, all that have changed to accept that women's role has finally evolved from its prior condition or state. Today, women work in equally serious and risky types of jobs that only men had dominated just a few decades back. The bigger difference is when the comparison is between Esther's conduct and the value system of her day and that of today.
Women in Esther's days were performing differing demands and these demands significantly change the expectations of the community, religion and others.
     Today, just as busy in being a breadwinner much like as the husband or dominant male, women is observed to champion their cause although many of that is still lovely. Enjoying the freedom appropriate with their stage, the women has found easy standard before them.
     One of the major drawbacks is that women has attempted to major ideas or concepts as they were under the small boat when it happened. Women do their tasks in the light if his revelation. Her work is defined merely in domestic and public functions are the threat that masculinity poses to womanhood. It is good for women to fight for their basic equal rights with men as members of this global community, but if it results in certain imbalances because the aim has become the dethronement of the opposite gender, then the battle for equality has now turned into fight for superiority of the female sex.
Women then (according to analysis of women and their roles.
      "One Night with the King" successfully showed to people today and their enjoyable experience. In the film, the first of these lessons on womanhood could be derived from the example of Queen Vashti, King Xerxes' dethroned Queen. Vashti's removal as Queen was hastened by her attitude towards her King as she turned down King Xerxes' request "to show her beauty to the people and the officials" (Esther 1:11, NKJV The Holy Bible 1982). At the very outset of this biblical narrative, there was already a sort of struggle as to whether the King should be obeyed in whatever demands he makes or not. The whole picture of the Persian Kingdom's celebration included not only King Xerxes' feasting with people and officials but also Queen Vashti's party which she arranged for "the women in the royal palace" (Ibid). In biblical times, kings command absolute obedience to their subjects. They could do everything at whim even the execution of their citizens. However, to what extent should Queen Vashti needed to "show her beauty to the people" at the King's bidding, one cannot determine for sure. If it meant the exposure of the beauty of her naked body before the expectant public, it was wise and courageous for her to refuse even if it was a direct violation of the royal protocol. She was submissive to the King until this point of their relationship.
     Esther, however, as she is the main protagonist in the story, much of the lessons on women can be extracted from her life's example. The first is her courage to risk her life for others. When she was finally raised to the high position of a Queen, she did not forget but rather remained committed to the preservation and welfare of her people. Until today, this virtue of selfless courage is admired in the world. It is one of the sought after virtues of leadership which unfortunately is lacking in many of those occupying leadership positions. The courage that the life of Esther showed in the story was not independent courage which resulted from a stubborn will. It was a courage constantly tempered by another life, the life of her cousin and mentor, Mordecai. She allowed herself to be constantly advised and influenced by the one who helped her reached her current high position.
She remained as humble as she was in spite of the great changes and promotion that happened to her. She did not forget where she came from and did not abandon her people. It was Esther's submissive attitude that brought her to the high position of being Queen to King Xerxes in stead of Vashti. Contrary to what is being promoted today by our culture, Esther continued living her life (even as Queen) in a responsible manner. It is the dream of many young women today to wade their way through life to reach the point where there will be no one to hold them accountable anymore or have somebody to check them. Example after example of young celebrities have been the focus of media and news headlines that project the common outcry of many which hailed them to be the representations of American dream. Most of these modern-day models are strong-willed, carefree, and want to believe that life can be lived irresponsibly with no accountability. Esther's example, on the other hand, stands in stark contrast to common perception of women in popular culture.
-Impact of the non-biblical picture to women as a whole
     Because of this non-biblical portrayal of women in our society, a lot of damaged has been inflicted on the minds of the majority of people. For one thing, the current trend of thinking is resistant to the Biblical teachings regarding women. The common minds have been preconditioned to reject and to not understand the Biblical ideals of what females should be. As a result, when femininity is the question, people would rather look to non-biblical sources as authority than the Bible. Non-biblical portrayal of women has pre-programmed people to reject biblical standards. When that happens, society begins to have problems because the standards have become different. Its negative effects include the entertainment of a different kind of criteria by which we look at what qualities should our average women possess. This is reflected in the women's attempt to pursue what are not beneficial to them, simply because they have adopted rules or guidelines that are to them may put them in better position in this very competitive society.
     Other things that are currently occurring include the perversion of the role that women play before the eyes of the greater public.  Roles that actually begin to evolve and never to bring the women to healthier assessment of themselves but either a view that makes them as simply objects of perversions or whimsical creation of a role that is not only sickening but also in reality, harder than the real, and more biblical portrayal of women.
Conclusion
     The definitions of sexuality and gender roles are radically changed. Femininity is very important to be evaluated and assessed according to real thing: the biblical benchmarks. Women will begin to see themselves the way God sees them then. As partners in the fulfilment of God's grand design and when women start to accept the roles as defined by the bible, they then develop into healthy "organisms" capable of even settling into times when to be in the background is still very acceptable.
Reference:
Encarta Dictionary 2006. (DVD)
Maxwell, John, 2000.  Commentary on Esther. P. 600. The Maxwell Leadership Bible.
McMurray, Sheri. "One night with the King" review. Christian Spotlight. Accessed  Sept. 24, 2007. <file:///D:/Documents%20and%20Settings/alan/My%20Documents/ESTHER/onenightwiththeking2005.html>
New King James Version, 2000. Maxwell Leadership Bible. Maxwell Motivation , Inc. (Thomas Nelson Publishing).
Related Topics