Nonreciprocal Interfund Activity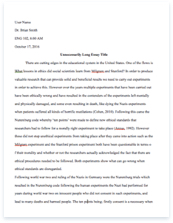 The whole doc is available only for registered users
A limited time offer! Get a custom sample essay written according to your requirements urgent 3h delivery guaranteed
Order Now
(7-2.) Residence of a neighborhood financed the installation of sidewalks through a note payable. The note was to be repaid through a special assessment tax on their properties. When is it appropriate to account for special assessment activities in an agency fund? In which fund should the special assessment tax receipts be reported if they do not meet the criteria for an agency fund. GASB standards mandate that a government should account for special assessment activities in an agency fund if the government has no obligation to assume responsibility for debt payments, even if the property owners default. If the government is liable for payment of special assessment debt in the event of default by the property owners, the transactions are handled as any other general government debt, normally through a debt service fund. PRIVATE-PURPOSE TRUST FUNDS
(7.4) A concerned citizen provides resources and establishes a trust with the local government. What factors should be considered in determining which fund to report the trust activities. The factors that should be considered when determining which fund to report is when the benefit is limited to specific private use rather than the general public purposes. INVESTMENT TRUST FUND
(7.8) Describe GASB requirements for accounting for Investment Trust Funds. Include (a) a discussion of when the use of investment trust funds is appropriate; (b) the investments to be included and excluded; (c) the basis at which investments are to be reported; (d) reporting of realized and unrealized gains and losses on investments; and (e) financial reporting. The GASB provides requirements for investment pools. First, internal investment pools, which account for investments of the reporting entity, are to be spread out to the funds providing the resources, when preparing financial statements. Any governments participate in external investment pools where investment pools where investments for several governments are maintained. For governments that maintain the multigovernment investment pool, the external portion is to be maintained in as investment trust fund, a fiduciary fund. The external portion is assets held for ay government other than the County government and may include independent school districts, villages, and towns. The internal portion is to be spread out among the county's funds.
INTERFUND TRANSACTIONS
(7-14) What is meant by the term interfund transaction and what are the four types of such transactions? The term interfund transactions means the transfer of funds for loan repayments, for sales and purchases for goods, the flow of assets without repayment, and repayments from funds responsible for particular expenditures or expenses.
Related Topics