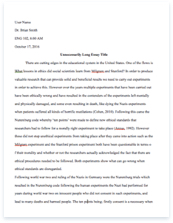 The whole doc is available only for registered users
A limited time offer! Get a custom sample essay written according to your requirements urgent 3h delivery guaranteed
Order Now
I. INTRODUCTION
The movie rental industry has become one of the most competitive industries, and is largely dependent on advanced technology and content rights management. The movie rental industry has made significant shifts from DVD-delivery services to online video streaming services. This case focuses on analyzing Netflix's objectives, strategies, external environment, and its strengths and weaknesses. A. BACKGROUND
Since launching online rental services in 1999, Netflix's successful strategy and business model have helped the company to evolve into a world's largest online entertainment subscription service and change the way people used to rent movies and watch TV shows. Throughout 2010 and beginning of 2011, Netflix experienced enormous growth: number of subscribers doubled, revenues climbed up from $445 million to $777, etc. However, Netflix has always been known as a rapidly evolving company that is adjusting to the changing market quickly. In mid-year, 2011 Netflix announced that it is going to separate its online streaming and DVD-by mail services. Along with the news about separation, Netflix announced that it would charge those services separately at the price of $7.99 each, in comparison with the price of $9.99 that it is used to charge for both: streaming and DVD's.
The price increase equaled 60%, which is a huge change, and negative feedback from consumers was understandable. In the explanation letter, the CEO of Netflix, Reed Hastings stated, "…DVD by mail may not last forever…We feel we need to focus on rapid improvement as streaming technology and the market evolve…So we realized that streaming and DVD by mail are becoming two quite different businesses, with very different cost structures, different benefits that need to be marketed differently, and we need to let each grow and operate independently". After the price had risen and customers were unhappy, Hastings came out and clarified that there would not be a price increase. Individuals still must go to a separate and differently named website for the DVD by mail option. II. OBJECTIVE
Netflix wants to create a strategy to build a continuously growing subscriber base, which includes providing the subscribers with a comprehensive selection of DVD titles and building and maintaining mutually beneficial relationships with entertainment video providers to acquire new content. Spending aggressively on marketing to attract subscribers and build widespread awareness of the Netflix brand and service was also a part of the wide strategy. Netflix wants to give subscribers a choice of watching streaming content or receiving quickly delivered DVDs by mail, but also would rather promote rapid transition of subscribers to streaming delivery rather than mail delivery.
In October 2011, co-founder and CEO Reed Hastings expressed a clear vision for the future of Netflix. His vision for Netflix included becoming the best global entertainment distribution service, licensing entertainment content around the world, creating markets that are accessible to film makers, and helping content creators around the world to find a global audience. III. EXTERNAL ENVIRONMENT
The external environment was in a substantial way responsible for the problems experienced by Netflix, problems that could have been far less dramatic had the company taken a few important steps in the implementation of its proposed changes.
A. ECONOMIC CONDITIONS
First, Netflix had no control over the economic conditions in the general environment in which the company operated. When Starz proposed a dramatic increase for Netflix to renew its license with Starz, Netflix had three choices: discontinue circulating Starz products, pay the exorbitant license renewal fee, or increase prices charged to consumers to cover the increased costs. Paying the increased renewal fee would not have been financially wise since Starz demanded an increase that was ten times the previous renewal rate, a 900% increase. That left the company with two choices—discontinue circulating Starz products or increase prices charged to consumers. The wise decision would have been simply to discontinue circulating Starz products. Eventually, this is what happened anyway, and consumers could have been informed that Starz products were no longer available because Netflix did not want to overburden subscribers by raising rates to cover the demands of Starz. If consumers were adamant about having Starz products available, then Netflix could have raised rates and made consumer wishes the reason for the increase. In either case, the blame would have been shifted from Netflix to either Starz or the consumer demands.
B. SOCIOCULTURAL FORCES
The whole Netflix disaster arose because the company did a poor job of communicating with its customers. Some advanced warning to customers should have been issued, and it was not. What further exacerbated the situation were the sociocultural forces that went to work when Netflix made its decision to raise prices and split the company into two parts. Netflix allowed the situation to explode over the social media before an appropriate explanation was made to the consumers. Although Reed Hastings did post a blog admitting the company's mistake, there were two problems with his explanation. First, the blog was much too late because the situation was already viral. The company should have used forethought, not afterthought.
Second, the blog that he posted was much too long. Most consumers are not going to read paragraphs after paragraphs of explanation. Instead, Hastings should have used a bulleted list of the reasons for the increases and the split, which would have been easier for the consumer to digest. Before the blog was issued, the company should also have rethought its "Quikster" plan. People do not appreciate change, especially with a service with which they are completely satisfied. The company probably should have just added a phrase after "Netflix" to distinguish between the streaming service and the DVD and games service. For example, they could have been called "Netflix DVD" and "Netflix Streaming." This would have been less confusing and would have seemed less of a change than "Netflix" and "Quikster."
C. TECHNOLOGICAL FACTORS
The technological factors at work in this situation should have been examined thoroughly before any changes were instituted. First, there had been a rapid increase in new technologies and electronics products that gave consumers alternate opportunities to view movies. There were already DVD players, but automobile consoles, iPhones, iPads, iPods, personal computers, video game consoles, and more than 700 devices were at the time of the decision capable of streaming content from Netflix, or any other subscription service. Although this abundance of technologies was good for Netflix business, they were also responsible for making Netflix's plans for price increases and division into two separate businesses more easily accessible to consumers from third parties—not Netflix directly. There was already competitive intensity from the Red Box business, and Netflix gave this company and others just the opening they needed to grab a larger piece of the DVD and video game distribution business. IV. EVALUATION OF RESOURCES, CAPABILITIES, AND COMPETITIVENESS
A. RESOURCES
When Netflix tried to change their strategy by separating the streaming services from the DVD by mail services the stock price dropped from $304.79 down to $210 per share. The CEO further caused damage when he released information on a completely separate website for the DVD by mail services dropping stock prices down to around $115 per share. After seeing how negative the response to this was, Netflix changed their strategy in order to please the customer, and keep all their services in the same package and website. This change in strategy can be seen as working in that the stock price as of October 2014 is $438.80. Netflix is still on top when compared to other instant streaming sites. Several key factors make Netflix the number one choice when it comes to watching TV shows and movies instantly. With the ease of use, mobile applications, audio/video quality, original content, and volume of content, others find it hard to compete. Since 2012, Netflix has become the leader in original shows with Orange is the New Black, House of Cards, American Horror Story and others.
B. STRENGTHS AND WEAKNESSES
When SWOT analysis is performed on the company, the firm looks very impressive. They have strengths in instant streaming with ease of use, apps, quality and content. Their weaknesses are minor in that they do not have every movie or TV show ever made. Opportunities have presented themselves in original shows and in quick release dates of the newest seasons. Threats come in the form of Red Box kiosks, where instead of waiting for the DVD by mail, you can rent your movie when you go to the drug store down the street. Netflix has worked hard to turn their weaknesses into strengths and take every opportunity to become the best.
C. COMPETITIVENESS
For a year of Netflix, it costs $96. Comparatively, Hulu Plus is at $96 and Amazon Prime is at $99. With it this close in price, it is not necessarily a definitive reason to make a decision. Netflix is, however, competitively priced. With Netflix at the top of the list for almost all categories, they are stronger than key rivals. Key Rivals as of October 2014 are Hulu Plus and Amazon Prime. These three competitors all provide instant streaming for monthly fees. D. CAPABILITIES
On the list of front burner managerial stratagies are ways to improve an already great Netflix. Audio and video quality must improve just as quickly as the capabilities do for televisions, laptops, tablets and phones. Selection of new content is critical as many viewers make their choice of streaming supplier largely based on content. While Netflix has proven it can change its strategy in order to succeed, it will need to remain flexible and ready to change and evolve as the global market does.
V. STRATEGY
Over the years Netflix has developed a "broad differentiation" and are moving towards becoming "low cost provider" competitive strategies. They are currently using the broad differentiation strategy because they have set their products away from their competitors. Some of the business that worked out of an actual store ended up getting passed up by Netflix for exactly that reason. Netflix has a wide selection of movies, shows, and documentaries. They have also constantly brought in new content and allowed quick access to their material by Internet (streaming) and by mail (DVD by mail). Netflix continues to set their business apart from business like Blockbuster by doing these things. However, they are moving towards a low cost provider strategy, because other business have started coming up that look similar to them and are using alike business models. Amazon, hulu.com, HBO (hbogo.com), ShowTime(showtimeanytime.com) are examples of businesses that are now competing with Netflix by providing content via the internet or by mail. This is where Netflix again separates their business from the competition. Netflix has set their prices lower than their competitors and have continued to do so. They are striving to maintain lower overall costs than their rivals that are providing the same type of service. VI. STRENGTHENING COMPETITIVENESS
In 2007, Netflix began to improve their market position by going on the offensive. They looked at a need that wasn't being fully met at the time. Netflix's objective was to be the clear leader in the rental segment via their instant watching feature online. Their main competitors at the time were YouTube and video-on-demand. Broadband Internet began to become widely accessible and more reliable. Seeing this being as the way people will watch TV in the future, Netflix moved to expand in this area. The National Cable and Telecommunication Association (NCTA) estimated that high-speed cable service reached about 92 percent of all U.S. households by the end of 2007.
Netflix then moved to make access to their product much easier, working with Xbox and PlayStation customers were able to stream movies and shows straight from their gaming consoles. Netflix also made it widely available to Internet connected TV's, some of which came preinstalled with Netflix. By 2009 broadband access grew across the country, allowing over 91 percent of households with Internet access to stream. This then turned Netflix to go to the next step, which was reaching mobile users. By 2010 Netflix had apps on IPads, most gaming consoles, and other mobile devices. In 2012 Netflix core strategy was to grow its streaming subscription business domestically and globally.
Netflix also went on the defensive by establishing strong ties with various entertainment video providers and leveraging these ties to both expand its content library and gain access to new releases as early as possible. In 2011, Netflix was able to negotiate access to certain films produced by Lionsgate within one year of their initial theatrical release for showing in the UK. Netflix also gained exclusive rights to show a number of titles produced by several studios. This allowed Netflix to show films before other companies that had begun to copy Netflix's streaming strategy. That enabled Netflix to keep a competitive advantage. Once their competitors began to do the same, Netflix no longer held a dominant position in the negotiations with the various entertainment studios. Once Netflix became aware of this, the next step would be to cut out the middleman.
Netflix's next move was to produce their own movies and series'. This backward vertical integration has proved to be very beneficial to Netflix. "Lilyhammer", which was first to be produced by Netflix in February of 2012. Netflix's customers have shown so much support that Netflix now has several series it produces. Now Netflix's competitors are now beginning to do the same. The CEO of Netflix, Reed Hastings, believes in being a first mover in their strategies. Netflix is a company that thrives on blue ocean markets.
VII. EXECUTIVE SUMMARY
The aim of this case study was to analyze Netflix and its strategies to see if they have the possibility of being more successful. Through research and application of management concepts it was found that overall Netflix is an extremely successful company and has proven it can change its strategy in order to succeed. To remain successful it is recommended that Netflix should remain flexible to the changing demand of consumers and the quick changing technology. Also, Netflix need to always keep the consumer preferences and attitudes in mind and not just the objectives Netflix has set. It is also recommended that Netflix execute their strategies more moderately so they do not come as a surprise or a large change to the consumers. Netflix must try to make these changes as desirable as possible for the customers.
VIII. REFERENCES
Thompson, A. Peteraf, M. Gamble, J. Strickland, A.J. (2012) Crafting and Executing Strategy. 19th edition. McGraw-Hill.
2008, January, "Networked Nation: Broadband In America 2007", National Telecomunications and Information Administration [online] Retrieved September 29, 2014, from
www.nita.doc.gov/reports/2008/NewtworkedNationBraodand
2012, June 1, "TV Basics: A Report on the Growth and Scope of Television", TVB [online] Retrieved September 26, 2014, from
http://www.tvb.org/media/file/TV_Basics.pdf
"Netflix", Netflix, [online] Retrieved September 29, 2014, from http://pr.netflix.com/webclient/loginpagesalesnetworksaction.do
Related Topics