Personal Curiosity Persuasive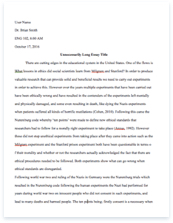 The whole doc is available only for registered users
A limited time offer! Get a custom sample essay written according to your requirements urgent 3h delivery guaranteed
Order Now
They say curiosity killed the cat, expressing that it's dangerous and extremely risky being curious because it can get you put in difficult situations. But for me, curiosity has gotten me to places in my life that I never thought imaginable. Curiosity gives me the courage to take a risk and more times than not, ends up helping me. It's that, "I wonder what would happen if…" that inspires us to make decisions every single day whether we know it or not. Sometimes the smallest event changes the way you think about life for the rest of your life, just like it did to me.
There was one key moment for me that truly began my curiosity. When I was about four years old, I was riding my bike with my training wheels on. Now let me just tell you, I was awful at riding my bike, even with the training wheels. I was constantly falling off, and crashing into things and losing control because I wouldn't be paying attention to the road, but to the butterflies and the birds in the sky. There was a time where I literally rode my bike underneath a parked semi truck. One day in early spring, I asked my mother if I could take my training wheels off my bike and ride "like a big girl". Now my mother knew how awful I was at riding my bike so she said to me, "Maybe this summer, there is still snow on the ground and I just don't think you're ready yet honey." I accepted her answer for what it was.
Most of the time I can just let these things go, but this was not one of those times. I was playing by myself in the yard, and I was just really bothered by the fact that I wasn't allowed to ride my bike. Usually mother knows best, but this time something just wasn't quite right. Something inside of me told me that I was ready. I just couldn't shake the feeling; I had to ride my bike, without the training wheels. I went back to my mom, and I said again "I want to ride my bike without the training wheels" "No, you're just not ready" she replied. I won't lie I threw a tantrum. I remember exactly what I repeatedly said during my meltdown. "No! I am ready, God told me I was ready, I have to do this!" Finally my mom gave in and sent my dad to go take my training wheels off. I felt that my excitement
could beat out a kindergarten class going on a fieldtrip to the world's largest candy shop. My parents told me to go ride in the driveway and they would watch in case I got hurt. I hopped onto my "big girl bike" and I rode off, and I did five times better than I ever had with the training wheels. I was right. I was ready and the jaw dropping, astounded look of my mother's face is one that I will never forget.
Now I get it, it's a silly story which may not even mean anything. I could've just gotten lucky, it's very possible. That day shaped me into the person I am today, as silly as it may be. Since that day, whenever I have a feeling in my gut to do something, or try something, I do it! I am constantly taking chances and risks just from a feeling that I have; whether it be to try a new class, play a new sport, or even jumping off a 30 foot cliff into freezing Montana glacier water. Instead of thinking "I can't" it makes me think "Why can't I?" I can't help but feel that if that day I didn't ride my bike without my training wheels it would've completely changed who I am today. I would've ignored that gut feeling, the feeling that has motivated me all this time. Yes, I would've eventually rode my bike, but the fact that I pushed the limits and did it before anyone thought I was ready, when it turned out I was. I feel like every time I go with this feeling, it proves that sometimes we are more prepared and more capable of doing something then we think.
This is why I agree with Einstein's quote. "You should never stop questioning what is possible and what you can do." Sometimes you get burned and things don't work out, but sometimes they do! That's the part that's so amazing, the fact that there are a million things that you are capable of doing that you haven't tried or even thought of yet! When people tell you something is impossible think "Why is it? Why can't we?" Let that curiosity drive you to make the best out of any situation. That's what this whole crazy adventure we call life is anyway, isn't it? They say you only live once, so why not spend that one shot and figure out all the mysteries of life, and most importantly, the mysteries of you.
Related Topics