My Thoughts About My Educational Career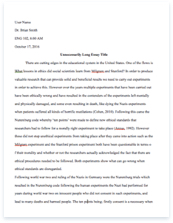 The whole doc is available only for registered users
A limited time offer! Get a custom sample essay written according to your requirements urgent 3h delivery guaranteed
Order Now
I believe in the above quote, and I also believe that I can learn and possess the ability to obtain skills in my life. I see myself as a proactive and curious and competitive student. What we like should always be in the congruity with what we choose and that reflects our basic inner self. As a child, I was interested in and enamored by numbers that led me to my discovery of the amazing world of mathematics. My childhood was the harbinger of my introduction to the fascinating world of technology, I thoroughly enjoyed my experiences on the cutting edge. I use it as an anvil to build my research career. I don't know then that would prepare me for engineering course that I opted after a long time when I joined Bachelor of Technology in the domain of Computer Science and Engineering.
Now, I feel that I'm at the threshold of my challenging sphere, Masters Study, fueled by my experiences during my academic journey. This journey would surely become a pageant of research with your incessant, untiring efforts and my undaunted spirit. Having learned from the past, I live in the present with an eye on the future. My academic track record and excellence at both high school level and post-secondary levels made me confident enough to shape a definitive and cognitive place in computer science and engineering. My desire in this field by doing innovative research has motivated me to pursue graduate studies. I want to reach the zenith in information space only by rigorous work and lengthy and proactive study that turns me more determined. In this ever-changing world Computer Technology, where each new day sees a spate of new concepts and emerging trends, I want to stay on the fast track. Master's degree at your university would not only provide me subject matter expertise but also through research-oriented study to lay a foundation for my dreams. To this effect, I have already armored with skills such as Java, Python.
My journey of studies started with my schooling at Sri Chaitanya Techno School. I was motivated by my teachers there to take part in extracurricular activities like debates, quiz etc., which gave me a good and effective breakthrough. My schooling also played an important role in developing my interest in the computer field. I came across HTML and CSS during my middle and high school. This laid the very foundation in this field and that eventually prompted me to wake up my mind for choosing computer science as a branch in my bachelors. After my schooling, I joined Tirumala Junior College for grade 11 and grade 12 with Mathematics, Physics, Chemistry as core subjects apart from English and Sanskrit as languages. I have learned how to set a goal and work hard for it, I found my role model in this college Mr. N Tirumala Rao, director of Tirumala Institutes, my physics professor. When I was depressed and chaos about my career, he is the one motivated me and made me confident and self-disciplined.
Further, for my professional studies, I have Joined Amrita School of Engineering for my bachelor's degree in Computer science domain. Apart from gaining knowledge, I got an opportunity to spend time close to nature and cope up with people of different cultural, social, language background and bringing out the communication skills in me. I was a workshop coordinator for the workshops conducted during the annual college fest name ANOKHA-2017 where I have assisted my seniors and worked in organizing and scheduling the workshops during the fest. Apart from academics, my involvement in various activities, I have joined National Service Scheme (NSS) where we spent our leisure time for some social cause, in that I have organized a rally stating the importance of 'Cracker Free Diwali' we conducted Mime competitions followed by a rally in our college premise and took an oath. Later we had a camp to the nearby underdeveloped village named 'Chinnamadhi', we understood their lifestyle and suggested ideas to boost their economy and helped them with the Postal Bank account.
The government of India sponsored for the activities done under NSS. For the Annual Technical Fest named ANOKHA-2018, I worked as the workshop manager where I'm completely responsible for a workshop and where I learned management skills. It also gave me experience on how to work in synergy. My undergraduate education has set a firm foundation to beat the challenges I would face in my academic voyage. As an undergraduate student, I excelled in subjects like Computer Networks, Machine Learning, Data Mining, Data Structures and Algorithms etc., and these subjects also enhanced my programming skills in languages such as C, Java, Python. To solve real-world problems, I'm much familiar with languages and tools like Angular JS, Mongo DB and application development. I have applied the concepts I have learnt in some projects based on the use case chosen they are Smart HR Management System where focus is on role of database and its connectivity, Movie ticket booking system where the major focus is on web development and implementing in an agile model which is used to solve varying problem definition, Restaurant management System which focused on servlets and JSP and XML.
Apart from projects undertaken in college, to gain more exposure, I worked on industrial level case study on VPN Tunneling using IPSec where the simulation of VPN is made in a tool named Packet Tracer and made a clear observation about the security and protocols, and a case study on Pima Indian Diabetes using various machine learning algorithms in a tool named R studio. I also built a Smart Ingredient Jar an IoT device using an Arduino and stated the importance of it in a smart home. These projects helped me achieve a practical view of the theoretical subjects Pursuing my sturdy interest in Computer Science has over the years enabled me to develop keen analytical and reasoning skills. Being a network enthusiastic, I have completed Cisco Certified Network Associate (CCNA) training and participated in NetRiders APAC in 2017(conducted by Cisco, cleared round 1) and gathered sufficient knowledge and Presented the paper titled "Evaluating Efficiency of HMAC and Digital Signatures to Enhance Security in IoT" at the 2nd International Conference on Applied Soft Computing Techniques (ICASCT-2018), and it got published in International Journal of Pure and Applied Mathematics.
The seesaw of my educational career has been balanced with the proper amount of extracurricular activities and project works alongside my academics. I have had the chance to broaden my ken of knowledge and expertise through varied projects throughout my undergraduate course. At this stage, I believe pursuing a master's degree with the focus on Computer science would catalyze my career progress, and the program offered at XXXXXXXXXX is perfectly tailored to my needs. I anticipate gaining a competitive edge by deepening my understanding of varied analytical techniques and upgrading my technical skills through the well-structured course of study. I hope the Admission committee acknowledges my drive to surpass in my academic and professional undertakings and issue an affirmative response. The honor of being associated with such an esteemed institution would be an additional motivation as I move towards the realization of my ambitions.
Related Topics