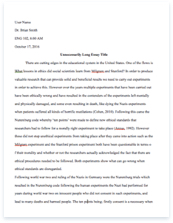 The whole doc is available only for registered users
A limited time offer! Get a custom sample essay written according to your requirements urgent 3h delivery guaranteed
Order Now
I was born in Indianapolis, Indiana to a Caucasian mother and a father who is unsure of his race because of his adoption. Living in a small town in Indiana, I was never exposed to any other race than white. I moved to Florida at a young age and quickly learned that there are many different races of people other than whites. Growing up I had a few acquaintances that were African American or Latino, but all of my close friends have been white. I have always tried to be open minded towards other races, although I have found it hard sometimes to connect or relate with people outside of my race. My mother fortunately did not carry on the closed minded attitude that most people have in the Midwest (or in Indiana). She raised me to be open to other races and we often spent days and even nights with friends of different races. At the age of five my mother and I moved to Florida, which is almost a completely different world than Indiana as far as exposure and attitudes towards races other than white.
Living in Florida allowed me to have friends of all different races and religions. I am grateful that I learned from an early age that I am no different than anyone else just because my skin is white. I lived in Florida until having a falling out with my mother at around the age of fourteen. It was at that age that I was sent back to Greenwood, Indiana to live with my father and his new family. I went from a very diverse school that was predominately black and Latino, to a complete culture shock. My new high school was twice the size of my old one in Florida, with literally one black girl in the entire school and the rest were white. These kids were very closed minded, mostly racist white kids. These kids thought that all Spanish people were Mexican and were therefore called "beaners". And I will not say the term used for black people.
It seemed like they were living in a world that was way behind the rest of the United States. The ignorant attitudes and language that was often used really just disgusted me. As time went on, I learned to just ignore it and surround myself with people (still white) that didn't have such ignorant views. I remember when there was one black guy that started working at the Taco Bell in town, other than that there was not much opportunity to interact with races other than white. After high school I moved out of Greenwood into Indianapolis, but the neighborhood and areas surrounding were still mostly white with a few Mexican families. I definitely got used to interacting with only white people, but the lack of diversity always bothered me because it differed so much from how I grew up in Florida. I moved back to Florida at the age of twenty one. I was happy to have interaction with people other than the "redneck" white people that were so predominate in Indiana.
In my twenties I socialized and interacted with anybody and everybody, no matter what their race. A few years ago I had a brief relationship with an African American man, and now I am the proud mother of a five year old bi-racial little girl. Now that I have a bi-racial daughter, I try to be more sensitive to racial references and who/what she is exposed to. Because of my past experiences with racism, it sometimes makes me scared for my daughter and what she might have to experience due to other people's ignorance.
Most of my family lives in Indiana and I would love to move back and be with them, but I don't want to expose her to that type of ignorance if I don't have to. I am scared because I will never know what it's like to be looked down upon because of my skin color, and of course I don't want her to feel like she is less of a person because of her skin. I know that our country has come a long way in terms of race and being tolerant to one another. But unfortunately certain people and places still have a long way to go, myself included.
Related Topics