Muhammad "Where Did All the White Criminals Go?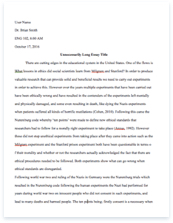 The whole doc is available only for registered users
A limited time offer! Get a custom sample essay written according to your requirements urgent 3h delivery guaranteed
Order Now
As I reflect upon my reading on: Reconfiguring Race and Crime on the Road to Mass Incarceration", I continuously found myself wondering how the definition of criminality has been redefined throughout the years. The reading described criminality as a socially constructed concept where the roots are based on racial discrimination by authority figures and put an emphasis on criminality in the Northern United States during the 20th century. The rightness or wrongness of crimes, the "undeserving criminals" versus "deserving criminals" was founded on how white or black one is. The reading also explained how preconceived misconceptions about the "liberal" North that we are taught in grade schools as a place of refuge for slaves is not as innocent as we all believe. Muhammad's article made me think about how our crime control policies in America are so deeply rooted in racial discrimination that its effects are still transcending through our society today, yet we falsely keep believing that by putting criminals away we are "safer", and our prison systems are working because of that.
This concept of criminality based on the color of one's skin was particularly shown in the Brock Turner case in 2016. Stanford University student Brock Turner, more importantly, a white male with blonde hair and blue eyes, sexually assaulted an unconscious girl and was sentenced to six months in jail with three years of parole. A sexual assault sentence that was lessened due to being a young White male is one of many criminal cases where the sentencing comes down to the privileges of whiteness in America. The U.S. Sentencing Commission revealed that Black males serve on average about 20% longer sentences than their fellow White man for the same crime committed. This is a common trend in our society where the White individual gets to play the role of the victim and get their criminalization justified while the Black individual receives the harshest of sentences for even lesser crimes such as burglaries. For example, in the case of Brock Turner, people were concerned about his scholarship at a renowned university being at stake and his future being ruined, however, where is this sympathy when a Black person is involved? Do they not deserve to have a life filled with opportunity and success?
The implications of this issue are that the disparities between the sentencing of Black versus White Americans reflects our corrupted justice system and the need for it to be addressed. Why is race a prime factor in how we sentence criminals? As Muhammad explained using the Scholarship on the War on Drugs, it is the "crime policy, not crime" that determines criminality in our system. We raise uproar when we feel that the sentencing was unjust for a white crime, but the sentencing is justified when a Black person is involved. Is this concept of punishment being disproportionate to the crime only relevant when a White "deserving" individual is involved? The issue matters because it just goes to show that our society, specifically law enforcement has not learned anything from historical events like the unjust case of Emmett Till. We are repeating history whether it something we want to hear or not. This social construction of criminality needs to be redefined because the one we are using now is still unjust due to racial discrimination as it was back in the 20th century.
After reading Muhammad's article, I cannot say that I am surprised. This is because I have heard of many instances, like the case of Brock Turner where the role of race is a determining factor in criminal sentences. It is disappointing to see that history is still at play and individuals who are contesting against the American criminal justice system that fight for justices in terms of mass incarceration and police brutality are not being heard. It makes me wonder if it is really American history if we are still actively living it? One thing that did open my eyes was how I was conditioned to believe through my middle and high school education about how Slaves went to the North for freedom and it was the place to be if you wanted to be safe from slavery. However, my knowledge was expanded from this article on how the North was just another factor in this road to racial discrimination that we see today in 2018. My last and final observation of this article is that I sincerely hope that people keep fighting for a justice system that reflects justice. "History matters for present-day efforts to create a less racially unjust country" was a quote that stood out to me in this article. As Americans, we should take the time to fully understand and internalize our history, the good, the bad, and the ugly, and only then
Related Topics