Motivational and psychological correlates of bodybuilding dependence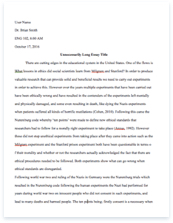 The whole doc is available only for registered users
A limited time offer! Get a custom sample essay written according to your requirements urgent 3h delivery guaranteed
Order Now
Even rewarding activities have an addiction potential (Allegre, Souville, Therme & Griffiths, 2006; Terry, SzaboGriffiths, 2004). Exercise, for example, may become maladaptive if taken to extremes (Ackard, Brehm & Steffen, 2002; Hall, Kerr, Kozub & Finnie, 2007; Hamer & Karageorghis, 2007). Indicators of maladaptive exercise include working out several times a day, or for longer periods than recommended, obsessing over calories expended, anger if interrupted, cancelling or avoiding social or occupational responsibilities in order to exercise, and centering daily schedules around exercise (Adams & Kirkby, 2002; Terry et al. , 2004).
Terms include behavior and exercise dependence (Hamer & Karageorghis, 2007; Hausenblas & Symons Downs, 2002), over-training (Long, Smith, Midgley & Cassidy, 1993), exaggerated responsibility to exercise (Yates, Edman, Grago & Crowell, 2001), obligatory workout (Ackard et al. , 2002; Hall et al. , 2007), and bodybuilding addiction (Annett, Cripps & Steinberg, 1995; Mathers & Walker, 1999). Exercise dependence is different from the behaviour of the 'gym enthusiast' by the symptoms of tolerance, withdrawal, lack of control, and many more (Berczik et al. , 2012; de Coverley Veale, 1987; Freimuth, Moniz & Kim, 2011).
Bodybuilding addiction has a long studied with a similar to obsessive exercise among athletes (Chapman & DeCastro, 1990; Freimuth et al. , 2011; Hall et al. , 2007; Ogden, Veale & Summers, 1997) and relation to eating disorders (Ackard et al. , 2002; Mond, Hay, Rodgers & Owen, 2006). Exercise dependence it can be a secondary addiction to an eating disorder. Purpose of exercise, is totally for fitness, weight and shape control (Freimuth et al. , 2011).
Weight training may be introduced for some reasons such as improving strength and fitness and it take to an exaggerated importance (Hamer & Karageorghis, 2007). Bodybuilding dependence has been shown to a many persons from minor socioeconomic backgrounds and those not currently involved in a relationship (Smith & Hale, 2005). Anger, hostility and aggression According to (Barefoot & Lipkus, 1994), there are three dimensions that are related to hostility and anger that may create an action to engage in physical and or verbal aggression.
It depends on the individual's coping ability or style and it may be expressed or suppresed. According to (Gavin, 2004), an interview with the fitness trainers' personal experience and it says that bodybuilders tend to have more aggressive personalities and it may be a cause of use of steriods. But those who are addicted to exercise were more restless and stressed. Seven Health benefits of regular physical activity Why do we need to work out? Do you know that working out has a great help on your body? Doing exercise daily can boost your self confidence, boost your happiness level, boost your memory and many more.
Here are some benefits: First. Exercise controls weight. Exercise is helpful to remove excess weight and fats in your body, and to maintain your current weight. It improves your metabolism. When you engage in physical activity, you burn calories. Regular visit in gym are good, but don't worry if you haven't time to visit in gym. You can do exercise also without visiting the gym, just like getting more active throughout your day, taking stairs instead of elevators and escalators, doing household chores, or even taking an aerobic exercise like walking, jogging, and many more. Second.
Exercise competes health conditions and diseases Being active is the one way of preventing some diseases. No matter what your weight is. Being active boosts your self. Some of the diseases attacks the passive people. Being an active person can lessen the risk of having a disease. Third. Exercise can improve your mood. Exercise are connected into our mood. Taking exercise can boost your body, boosting your body is the main reason of your good mood. Achieving something is a reason too. Like achieving your dream weight, achieving your dream body, and achieving your dream figure.
Physical activities has a good effect on our mood, in physical activity, we must be happier and more relaxed on what we are doing. Physical activities makes you better. Physical activity boost also your self esteem and confidence. Fourth. Exercise can boost your energy. Boosting energy is the main reason on why we do exercise and some physical activity. Boosting energy can also boost up your fatigue, muscle strength and endurance. A single walk can be also a exercise in boosting your energy. Physical activity and exercise delivers oxygen and nutrients in our tissues.
If our heart and lungs improve by exercise, our energy boosts also. We can do daily chores longer without getting exhausted. Fifth. Exercise can help you to have a better sleep. After you work out or do exercise, you feel some tired, and because of feeling tired, you find some rest and sleep. You can fall asleep after you workout because of getting tired. You can sleep deepen. But remember that do not workout or exercise too close to your bedtime. Because you are so energized to fall asleep. Sixth. Exercise puts the spark back into your sex life.
A daily exercise can improves your body appearance, and improving your body appearance improves also your sexual appeal. Lastly. Exercise can be a hobby or fun. Trying a new activity is a fun. Exercise and physical activities is enjoyable. Exercise and physical activities helps you to connect with your friends, relatives, or even family by encouraging them to be with you. Exercise is also the key in your goals. Doing exercise a daily routine is good. Trying new physical activity is a fun also. But remember that you must consult a doctor first before trying new exercise or physical activities specially if you have a common disease.
Related Topics