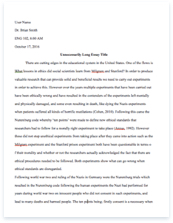 The whole doc is available only for registered users
A limited time offer! Get a custom sample essay written according to your requirements urgent 3h delivery guaranteed
Order Now
Helen is a case how disabilities cannot stop someone from functioning. Helen Adams Keller was born on June 27, 1880, in Tuscumbia, Alabama. Helen Keller was born with the ability to see and hear then at 19 months old, she contracted an illness described by doctors as "an acute congestion of the stomach and the brain", which might have been scarlet fever or meningitis. The illness left her both deaf and blind which put her family especially her mother in shock. When she was young she didn't really know what faith was, she couldn't comprehend language let alone religion. In the beginning of the novel Helen was about 6 years old. She had terrible manners and did not know how to communicate well and her parents were on the border of putting her in an institution.
Helen was very close to her mother Kate. Kate babied her very much; whenever she had a fit she would give into her. During the dinner table scene when Annie was trying to teach Helen to have manors and not eat off of peoples plates, she would throw a fit and Kate believed she should have let Helen continued doing it but Annie was stopping her. Kate's costumes helped convey her age during the time as well as a marking where the audience can see the time period clearly. When Annie asked for two weeks with Helen it was very hard for her mother to allow that. Captain Keller had to force Kate to let Annie do her job. Once she saw all the manners Helen was taught, Kate was more understanding on why Annie took her away. She saw Annie's teaching habits did work and she was thankful for her services.
Annie was Helens teacher she was very young and at the age of 20. In the play script it was hard to see Annie's nervousness about teaching Helen but the actor helped us see how she was truly feeling. She herself was blind so it was useful to help her teach Helen. In the beginning Helen hated Annie even though all she was helping her out. Annie was tough on Helen and made her act how should be. Helen did not like not having her way because that's all she ever knew. Everyone spoiled Helen not just her mother so because of this it made it very difficult for Annie to teacher her. The first thing Annie focused on was teaching her signing in her palm. The first word she taught Helen was doll, which Helen grew to love. The doll was a present Annie gave Helen from the children at the blind school. Annie enforced rules which eventually taught her the ways of life. She learned manners like simple dinner manner. Helen learned to fold her napkin which impressed everyone and it was the start of Helen's journey to learning.
Her relationship with Captain Keller and her Brother seemed very distant. In the play we viewed Captain Keller had a very stern deep voice to Helen and other people which conveyed the stern character we read about in the book. Her dad seemed to be more like a bystander; he acted more as Kate's dad then her husband. He wasn't proud when Helen could fold a napkin. He didn't have a close relationship with really anyone especially Helen they did not have a bond. Helen and her step brother didn't have much of a relationship either but he did help stand up for Annie which helped Annie teach Helen. It seemed he was very jealous of Helen and all the attention she got, he lacked the amount of attention he needed due to Helens disability. It was more aware in the play than the script we read because we got to see the emotions behind his words and actions.
We saw Helen change into a nice young little girl. We saw her go from a mongrel to a little angel. Before she would eat off of people plates now she sits properly and knows how to fold her napkin and use utensils. The big breaking moment for Helen was when she said water. It was both a breakthrough for Helen but Annie as well. She also then loved Annie and Annie realized she loved this little girl very much and that she would be with her for a long time. This breakthrough helped Helen learn many more words and then eventually go to college.
I find the miracle worker very miraculous, I think in my mind it'd be near impossible to be both blind and deaf to be able to communicate with someone let alone talk. I'm very similar to Helen because I myself have a disability, I have a learning disability. I am also very stubborn like Helen I usually want it my way and only my way. However, when I was Helens age I was my mom's favorite child, she said I was her most behaved one she ever had. When I saw the play it made Helens stubbornness more clear, it seemed she was brattier watching the play than reading it with the acting. The characters in the play that I saw were not the greatest but the lighting helped me look past it. The accents were just terrible and they were distracting.
One of my past experiences of life that makes me think of how Helen experienced thing was when I discovered I had a learning disability. There isn't really much help for it there's just different ways I have to look at things. I cannot do multiple choice tests like normal people, I can never comprehend them, which makes my testing difficult since a lot of teachers and professors use multiple choice tests. Just like Helen can't speak I can't do what the average person can which is taking a multiple choice test. An experience in art that reminds me of Helen is abstract paintings. One person can't ever look at it the same or see the same thing just like Helen can't learn things the same way most people can due to her disability. Abstract art isn't normal or average just like Helen. She is unique just like every piece of abstract art.
Related Topics