The message of an inspector calls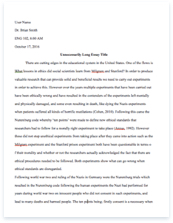 The whole doc is available only for registered users
Pages: 6
Word count: 1339
Category:
A limited time offer! Get a custom sample essay written according to your requirements urgent 3h delivery guaranteed
Order Now
" I was politically minded but never able to put politics first". Discussions during Priestley's years of education influenced and framed the values, which were later to predominate in his writing. Priestley fought in World War One. The war made him appreciate the values which were presented in the play. Priestley also felt very strongly about society and the way it operated. Priestley may have seen people in the same situation as Eva, and he explored these issues in the play.
The play is set in 1912 in a small fictional town, Brumley. J.B. Priestley uses a mysterious inspector, who manages to intimidate the Birling family. He uses the character Arthur who loves money and only cares about whatever will him more money. Mr Birling's daughter, Sheila, is engaged to a wealthy man whose father owns a company that has been in competition with Mr Birling's company.
"You've brought us together, and
perhaps we may look forward to
the time when Crofts and Birling's
are no longer competing but working
together". (Act 1 P.G. 4)
Along with the characters Sheila (daughter), Gerald (her fiance), and Mr Birling there is also Mrs Birling and Eric the son. They represent a typical upper middle class family.
As the Inspector starts to intimidate the characters they all confess their actions and their behaviour highlights the play's messages. When the inspector confronts Mr Birling, he denies he has anything to do with Eva's death and asserts that he can not have done anything wrong as he was only doing his job to manage the business. Mr. Birling sacked Eva Smith, a girl who committed suicide. Mr Birling, a wealthy, rich successful business man fired Eva as he thought she was jeopardising his business. She led some work colleagues in a strike for higher wages.
"Well it's my duty to keep labour
costs down" (Act 1 p.g 15)
This quotation shows that Mr Birling is selfish and only cares about saving money. He was not even willing to increase the wages of his workers to a responsible level. He argues that other employers pay the same rates.
Priestley has emphasized the prejudice felt by those in power against lower class people.
Sheila Birling, the spoilt daughter of a rich family, appears jealous when she justifies her actions. She managed to get Eva Smith sacked from her job working as a shop assistant.
" she was very pretty to …. I tried the thing
on and looked at myself and I knew it was
wrong. I caught this girl smiling as if to
say doesn't she look awful and I was
Absolutely furious".
(Act 1 pg. 24)
Priestley shows that society was manipulated by the rich. The store manager sacked his perfectly efficient worker just because he may have lost a rich customer. The way the manager dealt with Eva was unfair. Although Sheila seems to be a horrid selfish person she was the only one who realises what she has done is wrong. She also tries to convince her family that they were in the wrong too. Priestley shows how much power the rich exercised, as they seem to be able to 'blackmail' people. Priestley makes this point throughout the play.
Gerald Croft is a – down- to- earth rich man who is engaged to Sheila. Gerald met a girl called Daisy and they had a six-month affair. Gerald also gave Daisy money and somewhere to live.
"and then I told the girl if she didn't want
anymore of that sort of thing she'd
better let me take her out of there she
agreed at once."
(Act 2 p. g35)
Gerald comes across as charming. In a way he took advantage of Daisy by showering her with gifts, somewhere to live and even money. She may have thought the only way of repaying him was to start an affair. Months later the relationship ended when it became inconvenient to Gerald. Priestley shows that Gerald realises that Daisy was an ordinary, vulnerable person although she belonged to a lower class than Gerald.
Mrs Birling is a very cold-hearted woman. She does not notice what is going on around her. She refuses to acknowledge unpleasantness and regards her family as decent. She thinks her family is not capable of doing wrong because of their breedings. She tries to deny Eric (her son) is an alcoholic.
"But surely…… I mean……. It's ridiculous….."
(Act 2 pg. 49)
Mrs Birling refused to assist the pregnant woman Daisy Renton.
"yes it was, I didn't like her manner,
she'd impertinently made use of our
name, though she pretended it happened
to be the first one she thought of".
Mrs Birling does not even give Daisy a chance just because she is poor and uses her own name Mrs Birling. She also states that the father of the baby should sort out the problem but when she finds out her son is the father she seems to change her mind. Mrs Birling judges Daisy harshly just because of the fact that she has had a disadvantaged upbringing. Mrs Birling seems to think that everyone should be like her but the truth is people don't get the same life chances as her. Eva could not even afford food and Mrs Birling can afford a new dress every week.
Eric is a young man who demonstrates another message in the play. Eric likes to drink a lot for his age. His parents treat him like a 'little boy' and I suppose drinking gave him a sense of independence. Eric met a girl in a bar named Daisy Renton. After knowing Eva/ Daisy a couple of hours he forced himself on her, and she became pregnant. Eric stole money from his father's office. This shows he has no morals. He took the money to try and support Eva/ Daisy but once she found out she ended the relationship.
"Because your not the kind of father
a chap could talk to".
(Act 3 pg. 54 )
Eric feels neglected and does not have a strong relationship with his father. This quotation shows that Mr Birling may say he cares for his family, but he is more motivated by money. It also shows that even though Eric was spoilt and rich he was still reduced to the level of stealing from his own father. Eva put a stop to the relationship when she found out about the theft. She had morals and knows right from wrong, unlike Eric.
Throughout the play Priestley uses the inspector to convey his messages. The inspector's last speech:
"But remember this one Eva Smith has gone
but there are millions and millions of Eva
Smiths and John Smiths still left with us….
We Are members of one body we are
Responsible for each other."
(Act 3 pg. 56)
This quotation, the most important of the play, shows that individuals have equal worth and should be treated the same. I feel that Priestley has used the inspector in a very effective way. He has shown people that they should think before acting. The structure of the play suggests that Priestley used dramatic devices to social comment. I feel that Priestley has conveyed the messages of the play in an effective way.
Times have changed a lot since then and if you were a single mum now in the year 2000 there are benefits, for example help from social workers, somewhere to live. There has been the introduction of NHS free healthcare, but in the day of Eva she had no help as she was poor. The best way of dealing with her situation was to end her and her baby's life. Eric was an alcoholic. Nowadays there are special counselling meetings that he can go to. In 1912 people did not really recognise alcoholism although it is a serious condition.
The Birling family was very spiteful and greedy. They all tried to ignore the fact that they were to blame for what has happened. They showed no respect towards Eva because they were rich and she was poor. Individuals should treat people, as they would like to be treated. Sheila and Eric, towards the end of the play start to realise what they have done and try to get the other members of the family to understand, but the others still take no responsibility.
Related Topics