Local Studies Argumentative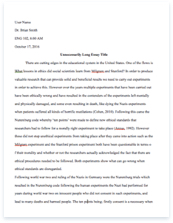 The whole doc is available only for registered users
A limited time offer! Get a custom sample essay written according to your requirements urgent 3h delivery guaranteed
Order Now
This chapter reviews the literature and studies that are relevant to the presents study. Different views from different persons were considered in farming up the researchers' point of viewers. Related Literatures
A variety of clinical pharmacy interventions have been assessed, but the body of evidence relating to any particular type of intervention is small. Cost-saving interventions comprise a small percentage of clinical pharmacy interventions, but they generated substantial savings. Clinical pharmacists provided added value by participating in multidisciplinary teams attending rounds. Clinical pharmacy interventions reduced preventable adverse drug events and prescribing errors, thereby yielding savings related to cost avoidance. Interventions relating to antibiotic therapy lowered costs of care without adversely affecting clinical outcomes. The results of cost–benefit analyses suggested that general clinical pharmacy interventions are associated with cost savings.
Most economic evaluations of clinical pharmacy interventions suffered from a number of methodological limitations relating to the absence of a control group without clinical pharmacy interventions, limited scope of costs and outcomes, focus on direct health care costs only, exclusion of pharmacist employment cost, use of intermediate outcome measures, exclusion of health benefits, and absence of incremental cost analysis. Some avenues for designing future economic evaluations include the use of a control group, detailed descriptions of the interventions provided, evaluations conducted from a societal perspective, consideration of patients' health benefits when assessing economic effect of interventions and hospital costs, and the inclusion of sensitivity and incremental analyses.
THE GENERICS PHARMACY (TGP) started out as small pharmaceutical company in 1949. Acknowledging the dire need for quality medicines but at affordable prices, the company focused on generic medicines to provide the Filipino with a more affordable alternative. In 2001, the company ventured into retail, starting with only a single outlet. As demand for its products grew, the company decided to bring their medicines more accessible to all the far reaches of the country through the FRANCHISING business model. The historic year was 2007, starting with twenty (20) outlets within Metro Manila. Now as The Generics Pharmacy (TGP), it revolutionized the entire pharmaceutical and retail industry with its bold and unusual path to growth. Who would think that a pharmacy carrying only pure generic drugs rapidly take off? After the initial struggles and birth pains, the healthcare landscape has embraced and accepted generic medicine as it has proven to be as effective and of high quality standards and yet, truly affordable to every Filipino.
Now only on its 7th year in full pharmacy retail and franchising, TGP has dotted the entire archipelago with more than strong 1600+outlets, making healthcare accessible to every Juan. As expansion grew rapidly, so with the numerous awards and recognition TGP received from various prestigious retail, franchising, marketing, social entrepreneurship and management organizations. The most recent award, the GAWAD GENERIC SUMMIT is made even more valuable by the fact that it was conferred by our own Department of Health (DOH), in celebration of Philippines' 25th Generic Summit celebrated last September 2013. This is solid proof that TGP is now well accepted and trusted as source of quality and affordable generic medicines. TGP is now the largest retail pharmacy chain in the country.
Mercury Drug was founded shortly after the liberation of Manila from the Japanese occupation. It all began from a bottle of sulfathiazole which was sold piece by piece or "tingi-tingi" in Bambang St., Sta. Cruz, Manila, where the first Mercury Drug store was eventually opened on March 1, 1945. From that modest beginning, Mercury Drug has opened store after store all over the Philippines to ensure that new stocks of medicines are within easy reach of Filipinos everywhere. Today, it has grown into a vast network of close to 1,000 stores nationwide. Mercury Drug believes it owes its success to the millions of customers who have trusted and patronized the pharmacy chain through the years and to the professionalism and dedication of it's over 11,000 staff.
Mercury Drug has evolved from being just a pharmacy to a full-service health and wellness partner of the people. In addition to quality, safe and affordable medicines and pharmaceuticals, Mercury Drug stores now offer health care and personal care products, basic everyday needs, select food and beverage items, and more. It remains dedicated to help improve the overall well-being and quality of life of its customers, and help promote healthy lifestyles among Filipinos.
Established in 1952 in Cebu City, Rose Pharmacy is one of the Philippines' top pharmaceutical retailers with over 183 branches in strategic locations all over the country, providing easy access to quality and affordable medicines for its numerous customers. Rose Pharmacy was adjudged the 2006 National Winner of the Drugstore Association of the Philippines (DSAP) Quality Award – Chain Store Category. At the core of its corporate philosophy is KSM or Kay Sarap Magmahal, the customer-centered culture that is uniquely Rose Pharmacy's. With the customer being the centerpiece of its corporate plans, Rose Pharmacy has streamlined its branch operation by installing advanced POS system in all branches thereby providing not only fast and efficient computerized service but also accurate accounting and inventory monitoring.
With its home delivery facility – ROSExpress Delivery, buying medicines and grocery items is just a phone call away and delivered right to customers' doorsteps. Mindful of its corporate responsibility to the community, Rose Pharmacy has established the Rose Pharmacy Foundation, which undertakes yearly various medical missions/free clinics to different barangays in the Philippine Islands, in cooperation with local medical practitioners and its partners in the pharmaceutical industry. The foundation has also provided scholarship grants to qualified children of its regular employees who wish to study B.S in Pharmacy in any college or university of their choice. The establishment of this website further enhances Rose Pharmacy's customer service thru on-line product inquiry and ordering and other on-line services.
St. Joseph Drugstore was founded in 1958 by pharmacist Jose "Pepe" Cruz of Dagupan City and his wife Leila Lagman of Pampanga, this modest and pious couple built a company that very few at that time would have thought, much less expect, to grow to what it is today. But with an enduring faith in God and an unbounded entrepreneurial spirit, St. Joseph Drugstore has grown from a small, regional-based drugstore operation to a promising national chain store. Starting with three employees in a 3.5 meters store frontage, St. Joseph Drugstore has seen its reach spread all across Luzon, from the far confines of the Ilocos Region and La Union, to the upper reaches of Baguio City and the Cordilleras and today to the vast plains of Central Luzon.
St. Francis Generic Drug, under the St. Francis Square Group of Companies, offers affordable and quality generic medicines. After several years of continuously providing affordable and quality medicines, it now opens its door to franchising to extend their network closer to every Filipino's reach. Known as one of the top real estate and high-rise building developers in the country, the St. Francis Group of Companies brings yet another outstanding business concept. Since 1980, the St. Francis Group of Companies has made a name in condominiums and townhouse developments. In the year 2005, it started to venture out to the retail industry by putting up the St. Francis Square Mall located at the heart of Ortigas Center, Mandaluyong City.
With over 30 years of success in real estate and in retail development, St. Francis Group of Companies has established within the St. Francis Square Mall a drugstore and a convenience store-in-one format—the ST. FRANCIS GENERIC DRUG. First opened in 2006, ST. FRANCIS GENERIC DRUG showed a lot of growth and development. After several years of operational success, it now opens its doors to franchising. With the corporate mission to bring affordable merchandise to Filipinos, the St. Francis Group of Companies now multiplies more affordable and convenient access to medicines via franchising. "Tamang Gamot sa Presyong Abot," is its corporate philosophy that defines the core and purpose of its business—extending better access to medicines and medical/health-related services to more people.
Foreign Studies
InternationalDrugMart.com is a reliable global online pharmacy that has been supplying medications online since 2003. We deal in discount prescription drugs that are safe, affordable and are of highest quality standards in the pharmaceutical industry. Our high-quality discount prescription drugs and OTC drugs are trusted the world over by thousands of valued customers. We are the best source of generic drugs that are delivered to your doorstep. Our mail order pharmacy gives you the convenience to order all your medications online without compromising on time or quality. InternationalDrugMart.com – foreign pharmacy is well-recognized for being very affordable and hassle-free. We use secure encryption technology to grant you complete privacy and easiest and high quality order processing. We provide best patient care and we do have qualified pharmacists at our online pharmacy to look at each and every orders. We supply medications only in environmentally friendly and biodegradable packages, as part of our pledge to operate in an environmentally responsible manner. The use of eco-friendly packaging demonstrates the International Drug Mart's commitment towards environmentally sustainable business.
Canadian pharmacy is the leader in delivering medications throughout the world. Our goal is to provide medications at discount rates to everyone who is affected by expensive local prices. Our company is a professionally managed distributor of generic drugs. We provide high-quality service supplying drugs all over the world. We are aimed at supplying customers all over the world with medications of high quality at lowest prices thus helping to save their money and time. The most important element of any successful company is a high quality product. That is why we pay attention to the quality of the medications. We deal with the most reliable and professional manufactures and all the drugs are dispensed by licensed pharmacists.
We are focused on impeccable delivery and health sustention of our customers. We value every our customer, that's why our site meets stringent security and privacy standards for both e-commerce and personal information. We guarantee that you can trust us. We try to make our service fast, cheap and convenient as we appreciate a long-term relationship.
The Walgreen Company (Walgreens) is the largest drug retailing chain in the United States. As of May 31, 2014, the company operated 8,217 stores in all 50 states, the District of Columbia, Puerto Rico and the U.S. Virgin Islands. It was founded in Chicago,Illinois, in 1901. The Walgreens headquarters office is in the Chicago suburb of Deerfield, Illinois. In 2014, the company agreed to purchase the remaining 55% of Switzerland-based Alliance Boots that it did not already own to form a global business. Under the terms of the purchase, the two companies merged to form a new holding company, Walgreens Boots Alliance Inc., on December 31, 2014. Walgreens became a subsidiary of the new company, which retains its Deerfield headquarters and trades on the Nasdaq under the symbol WBA.
At Rite Aid, we have a personal interest in your health and wellness. That's why we deliver the products and services that you, our valued customer, need to lead a healthier, happier life. Everyone at Rite Aid—from our knowledgeable, caring associates and pharmacists to the members of our board of directors—works together to provide you with a superior pharmacy experience. Rite Aid Corporation is also proud to be one of the nation's leading drugstore chains. With approximately 4,600 stores in 31 states and the District of Columbia, we have a strong presence on both the East and West Coasts. Rite Aid is the largest drugstore chain on the East Coast and the third-largest in the United States, employing roughly 89,000 associates. Our company is publicly traded on the New York Stock Exchange under the ticker symbol RAD.
Costco Pharmacy, we are a membership warehouse club, dedicated to bringing our members the best possible prices on quality brand-name merchandise. With hundreds of locations worldwide, Costco provides a wide selection of merchandise, plus the convenience of specialty departments and exclusive member services, all designed to make your shopping experience a pleasurable one. The company's first location, opened in 1976 under the Price Club name, was in a converted airplane hangar on Morena Boulevard in San Diego. Originally serving only small businesses, the company found it could achieve far greater buying clout by also serving a selected audience of non-business members.
With that change, the growth of the warehouse club industry was off and running. In 1983, the first Costco warehouse location was opened in Seattle. Costco became the first company ever to grow from zero to $3 billion in sales in less than six years. When Costco and Price Club merged in 1993, the combined company, operating under the name PriceCostco, had 206 locations generating $16 billion in annual sales. Our operating philosophy has been simple. Keep costs down and pass the savings on to our members. Our large membership base and tremendous buying power, combined with our never-ending quest for efficiency, result in the best possible prices for our members. Since resuming the Costco name in 1997, the company has grown worldwide with total sales in recent fiscal years exceeding $64 billion.
Related Topics