Learning Team Reflections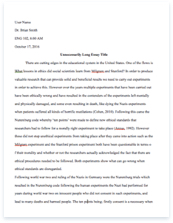 The whole doc is available only for registered users
A limited time offer! Get a custom sample essay written according to your requirements urgent 3h delivery guaranteed
Order Now
Bradley Stonefield is opening a limousine service. It will be located in Austin Texas where he is currently located. He would like to hire 25 employees by the end of his first year in business. The first thing we will address is the employment laws and the consequences of non-compliance with those laws. We will give the following recommendations on how to be compliant.
The Age Discrimination in Employment Act of 1967 – Age discrimination involves treating someone (an applicant or employee) less favorably because of his age. The Age Discrimination in Employment Act (ADEA) only forbids age discrimination against people who are age 40 or older.
The Civil Right Act of 1964 – The Civil Rights Act of 1964 is a landmark piece of civil rights legislation in the United States that outlawed discrimination based on race, color, religion, sex, or national origin.
The Immigration Reform and Control Act of 1986 – The act required employers to attest to their employees' immigration status.
Occupational Safety and Health Act – is the primary federal law which governs occupational health and safety in the private sector and federal government in the United States.
The Texas Labor Code Anti-Discrimination Provisions – The Texas Labor Code provisions on discrimination based on sex, age, national origin, disability, color, pregnancy, religion and race are identical to the requirements under
the federal Title VII law.
The Texas Minimum Wage Law – The Texas payday law was amended in September 2001. What this amendment stated was that the minimum wage rate for the state of Texas was to be set to the same level as the national minimum wage rate.
It is our recommendation that the organization should make it their priority to remain in compliance with employment laws. The organization should also make sure that they keep themselves updated with the laws and implement any changes that occurred in the law. The organization should be aware of the consequences before committing any unlawful act. If the organization does not want to be affected financially, then they should be careful to remain compliant with employment laws.
In conclusion, employment laws are very important. Remaining compliant would help the organization to become successful and gain a good reputation in the market. Employees would also become loyal to the organization, knowing that their rights are being protected. The organization would be able to attract high-caliber employees. Employees would do their work honestly and would help the organization to achieve its goals.
References
Kleiner, B. H. (2012). Equal Opportunities International, Volume 17. New York, NY: Emerald Publishing. http://gilsonlaw.com
http://lgbtinhighered.com
http://shanghaidaily.com
http://www.absoluteastronomy.com
Related Topics