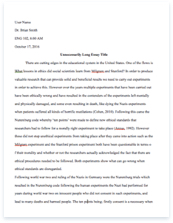 The whole doc is available only for registered users
Pages: 5
Word count: 1136
Category:
A limited time offer! Get a custom sample essay written according to your requirements urgent 3h delivery guaranteed
Order Now
The leader I chose is my father, Larry Regan. He is the Vice President of Teamsters local #142. Starting in 1957 with the International Union of Electricians (IUE) at the Sunbeam plant in Gary, Indiana Larry was on the organizing committee. From there he went on to US Steel in 1959. He was on various labor union committees while working as a welder. In 1985 he became the President of Local 1014 in Gary until 1991. He retired from US steel in 1991 and went on to work for the United Electrical Workers Union as an International Organizer from 1991 to 1992.
After that he went on to become and International Organizer for the Amalgamated Clothing and Textile Workers Union (ACTWU) from 1992 to 1994. 1994 to present, Larry held various positions until finally becoming Vice President in 2005 of the Teamsters Union Local # 142. He was Trustee from 2003 to 2005, and Business Agent from 1994 to 2003. Major Accomplishments: Larry is a recipient of numerous awards, citations, and certificates of achievement. While at Sunbeam, he was on the union organizing committee and was discharged along with seven others, mainly women, for trying to organize a union.
They were later reinstated by the National Labor Relations Board of Chicago. He would later become employed at US Steel working various positions such as, Crane operator, hooker, and finally welder after training through US Steel's training programs. From the time he left Sunbeam and all through his employment at US Steel he was a union activist. He then became President of US Steel Local 1014, at which time he led the longest steel strike in the history of US Steel, 186 days.
During this strike Larry spoke on behalf of steel workers in numerous states, notably in Boston, MA where he was proud to speak at Faneuil Hall, which is where Benjamin Franklin spoke. He also spoke in Los Angeles, CA at Theatreworkers Project which was a benefit and Larry was the guest speaker. There were many stars and musicians in attendance for this benefit on Mulholland Drive in Hollywood. Bruce Springsteen who was at this benefit later during a concert (Born in the USA) in Chicago, he donated $10,000 to the striking US Steel workers.
While president of US Steel local 1014 Larry was an activist for other labor organizations fighting for dignity and justice in the workplace. He was the recipient of awards from the NAACP and USWA. Larry has been active in local politics since 1970 when he was a Democratic candidate for Lake County Council 6th district. He also received a 25 year award from Union Labor Caucuses and Lieut. Gov. O'Bannon. During the time Larry worked at US Steel he also co-owned Jenny's Cafe in Gary, IN. This restaurant was located at 3417 Broadway across from IUN; it is now a parking lot.
The restaurant which featured Eastern European foods and culture was mentioned several times in books authored by IUN Prof. Richard Dorson who was a Folklorist. He wrote a book titled "Land of the Millrats" and Larry helped him set up interviews with people of varying cultures that had worked in the steel plants. Starting with the Teamsters in 1994 Larry received many Certificates of Achievement for organizing union representation, parliamentary procedure, and leadership. Appreciation Awards were also given to him from various union organizing drives.
He also received a Unity Award for the Calumet Project, a research group. He has had many organization affiliations such as: * Chicago Area Director, National Rank and File against concessions * Illiana Labor Forum * Member of the Organizing Committee Board, The National Union for the Homeless * Urban and Rural Crisis Assoc. * Director, North Shore Council for the arts * Art meets Labor Organizing Committee Larry has cohosted segments on local radio and TV on labor and business. He has been a freelance writer and author of reports on labor and business.
He has spoken at conferences on a global level, for example in Vienna, Austria and Bratislava, Czechoslovakia where he spoke on labor studies. While there in 1991 he authored a report and spoke on the "Impact of Industrial Restructuring on Negotiated Labor Studies in Basic Steel". He was a presenter at the Latin American Equal Rights Congress in Santa Domingo, Dominican republic. Many books have used quotes from him, some of these books are "Land of the Millrats", "And the Wolf Finally Came", "An Injury to All", "Speakers for a New America", and "Indiana Folklore".
He co-authored a series on urban and rural poverty entitled "Report from the Rust Belt" and the publication "Voices from the Frontlines of Labor". Obstacles Overcame: During the steelworker's strike which lasted 186 days from 1986 to 1987, he fought to achieve a contract that was fair while trying to keep morale up and to make sure the workers were sustained with donations. He had to negotiate hundreds of contracts and each poses obstacles that may be created by employers, including organizing campaigns. In organizing campaigns, corporate America usually fights the unions, who are the workers, by creating obstacles.
The unions sometimes have to file unfair labor practices with the US National Labor Relations Board. The majority of charges are favorable to the unions, its adherence, and organizers. Larry has been involved and has overcome many of these obstacles presented by corporate America and the unions. Keys to Success: Larry believes the main keys to success are perseverance, developing initiatives, forming partnerships and always remaining focused on goals. Empathy and compassion for individuals who we represent or work with is very important.
Union leaders have to be focused and fair in choosing sides. They are usually on the side of the worker. They have to be strong in dealing with companies and workers, and have to be fair. Also Larry believes that becoming involved in your community both politically and occupationally is very important. Advice to Aspiring Leaders: His advice is to become educated in the field in which you are trying to succeed, and accomplish goals. Also, having the traits that we listed for a successful leader is very important. So if you do not have these traits it is important to work on acquiring these traits.
He believes in treating all people fairly and compassionately. Larry is a wonderful leader, in my opinion; he is caring, fair and a hard worker. He is also a wonderful father. He cares about all people no matter where they came from or what their background is. He is a mentor to many people including young local politicians and fellow union members. He is someone who cares about the homeless, and has also worked on issues related to poverty. He gets along with just about anybody he meets. I hope that someday soon I will be a strong leader and a fair leader like he is.
Related Topics