Kenneth Daily of FMC Green River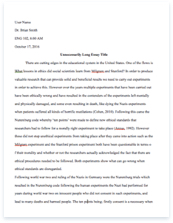 The whole doc is available only for registered users
Pages: 5
Word count: 1063
Category: Behavior
A limited time offer! Get a custom sample essay written according to your requirements urgent 3h delivery guaranteed
Order Now
In developing its aptitude to respond to external challenges, an organisation always has to consider its internal environment, or the conditions in the organisation including organisational structure, organisational culture, intergroup relations, and group dynamics. The primary focus in the description of organisational relations is on organizational culture that is used to describe "a system of shared values, norms, beliefs, and assumptions that unite members of an organization" (Carson). Culture defines the nature of interactions between group members and the underlying principles of organisational activities.
Organisational culture and organisational structure are often interdependent, and the state of one element determines changes in another. Organizational structure is defined "as a mechanism through which effort is integrated through the coordination and control of activities" (Neill et al. 2001:131). This structure embraces the presence of different divisions inside the organisation, structures of reporting and accountability, and other mechanisms that connect actions of various members of the organisation.
To implement changes in its culture, Green River can take a start from modifications in structure. Thus, teams can be organised that will take over many functions currently performed by supervisors. Due to a different nature of Green River's production processes, the team structures of Aberdeen cannot be blindly copied over to the Wyoming facility. The text of the case study mentions that Green River employees work in "isolated work stations with little opportunity for groups of people to interact". This peculiarity is caused by the specific setup of the plants constructed decades ago. Rebuilding plants so as to facilitate the change in organisational structure, given that the current facilities meet the technological needs of the management is probably a bad idea.
So to ward off this challenge to the implementation of Aberdeen-like changes in the Wyoming plant, the management of Green River can re-think the formation of the teams. Groups in departments that have to this point interacted as members of one unit can be made to interact as members of the same team. The main idea of delegating some of the authority to teams will remain intact. Supervisors will lose some of their influence on decision-making, which they will compensate by learning their new roles as coordinators of team work.
In terms of organisational culture, there are some elements of Aberdeen culture that will undoubtedly contribute to the advancement of virtually any organisation and thus can be recommended for adoption at Green River:
Emphasis on 'no fear' attitude. This comes directly from acceptance of mistakes and treatment of errors as a 'learning experience'. Green River employees may need to take time to let this sink in, but finally they, too, can be pushed to take initiative on their own, without waiting for clues;
Implementation of the idea that the organisation is like a family. Green River employees need to learn the friendly and tolerant attitude towards others that precludes violent attacks on others for their mistakes;
Freedom to air one's views on any subjects. Green River executives have to learn to give their employees freedom to share their views on any subject even if they involve some criticism of managerial decisions or current practices.
Emphasis on enjoying one's work. The Wyoming management has to realise that happier people do better jobs, and that it is important therefore for the management to try to create and maintain this sense of happiness in the workforce.
All these elements of culture have to be realised as an interconnected whole, since it is difficult to realize them apart. For instance, fear is known to be a major driver of job dissatisfaction. Thus, it is hardly possible to preserve the 'happiness' of employees if they are constantly stressed about the possibility of making a mistake and losing their job or taking penalties for that reason.
Success in reforming the organisational structure will also depend on efficient realization of changes in culture. To be able to work in a team, one has to be ready to take responsibility for one's actions and ready to share one's opinions. These cultural peculiarities have to help the organisation members to make their team work superior to what they could do in their previous formal organisational design. Otherwise, it makes sense to retain the old structure where the supervisors were responsible for most of decision-making.
Aberdeen's current plant manager Roger Campbell, talking about his managerial style, made an important comment: "I want you to run this like it was your own business" is what he tells his newly hired employees. In this way he attempts to persuade individuals to treat the place they work at as part of their world, to identify it with themselves. He aims at the creation of shared values, "an essential characteristic or attribute promoted by the organization to motivate the behavior of members of the organization" (US Army Corps of Engineers).
Green River can also embark on a strategy to promote the creation of shared values inside their organisation. The list of these values can be different from Aberdeen, since plants are in different industries and have to cater to a different circle of customers. For Aberdeen that has been working with a single government-related customer for years, promotion of customer service may not be a priority.
Green River may want to take a different stand and make customer success with their product the first on the list of shared values. However, it is not enough to merely compile the list of new values; Green River executives have to find a way to make people truly live the values. To accomplish that, the top people have to demonstrate their personal commitment to new ideas. Only then can a meaningful change in culture occur that will reinforce and support a change in organisational structure.
Bibliography
Clawson, J.G. FMC Aberdeen. Graduate School of Business Administration, University of Virginia, 1990. UV A-OB-0385.
O'Neill, John, Beauvais, Laura L. and Richard W. Scholl. A Structure and Culture Model Of Organizational Behavior Variability Reduction. Presented to:  Academy of Management, August 13, 1997. 9 September 2005 <http://www.cba.uri.edu/scholl/Papers/Culture_Structure.html>.
—. The Use of Organizational Culture and Structure to Guide Strategic Behavior:  An Information Processing Perspective.  The Journal of Behavioral and Applied Management, 2.2 (Winter/Spring 2001): 131.  9 September 2005 <http://www.cba.uri.edu/scholl/Papers/Culture_Structure_JBAM.html>.
US Army Corps of Engineers. Learning Organization: The 7 Ss of Culture. 9 September 2005 <http://www.hq.usace.army.mil/cepa/learning/seven.htm>.
Related Topics