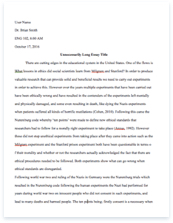 The whole doc is available only for registered users
A limited time offer! Get a custom sample essay written according to your requirements urgent 3h delivery guaranteed
Order Now
Juvenile Justice: Can Juveniles be Reformed or are Extreme Measures the only way Deter Crime?
The profound moral question is not, "Do they deserve to die?" but "Do we deserve to kill them?"-Helen Prejean (from his novel "Dead Man Walking) At least 281 children under age 18 have been executed in the United States since the 17th century (Prejean). To many this may not seem like a huge number, however there is a growing concern about whether or not juvenile capital punishment should be allowed. The subject of capital is already a touchy subject for most but when the idea of juveniles is included, the argument gets especially sensitive. Most countries do not permit it but the United States is one of the few. National laws, and international practice and opinion all work against the juvenile death penalty. It is hoped that U.S. policy in the future will be more in line with the Model Penal Code notion that "civilized societies will not tolerate the spectacle of the execution of children". The main question is, is this working? Are juveniles old enough to commit a crime and receive the ultimate punishment or are their minds not mature enough to even legally imprison them because their personality is still forming.
The conflict of juvenile execution also ties in with trying young adults in juvenile courts. The same arguments are applied and many feel that too many minors are being sent to adult court. However the rebuttal is that minors sent to adult court only commit the most serious crimes and it is deserved. The debate goes on. How come life in prison doesn't mean life? Until it does, we're not ready to do away with the death penalty. Stop thinking in terms of "punishment" for a minute and think in terms of safeguarding innocent people from incorrigible murderers.- Jesse Ventura
Supporters of the death sentence for juvenile offenders argue that a minor who is mature enough to murder is mature enough to be punished. They believe a minor who can well think of the plan can handle the consequences. For example the case of 17 year old Christopher Simmons, a St. Louis resident who committed capital murder. Simmons and a 16 year old accomplice broke into an elderly woman's home and bound up her legs and hands. Then the two threw her from a bridge into a river. Before committing the crime Simmons had spoken to his friends about committing the crime and felt that as a juvenile he could get away with it (Jost). He was tried as an adult and then sentenced to the death penalty. However after a law passed by the Supreme Court on March 7, 2005 that all juveniles facing death row that committed a crime under the age of 18 would be void and juvenile execution was deemed illegal. Simmons being 17 was right under the legal age to permit execution (Katel). Of course people were enraged at the fact that this young man being almost of consent would be almost excused from his heinous crime. Supreme Court Justice Antonin Scalia commented "It is absurd to think that one must be mature enough to drive carefully, drink responsibly or to vote intelligently but not understand the most simple rule is that murdering is profoundly wrong".
California Gov. Pete Wilson had suggested that 14-year-olds should be eligible for the death penalty. Wilson hopes to deter California gangs from using minors as gunmen. He claims that many crime organizations use underage members as trigger men, knowing that if they are caught they will dodge the death penalty (Sidebar). It is believed to be almost certain that putting a serious consequence on juvenile crimes will deter juvenile crimes and lower the crime rate. Those who support trying minors as adults say that the juvenile justice system currently is too merciful to act as a deterrent. Juvenile courts stress rehabilitation over punishment, supporters argue, that they give juveniles the idea that criminal behavior does not have consequences. A 1998 study by Steven Levitt, found that adolescents are often indifferent to the punishments imposed by the juvenile justice system. But that when juveniles are old enough to be tried as adults, the threat of longer sentences acts as a stronger deterrent (Update). The trying of minors as adults however is only used for the most serious crime. Few jurisdictions prosecute more than 1-2 percent of juvenile offenders as adults (Backstrom). So there is no need to worry that this "get tough" measure will be taken lightly and used unreasonably.
"When a juvenile commits a heinous crime, the State can exact forfeiture of some of the most basic liberties, but the State cannot extinguish his life and his potential to attain a mature understanding of his own humanity." –Anthony Kennedy, (judicial opinion).
Youth advocates who do not support juvenile execution feel that rehabilitation is more important than punishing the minor. Studies have shown that a child's brain (under the age of 20) works differently than that of an adult. The brain is not fully developed until early-to-mid 20's and the last lobe to reach maturity is the front lobe prevailing impulse control (Bower). This position played a central role in banning the death penalty for minors. Children who commit crimes impulsively act and most crimes are done by kids with their friends. So there is a great deal of coercing going on and minors may be more focused on being with the majority thought of their friends. Adolescence is a transitional period of life when cognitive abilities, emotions, judgment, impulse control, and identity are still developing.
In the case of Scott Hain and Robert Lambert, two 17 year olds were drinking in Tulsa, Oklahoma, looking for something to steal when they noticed a man and a woman in a parking lot. Hain and Lambert stole the man's car and took the couple with them. They eventually stopped to rob the couple and placed them in the trunk of the car. Lambert then set fire to the car, killing both the man and the woman. Hain was convicted of a capital felony murder charge and executed on April 3rd, 2003 (Intl. Justice Project). Most will argue that this could have been a well thought out plan, however this case mostly shows that the crime was done on an impulse. This is supporting the argument that most cases are done on impulse and are influenced by friends. Moreover, Hain's background was full of crimes and was shown that he was raised in an abusive and drug abused home. Can we really sentence someone who has not even been taught better?
Supporters of the trying of minors being tried as adults, argue that when there is a trial that juveniles put into adult courts are only of the most serious matter. However according to the Justice Department's Office of Juvenile Justice and Delinquency Prevention about 51 percent of all minors being put into adult courts are "person" offenses. Others are property crimes, drug offenses and public order violations (OJJDP). So there is not much scrutiny on how juvenile cases are being handled. There is also no proof that juvenile court increases the crime rate. Senator Denton Darrington stated that "Kids don't like to go before a judge who has control over their lives, even in the simplest form. Life probation and putting them in a detention center is bad enough"(Katel). In a 2002 Gallup poll, while 72% of respondents said they favored the death penalty, 69% said they were opposed to sentencing juveniles to death (Moritz). Most people want the U.S to follow international law because most countries do not permit the execution of minors.
The U.S has the highest rate of minor to adult conviction rates. What youth advocates want to do is support more rehabilitation then prosecution. Zero tolerance should be kept at a minimum and is only intended for serious crimes. Walt McNeil and Frank Brogan, president of Florida Atlantic University, presented the "Blueprint Commission" report to Lt. Gov. Jeff Kottkamp. The budget includes a $4.6 million down payment on the commission's 52 recommendations for concentrating on early intervention, distraction from incarceration, smaller lockups for kids who must be in custody and stress on rehabilitation. Minors can be reformed because their personalities are still forming. If kids are lead in the right direction, they will go that way.
Although both sides of the debate have strong views on capital punishment for minors there is an agreement that there should be no execution of mentally retarded offenders. In the case of Atkins vs. Virginia, Daryl Atkins was convicted of armed robbery, abduction and capital murder. A forensic psychologist had attested that Atkins was mentally retarded, having the IQ of 75. Although the jury first sentenced Atkins to death the Virginia Supreme Court rejected the conviction because Atkins was mentally retarded (Oyez). However there is not much to say on common ground between both views. Both want to benefit society, in a way that helps the good of the community. However one side is to punish while the other is to rehabilitate.
This leads me to state that there can be almost no compromise between both viewpoints. Death and life are certainly polar opposites. One third of states utilize "blended sentencing", that combine both juvenile and adult sanctions (Backstrom). However if the convicting of minors as adults is legalized, more juveniles will be tried in adult court and sent to death row (as long as capital punishment is still legal in some states). If therapy is taken into all juvenile cases than there can be no justice to those who have loss a member of their family due to murder. As well as no guarantee that this minor will be fully rehabilitated with no intent as to kill again. There can be no certain compromise.
Sources:
Backstrom, James C., Dakota County Attorney, Hastings Minn; Written for CQ Researcher, November 2008.
Bower, Bruce. "Teen Brains on Trial." Science News (May 8, 2004): 299.
Cotterell, Bill, "Juvenile Justice 'Rips Zero Tolerance,' " News-Press (Tallahassee, Fla.), Feb. 6, 2008, p. 6B
Jost, K. (2004, November 5). Sentencing debates. CQ researcher, 14. 925-948, http://library.cqpress.com/cqresearcher/cqresrre2004110500.
"Juveniles and the Death Penalty (sidebar)." Issues & Controversies On File: n. pag. Issues & Controversies. Facts On File News Services, 1 May 1998. Web. 1 Dec. 2010. <http://www.2facts.com/article/ib300930
Juvenile Offenders and Victims: 2006 National Report, Office of Juvenile Justice and Delinquency Prevention, U.S. Department of Justice, March 27, 2006, http://ojjdp.ncjrs.org/ojstatbb/nr2006/.
Katel, P. (2008, November 7th) Juvenile Justice. CQ Researcher, 18, 913-936. Retrieved November 9th from CQ Researcher online, http://library.cqpress.com/cqresearcher/cqresearcher 2008110700)
Moritz, John. "Execution of Juveniles Should Now be Barred, Some Say." Fort Worth Star-Telegram (June 21, 2002): 1.
The Oyez Project, Atkins v. Virginia , 536 U.S. 304 (2002)
Prejean, Helen. Dead Man Walking. New York: Vintage Books, 1994.
"Scott Hain – Juveniles." The International Justice Project. Web. 28 Nov. 2010. <http://www.internationaljusticeproject.org/juvSHain.cfm#overview>.
"Update: Juvenile Justice." Issues & Controversies On File: n. pag. Issues & Controversies. Facts On File News Services, 14 Dec. 2006. Web. 1 Dec. 2010. <http://www.2facts.com/article/i0702550>.
Related Topics