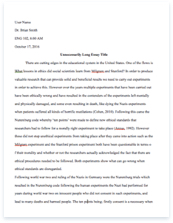 The whole doc is available only for registered users
Pages: 5
Word count: 1177
Category:
A limited time offer! Get a custom sample essay written according to your requirements urgent 3h delivery guaranteed
Order Now
Julia Alvarez was born on March 27, 1950. She was born in New York City. When she was three her family moved back to her families' native land, Trujillo. Julia moved back to New York, where she graduated from high school in 1967. Then she then attended Connecticut College for two years, where she won the Benjamin T. Marshall Poetry Prize. After attending Bread Loaf School of English, at Middlebury College. She received a bachelor of arts in English, Summa Cum Laude, in 1971. In 1973, in pursuit of her goal to become a writer, she enrolled in Syracuse University. Two years later Julia had her master's degree in creative writing. Her poems began to appear in print as early as 1970. In 1975, Julia was a writer in the Kentucky Arts Commission. In 1988, with the help of the Bread Loaf School of English, Bob Pack, and published Julia's first poetic collection entitled Homecoming. Her verses received critical praise. In addition, Julia received a t national endowment from the Art Grant.
In 1997, her stories "Father" end the "Rainfall" had appeared in print in the Berateria Review. Five more years passed before her next fiction novel would be published. In 1986, Julia won the General Electric Foundation Award for young writers. Julia then signed a contract with Algonquin Books of Chapel Hill. In 1991, two months after Julia's 41 birthday, How the Garcia Girls Lost their Accents was published. In 1994, Algonquin Books of Chapel Hill published Julia's second novel: In time of Butterflies. Bill Echner married Julia in 1998, and Julia's collection of essays, "Something to Declare", was published. In June of 2000, Julia published her fourth novel, In the name of Salome. In this book, Julia introduces a man named Pedro Henriquez Urena who is renown among serious students of Latin America Literature and culture. Pedro died nearly a half a century ago, but his scholarly essays and books are still read with reverence in Graduate Programs throughout the world.
Pedro's younger brother, Max Henriquez Urena, is also known for his work as a literary writer and historian. Max is remembered, somewhat infamously, for his carrier ASA development serving the regime of Rafael Trujillo. On the other hand, Salome Urena, their mother, the Dominican Republic National Poet, is little known outside her country. The name Salome Camilla Henriquez Urena is the least known of this talented and volatile family. Most Scholars of Latin America Culture are unaware that the Henriquez brothers had a sister. (In the name of Salome) also represents her most ambitious work too. Alvarez choose to write about a Dominican family whose members are well-known in their lifetimes. However, in comparison, their existence lack poignancy, the pathos, and the heart- whelming drama of the lives of the Mirabel Sisters. Patria Mercedes Mirabel Reyes, Belgia Adela Mirabel Reyes, Antonia Maria Teresa Mirabel Reyes, Maria Argentina Minerva Mirabel Reyes were the Mirabel were founders of the underground.
The dictator found out about the underground and he didn't like the fact that his people were slipping out of the grip of the dictatorship. So Rafael Trujillo had his right hand men to club the girls to death and then gather them up and put them into the back of a jeep and drive it off the edge of a cliff to make it look like an accident. The Mirabel Sisters had one sister left. Her name was Belgia who died February 1, 2014. In 1960 the three sister were found dead at the bottom of a cliff, North Coast Island, Trujillo. What influences Julia Alvarez to write short stories like "My English" and "Liberty", Julia mixes her two worlds together, which is her Dominican life and her US life that she now lives. Alvarez used her form of literary work as a reflection of the dictator of Trujillo in many of her novels. Latino Literature represents one of the most interesting constituents of American Letters.
Latino and Latina writers are producing remarkable works in every conceivable genre. Latinos, though, are far from being an easily definable ethnic group. The majority of Latinos are mestizos, or people of mixed indigenous and Spanish ancestry. With regard to language, some Latinos are fully bilingual; others are monolingual. Therefore what unites Latinos is their race or language, but also their culture shaped by the heritage they share with Spanish-speaking nations to the south of the United States. Latinos share a core heritage, their ethnic panorama is quite complex, and many distractions exist. In the story "My English" that Julia Alvarez wrote is about a little's girls family that moved from the Dominican Republic to the U.S. The girl's family mainly become a bilingual family. Her mother would scold her when the little girl didn't speak English, because the little girl would get picked on for speaking Spanish. Her teacher would tell her that there was no such words. There is another story entitled "Liberty." This story is about a girl's dad bringing home a dog that was a gift from another family. The dog was a gift from their family letting them use their visa to get across the border.
So when the little girl's father brought the dog home the little girl's mother told her father that the dog would be too much trouble. So the little girl's father convinced her mother to let the dog stay, but then one day the little girl was playing outside with her dog and the puppy was barking at something so the little girl went to see what it was and there were three men sitting there in black clothes. The men grabbed the dog and the little girl started to tell them to give the dog back so the other man gave the little girl her dog back. The girl was very shaken up and the dog was shaken up too. Then one day the girl's parents saw that there were a whole bunch of cords coming into the house and they realized that they were being monitored by the government.
The girl's parents started to pack up and head to the U.S. were they thought they would be safe. When the family was leaving the little girl said she wanted to take her dog but her mother said that it would be a lot of trouble trying to get a dog from the Dominican Republic to the U.S. So the little girl was very upset and wanted to take her dog so the little girl's mother had the girl's aunt to come over and tell the girl that she would find her "liberty in the next world." In 2009 at Neritic book Julia made a statement about the book "Liberty". "Nothing human is alien to the pen of a novelist or to the reader." Julia also said "I write to find out who I am. I write to understand things." These quotes mean that if you don't understand her meanings that she put into her work, then don't try to judge her.
Related Topics