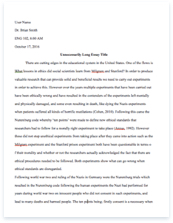 The whole doc is available only for registered users
A limited time offer! Get a custom sample essay written according to your requirements urgent 3h delivery guaranteed
Order Now
John Cheever, a short stories writer and novelist whose rich literary heritage makes him one of the prominent American authors of the 20th century, is well-known for his talent to vividly uncover sorrows and dramatism in the lives, all too often apparently common, of his characters, and due to his masterful depictions of hidden aspects of seemingly inessential events that may nevertheless be the main cause of the sensation of emotional and spiritual void prevalent in our modern society. In this regard, in his literary works Cheever often presents and tries to interpret events of his own life, full of contradictions and tough circumstances (Donaldson, 1988).
As he obtained a reputation of an author of numerous stories devoted to moral problems of life of middle-class, especially in the context of the suburban America (Dyer, 2004), his prison novel "Falconer", produced in 1977, was a great surprise for many of his readers. Indeed, while written in his familiar style, "Falconer" is atypical for Cheever as the novel is permeated with profane and vulgar language, and with realistic descriptions of life and death in the Falconer Prison.
Cheever anatomizes his characters with great scrutiny, illuminating their existence with flashes of lyrical splendor, and at the same time convincingly depicting the immense burden of imprisonment. Still, a close examination of the novel "Falconer" reveals that this fiction is again a powerful allegory of the life of John Cheever himself, and also in some aspects deals with themes that are present in Cheever`s other literary works. Let us explore this thesis in detail.
The novel "Falconer" is the story of imprisonment in the Falconer Prison of its protagonist Ezekiel Farragut – a former college professor and now a criminal burdened with the murder of his brother. "Falconer", for its predominant part, is uniformly written from the point of view of Farragut himself, thus being a vehicle of transmission of all physical and emotional experiences of its main character. While Cheever does not make the terms of life of Farragut seem like an outward hell (which could be done, for example, by adding to the plot widely acknowledged episodes of prison brutality like rape and violence from the side of fellow inmates), his story depicts the essence of the burden of incarceration as such, which at times may truly seem as the ultimate, and therefore probably not really justified, form of punishment.
The book begins with the arrival of Ezekiel Farragut to the prison and with description of his first day there with its numerous symbols of his caging, like removal of manacles that leads to Farragut`s deprivation of his watch, testimony before a review board that manifests the lessened self-esteem of Farragut, an awful prison meal, and his introduction to his new `home`, Cellblock F, with its guard Tiny, whose obesity is "frightening" (Cheever, 1991, p.9) and who humiliates Farragut even more than the review board, and with its residents who substantially ignore Farragut, adding to his sensation of insignificance.
From this moment, through the personage of Ezekiel Farragut Cheever begins a painful exploration of the phenomenon of imprisonment, at times touching upon themes of whether isolation as such in fact accomplishes its ends as a means of a social education, and at times reflecting about the elements of imprisonment that are present in lives of everyone of us, even thought we are not confined to the prison`s walls. But probably the most important issue that Farragut, and readers as well, becomes preoccupied with is whether the deliverance from captivity of prison, in both literal and figurative sense, is possible. In this light, the symbol of incarceration, embodied by Cheever as the foe to cope with and to get rid of, in fact serves as the main antagonist of the novel (Foster, 2003, pp. 97-108).
The chapters that follow build upon these themes through a mixture of events from the life in prison and from Farragut`s recollections of his past life, though which we learn about his difficult formative years and his relations with his parents and his brother Eben. The growing alienation of Farragut from the world and from himself begins to accumulate as the plot develops. The first manifestation of this happens after the visit of his wife, Marcia, whose coldness towards Farragut, even despite the gravity of his situation, greatly disappoints Farragut and provokes in him a stark realization of his isolation from the world, the world which fails to value the gift of freedom that it possesses and simply wastes it, on Ezekiel`s opinion.
At this point Cheever conveys an idea that is difficult to dispute – that we all have our constraints and confinement, which makes the separation between freedom and imprisonment somewhat conventional. The sense of alienation is growing in Farragut, as more and more aspects of his previous life turn out to be inaccessible to him. For instance, the good food becomes the object of great coveting for Farragut, and when Tiny presents him tomatoes he finds their taste reminiscent of freedom. It seems that almost any event in the Falconer Prison is aimed at increasing Farragut`s alienation, as even such a minor violation of prison rules as hiding of spoons in the toilet bowl leads to six days of his isolation, during which he is greatly concerned about timely provision of his fix of methadone to alleviate his heroin addiction.
His anxiety even makes him conclude that death might be better than his current situation, as a prisoner loses connection with reality which depraves a person of sense of life. Indeed, at some point Farragut would need the help of Tiny to remember where he is, and thanks him for reminding that he is in the Falconer Prison for fratricide. By depicting such powerful emotional experiences, Cheever helps readers better apprehend the essence of life in prison. In this regard, his descriptions of small pleasures available to convicts play an important role in his exploration of psychology of imprisonment. The importance for prisoners of caring for cats signifies their striving to escape from their loneliness, as Chicken Number Two even at the threat of a long isolation does not want to give away his cat to the furious Tiny, who is chasing and killing cats after two of them ate his dinner.
With this episode of massacre of cats the author hints at the ultimate futility of the punishment, as after many mostly innocent cats are killed by Tiny, he has to acknowledge that his revenge did not give him his dinner back, apparently leaving Tiny unsatisfied. As another manifestation of this point servers the episode when Farragut is forced by prison personnel to make a withdrawal show when denied his usual fix of methadone. This practice of sadistic enjoyment of person`s suffering seems to be a common one, possibly even a preplanned `educational` procedure. But such suffering can hardly have any power to educate, as Cheever vividly demonstrates.
The additional brutality of the deputy warden Chisholm, when he brains Farragut with a chair, makes Ezekiel seek revenge by appealing to a lawyer, which turns out to be a futile attempt. This situation incites Farragut to express his indignation in his letters written to different imaginary addressees on a sheet with a stolen pen. These letters carry Cheever`s critique of imprisonment, but at the same time hint that the craving for revenge, which makes Farragut to ask for death punishment for Chisholm, may be the reason that actually justifies incarceration as a phenomenon simultaneously abhorrent and inevitable in a paradoxical way.
However, the most significant events that take place in the novel are related to the theme of possibility of deliverance from the confinement. Cheever explores this theme through different and at times contradictory situations that happen with Farragut. The direct evidence that deliverance is possible comes from the news about the uprising at the upstate prison called The Wall, where up to thirty prison officers were held as hostages. This news, even despite the fact that the reason dictated that the success of insurgents was only temporal, rocked the Falconer Prison. The staff of the prison was extremely terrified by the very possibility of a similar uprising in the Falconer, while prison inmates were exhilarated and encouraged by the news that gave them at least the smallest hope.
This excitation instigated misdeeds that were meant to support the uprising in The Wall, as when Chicken Number Two burned his mattress with the help of many of his cellmates. Still, that imitation of a rebellion was short from actually becoming one, and the reason for that lied in the inhabitants of the prison themselves. Their inability to cooperate was their fundamental weakness that made them as powerless as they always had been.
When Farragut was trying to make an improvised radio to listen to news about the situation at The Wall, he asked his cellmate Bumpo for his diamond ring which he planned to use to make radio, but confronted his refusal. On the other hand, Farragut himself abstained from helping Chicken Number Two keep his fire burning, similarly sabotaging that endeavor. All this leaves really little hope for the deliverance, turning incarceration into the punishment that the prisoners are willingly enduring.
At the same time Cheever offers hope for deliverance from where his hero did not expect it to come – from his love to Jody that flared up in Farragut. Jody, being anything but a faithful lover, to a large degree used Farragut for his own purposes, but in doing so he instigated Ezekiel to think about the motives of his love towards Jody. In these meditations Farragut probably for the first time realized for a moment that his self-concernment could be the key reason of his affection towards Jody, and likely of many other of his deeds as well, including the murder of his brother.
But his refusal to fully accept this explanation and his going into some lofty alternative interpretations (probably also truthful to a certain degree), as was equally the case with his supercilious version of why he got addicted to heroin instead of admitting the decisive role of his personal problems in relations with his family, lead him to self-delusion that makes imprisonment an internal circumstance that is hard to get rid of. But here something miraculous happens – Jody succeeds in his bold attempt to escape from the prison by changing his clothes for those of an altar boy and hiding in the cardinal`s helicopter.
While the sheer improbability of this event may leave some readers confused, it may represent the turning point of the novel, the moment which made possible the deliverance of Farragut himself. And a similar, if not greater, improbability of the Farragut`s escape, who got into the sack instead of the dead body of Chicken Number Two, was transported out of the prison, and was given a lucky chance to flee from the attendants, leads us to the final conundrum – is this deliverance for real and for ever, or is it only temporal? Indeed, even if Farragut will not be immediately caught, will he manage to survive in the free world, and will he not relapse into his addiction which he almost miraculously abandoned?
Now that we have overviewed the story of Ezekiel Farragut, it is hard to omit the striking resemblance between the "Falconer`s" protagonist and John Cheever himself. Aside from the fact that Cheever was at some point in his life a teacher in Sing Sing prison, Cheever created almost autobiographical character with whom he had in common many traits: difficult formative years, as Farragut akin to Cheever was shocked by the story that his parents contemplated making abort during his mother`s pregnancy, a suicidal father, and a difficult relationship with his brother (Cheever, Susan, 1999).
Other points of similarity are Cheever`s own addiction to alcohol and his bisexuality. But perhaps the most autobiographical is the general state of confusion that permeates Farragut in relation to his sexuality, addiction and his uncertainty in possibility of full deliverance, as Cheever for a long time was himself uneasy about his bisexuality, and after rehabilitation from alcoholism could easily relapse into drinking (Cheever, Benjamin, 1988). Thus, the end of the novel apparently was equally problematic for the author as well (Goring, Hawthorn, and Mitchell, 2001, pp. 32-34).
It is no wonder then that "Falconer" in many respects can be compared to other works of John Cheever, even though his prison novel represented an adoption of a new writing style. For example, similarities between Farragut's family history and the childhood of John Cheever are also present his first two novels, "The Wapshot Chronicle" (Cheever, 2003) and "The Wapshot Scandal" (Cheever, 2003), and in some form are found in his other stories.
More generally, Cheever`s preoccupation with the exploration of the spiritual emptiness of life that may lead to escapism and self-deceit can be traced in many of his other stories, as is the case for instance with "The Swimmer", where a main hero undertakes a seemingly funny attempt to swim home through all the pools between the house of his friend and his house (Cheever, 2000, pp.603-612), and while doing so finds himself defenseless in the face of passing time, that somehow begins to run much faster for the swimmer, and that deprives him of many things that he now understands were so valuable in his life.
Sources
Cheever, Benjamin. The letters of John Cheever. Simon & Schuster, 1988.
Cheever, John. Falconer. Vintage, Reprint edition, 1991.
Cheever, John. The Wapshot Chronicle. Perennial Classics, 2003.
Cheever, John. The Wapshot Scandal. Perennial Classics, 2003.
Cheever, John. The Stories of John Cheever. Vintage, 2000.
Cheever, Susan. Home Before Dark: A Biographical Memoir of John Cheever by His
Daughter. Washington Square Press, 1999.
Donaldson, Scott. John Cheever: A Biography. Random House, 1988.
Dyer, John. John Cheever: Parody and The Suburban Aesthetic. American Studies at the
University of Virginia, 2004. 08 July 2005 <http://xroads.virginia.edu/~MA95/dyer/c
heever4.html>
Foster, Thomas C. How to Read Literature Like a Professor: A Lively and Entertaining
Guide to Reading Between the Lines. Perennial Currents, 2003.
Goring, P., Hawthorn, J., and Mitchell, D. Studying Literature: The Essential Companion.
Arnold Publishers, 2001.
Related Topics