Is America Ready For A Woman President?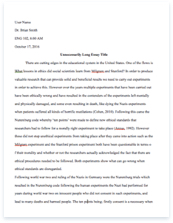 The whole doc is available only for registered users
A limited time offer! Get a custom sample essay written according to your requirements urgent 3h delivery guaranteed
Order Now
America is a country whose personality has always been masculine. That is why  country's personage is known as "Uncle Sam". It is a country whose history as a nation is deeply ingrained in the leadership skills of men beginning with their forefathers who tamed the wild land then dominated by the Indians all the way to the current crop of male dominated political leaders who continue to carve out the future of the nation. Throughout all this time, women have also done their part in nation building and have held jobs equivalent to, or sometimes of even higher responsibility than men. In the private sector, women are leaders of industry and highly respected for their ability to lead companies that were formerly exclusive to the male gender. American women in general have also began to slowly but surely whittle away at the political barriers that used to prevent them from joining the public service.
There have been female governors, mayors, and recently, speakers of the house. From the time of Attorney General Janet Reno, all the way to the current crop of high profile female leaders like House Speaker Nancy Pelosi and National Security Adviser Condoleezza Rice, the rise of women within the halls of political power have been remarkably fast.
Before the formidable image of Hillary Clinton came forward as a possible presidential candidate, there had been only one forward thinking woman in the past who tried to gain a presidential nomination. This was way back in 1984 and the woman was Geraldine Ferraro. So, as the 2008 Presidential Election fever begins to envelop the nation, and Senator Hillary Rodham Clinton continues to gain in momentum within her primaries campaign, the American nation is left to ponder a very deep question that will test its political maturity. With the possible inclusion of a female candidate in the presidential race, is the United States ready for a woman president?
            Let's face it, the image of the American female has changed and evolved very slowly over the decades. American women may be movers and shaker of various industries and play important roles in the arena of world politics but the American males still view them as the weaker sex and will do their best to undermine any female empowerment movements. Most specially if such moves mean that a woman may finally hold the most powerful seat not only in the land, but in the world.
Men seem to be wary of women who can keep up with them in any arena, most specially the political kind. Most of them believe that women cannot be leaders without losing their femininity. When a woman proves to be strong willed, independent, and have a tremendously strong sense of self worth, a man perceives her to be either cold or a lesbian. The truth is that women make better political leaders because they manage to perfectly combine deviousness, calculating skills, and heart. The superwomen of the political arena are not lesbians nor cold automatons, they are merely much higher evolved human beings that require a new kind of understanding in order for us to figure out what makes them tick.
            There are those who believe that America will be viewed as a weak country should a woman ascend to the Oval Office. America has always been known for its hard stance on world issues pertaining to international security and peace treatise. America manages to keep the world in line as the unofficial World Police because it's male political leaders and strategists have managed to rule the world with an iron hand without really having to annex any other countries. Can the country still effectively function in this role if a woman is elected as president?  Or will the rest of the world laugh and ask "What were they thinking when they elected her?"
            Americans overall must look at the way the political landscape  of the world has changed over the past twenty or more years. Women have been holding country leadership positions for at least 20 years now. During the 1970's (Baroness) Margaret Thatcher served as Prime Minister to Great Britain. We can view her title as the equivalent of President in our country because the Queen is merely a titular Head of State in their country. Her tenure from 1979 to 1990 is the longest ever recorded tenure of a Prime Minister in her country.
She became known as the "Iron Lady" because of her uncompromising ways and ability to deal with political turmoil with the cunning of a man, but the heart of a woman. Under her leadership, Britain fought the Falkland Wars and regained the same territory in the end. She was a political friend to the United States and an enemy to any nation that threatened world peace and security. Margaret Thatcher served as the template for most female political leaders of the world during that era. Don't be fooled, many countries have elected or are currently being led by female heads of state.
            Give the current world leader listing a quick read through and you will find that at least 30 countries are led by women presidents and prime ministers. Indira Gandhi, Benazir Bhutto, Gloria Macapagal Arroyo, all these women are wives and mothers before anything else. They are feminine in every aspect of the word and yet can play the political game just as well as, if not better than their male counterparts. The truth is that America is beginning to lag behind most nations in terms of female empowerment. The world has been ready to be led politically by women for decades now. What is keeping the United States from doing the same? The country used to set the standards by which the world conducted itself. But lately, it seems that the shoe is now on the other foot and America is now playing the catch up game.
            It seems that the American voting public has been slowly warming up to the idea of eventually having and then voting for a female presidential candidate. According to CBS polls taken as early as 1955, a Gallup poll of that time showed that fifty two percent of people interviewed indicated that they would vote for a female candidate in the then unlikely event that a female candidate was offered to the voters as an alternative candidate. By 1975, this percentage has grown to seventy three percent and then eighty two percent by 1987. It is currently estimated that fifty percent of the voting population would vote for a woman president based solely upon her qualifications for the job.
            When the same question was posed to the public as a gender issue, the result was a strange one. The CBS poll discovered that sixty percent of the male population were most likely to vote for a female presidential candidate while only fifty one percent of women asked said they would vote the same way. Ask the American youth of voting age and majority of them will tell you that it is about time we elected a woman to the White House. But the elder population of the country is definitely not decided upon the issue since forty six percent think that the country is unprepared for female leadership on the presidential level while forty four percent seem to think that it is time to take that kind of chance. When CBS directed the same questions to both the Republican and Democratic parties, they found out that sixty one percent of Democrats feel the time is ripe for a female head of state while only forty eight percent of the Republicans felt the same way. Liberals seem to think the same way and the conservatives, are exactly as their name implies when it comes to the female president issue.
            A female elected to the American presidency will be in a very unique position in the world. She will have the backing of the last remaining super power by which to complete her plans to help not only her country, but the world as well. There is this saying that "If women ruled the world, there would be no wars." My guess is that this comes from the reality that women are basically non confrontational and believe that proper discussion and meeting at halfway points is the way to achieve solutions and peace in that part of their world that they rule. Women do everything differently from men, maybe, just maybe, it is time to give the female leadership styles a try. Who knows? She just might succeed where her male counterparts have failed in the past. It is not tried and remains untested, is that not how all great experiments achieved success in the world?
            So, assuming that America is actually ready to elect their first ever woman president, what qualities in that sort of candidate should we look for? Voters have to remember that a political career is not one that is built over night. Any female running for that position must be just like any other male candidate only 100 times better. She must has have the political seasoning of having held various public offices and positions of leadership at least within her state in order to prove that she has actual training in running a public office. She has to be more female than her mother and display that female touch at every chance she gets while still keeping it balanced with a tough yet gentle stance whenever necessary. A female candidate must not be easily cowed by opposition and must have the ability to speak her mind coherently and comprehensively. A female president must never be afraid to oppose the men who are part and parcel of her presidential cabinet because she has to show her conviction for all her political decisions whenever she is placed on the spot.
            Back in 2005, a program launched on primetime television entitled Commander in Chief. It was a program that had the United States experiencing the birthing pains of being led by its first ever female president. The character of Mackenzie Allen was carefully crafted by the writers to show that a woman can be a sexual woman, mother, and strong willed leader of the free world provided she had the proper training to do so. I believe that this show had a lot to do with the way Americans now view the possibility of having a female president.
The show was instrumental in the education of the voting public in the sense that it showed them exactly what to look for in a female president. The stories in the show, although written by Hollywood professionals, portrayed the actual realities that face any president of the United States, regardless of gender. The difference? A female president rules with heart and will avoid war like confrontations whenever possible. Could a flesh and blood female president rule the same way? Is there a real, flesh and blood American woman who can become the actual embodiment of fictional president Mackenzie Allen? That will be something for their voting population to decide.
            This country was founded on the basis of the unknown. Those ancestors who arrived on the Mayflower had no idea about what to expect once they landed in the new country. America was a savage land that eventually was tamed and educated into the highly intelligent race of people that evolved into the current population of America. The United States is a country that is used to taking chances. Americans took a chance that the immigrants who were allowed to settle in the fledgling country after arriving on Ellis Island would be productive members of the society.
Political leaders took a chance on the women when Women's Suffrage became a battle cry of its time. Since then, the nations male citizens have slowly but surely allowed women to discover what their inborn capabilities and limitations are. So far, they have torn down every obstacle that has stood in the path of female empowerment. Today, the country and its citizens stand on the brink of another female empowerment issue. Is the country ready for a female president? Yes or no? After reading all the information that I have collated for this paper, what do I personally believe regarding the matter?
            I will admit that there seems to be a is a very strong possible female candidate for the primaries. The American media portrays her as a woman who has all the positive traits of a formidable female president. She has the background and training to be able to successfully take on the Office of the President and from the looks of it, her willpower to get elected into the office cannot be rivaled by even her closest opponents. Do I think she can get elected? Does she have what it takes to clinch that nomination which will unlock the gates to some serious presidential campaigning in 2008? I say yes to all of the above. The United States has never been more well prepared to consider and possibly elect a female president for the first time in the great nation's history.
Work Cited
Bernstein. Carl. A Woman In Charge. New York: Alfred A. Knopf., 2007.
Boosler, Elayne. "Is America Ready For A Woman President?" Go To Hell. Weblog entry. The Huffington Post. (2 February 2007). 29 November 2007. <http://www.huffingtonpost.com/elayne-boosler/is-america-ready-for-a-w_b_40300.html>.
Cravens, Jeff. Jeff Cravens: Is America Ready For A Female President? The Michigan Post. (22 February 2006). 30 November 2007. <http://media.www.michigandaily.com/media/storage/paper851/news/2006/02/22/Opinion/Jeff-Cravens.Is.America.Ready.For.A.Female.President-1623042.shtml>.
Dahle, Travis. Is America Ready For A Female President?. (15 October 2007). 3 December 2007. <http://www.associatedcontent.com/article/405353/is_america_ready_for_a_female_president.html>.
Guttman, Robert. Is America Ready For A Woman President? And, If So, Is Hillary Clinton Going To be Our Choice? Weblog entry. The Huffington Post. (1 February 2007). 2 December 2007. <http://www.huffingtonpost.com/robert-guttman/is-america-ready-for-a-wo_b_40206.html>.
Johnson, Paul. Margaret Thatcher. The Time 100. (13 April 1998). 2 December 2007. <http://www.time.com/time/time100/leaders/profile/thatcher.html>.
Nickerson, Jamarious. America Is Ready For A Female President. (5 October 2007). 4 December 2007. <http://media.www.pioneertimeswpu.com/media/storage/paper756/news/2007/10/15/OpEds/America.Is.Ready.For.A.Female.President-3035279.shtml>.
"Pilot". Commander In Chief. Writ. Rod Lurie. Dir. Rod Lurie. ABC. 2005. Buena Vista Home Entertainment / Touchstone. 2005.
Ramsok, Judy. Is America Ready For A Woman President? American Chronicle. (26 March 2006). 27 November 2007. <http://www.americanchronicle.com/articles/viewArticle.asp?articleID=7271>.
"Ready For A Woman President?" CBS News. 5 February 2006. 3 December 2007 <http://www.cbsnews.com/stories/2006/02/03/opinion/polls/main1281319.shtml>.
Walter, Natasha. America Is Not Ready For A Woman President. Guardian Unlimited. (29 July 2005). 26 November 2007. <http://www.buzzle.com/editorials/7-29-2005-73927.asp>.
Related Topics