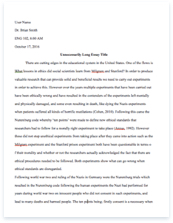 The whole doc is available only for registered users
Pages: 2
Word count: 383
Category:
A limited time offer! Get a custom sample essay written according to your requirements urgent 3h delivery guaranteed
Order Now
Negligence is defined as persons or business's actions that make them liable to foreseeable consequences of their actions. There are certain steps that the plaintiff needs to prove negligence on the defendant's behalf. These elements are duty of care, breach of this duty of care, plaintiff suffered injury, defendant caused the injury, and it was the proximate cause for the plaintiffs' injury (Cheeseman, 2013). In the case of the Bryntesen family we need to prove the elements for negligent action. Did Lithia Motors and Camp Automotive owe a duty of care to the family; they did when they signed the contract. Did they breach this duty of care: they did when the employee did not properly file their papers. Their dealerships actions lead to the family being held at gunpoint. This shows that they were negligent in their actions. To prove this, plaintiff needs to prove the cause of negligence. There are two causes of negligence the cause in effect and proximate cause.
According to Cheeseman, H.R Business law: Legal environment, online commerce, business ethics, and international issues (8th ed.). (2013), the defendant's actions must be the actual cause for the plaintiff's injuries. We can prove this with "but for" the defendants actions the plaintiff would not have been injured. In this case the family would not have been held at gunpoint "but for" the negligent actions of the employee for not correctly filing the loaner papers. Proximate cause says that the defendant is not liable for all the damages caused by their actions. The test for proximate cause is foreseeability. According to "Foreseeability" (2013), foreseeability "Reasonable anticipation of the likely consequences of an act, a failure to act, or an occurrence." If actual cause for the plaintiff's injury is the dealership but not the proximate cause then the dealership, employees, and BMW are not held liable for their actions. Conclusion, since negligence is an unintentional tort it is very hard to prove a negligent act. The plaintiff needs to prove the element of negligence as well as the actual cause as well as proximate cause (foreseeability) to prove the defendant's negligent.
Ref:
Cheeseman, H.R. (2013). Business law: Legal environment, online commerce, business ethics, and international issues (8th ed.). Upper Saddle River, NJ: Prentice Hall. foreseeability. (2013). Retrieved from http://www.businessdictionary.com/definition/foreseeability.html
Related Topics