Instead of a Utopia a Prisoner of War Camp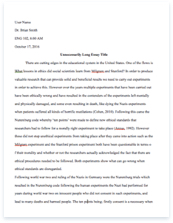 The whole doc is available only for registered users
Pages: 5
Word count: 1242
Category: Utopia
A limited time offer! Get a custom sample essay written according to your requirements urgent 3h delivery guaranteed
Order Now
James Warren Jones
James Warren Jones, was born on May 13, 1931 in Crete, Indiana to Lynetta Putnam, and James Thurman Jones. James, whose nickname was Jim, was responsible of the Jonestown Massacre on November 18, 1978 where 900 men, women, and children were led to their death. Jim Jones was struggling with NPD (Narcissistic Persons Disorder), and was possibly sick with no medical attention. However, that was not proven only rumored
Early Childhood
When Jones was growing up, his household was not a good place for him to be. His father, James Thurman Jones, was a disabled WWI veteran, and his mom, Lynette Putnam, was constantly working so she wasn't around much. His dad wasn't interested in him, and so Jones started to keep to himself. When he got a little bit older his neighbor began taking him to church. This began his religious quest at just the young age of ten. Because Jones liked to keep to himself he was very observant. He began taking what he learned from church and told people his age about what he was learning.
Jones was a very good student in school, but because of his beliefs people began to stop associating themselves with him. He didn't have many friends, and this caused him to have a very lonely life at a young age. As he got older he didn't like participating in typical activities for his age. He wouldn't drink, play sports, or even dance. He saw drinking and dancing as sinful.
His parents split up when he was nineteen years old. After their split Jones went to live with his mother because his father didn't have any interest in him. This allowed him to have a fresh start and reinvent himself. He first started work in a hospital where he met his wife Marceline Baldwin who was an older nursing student at the time. Jones decided to graduate from high school early in December to attend Indiana University that January in 1948.
Adulthood Behavior
While he was in his first term of school he decided to marry Marceline Baldwin on June 12, 1949. As time went on Jones and Baldwin adopted several children, some were of different races and ethnicities, because of this he called his family a "rainbow family".
Jones announced he was entering the ministry in 1952 at the age of twenty-one. Soon after he starting working at Somerset Methodist Church as a student pastor. He began to gain a reputation as a healer and an evangelist. Jones was very adamant about having racially integrated services at the church he was working at. When the church refused his idea, he set out on his own. In 1955 he formed the Wings of Deliverance Church, this soon became known as the Peoples Temple. To try to get more people to hear his sermons he bought time on AM radio to talk about them.
In the mid 1960s he moved his group up to Northern California, he took over 100 people with him. Jones and his followers lived in towns of Ukiah and Redwood Valley. In the early 1970s he expanded his recruitment efforts by opening a branch in San Francisco. His "healings" brought many people from all around into his group.
Jones had always been a paranoid man, even from his childhood years he was always paranoid. As he got older that paranoia grew. He was constantly paranoid that someone was out to get him, and so he made the members of his group do "suicide drills". He preferred to call these White Nights. Jones would wake some members up in the middle of the night to force them to drink some red liquid. He told them that the red liquid had poison in it and that they were going to die if they drank it. Close to forty-five minutes after they drank the red beverage they were told that it was just a test and that they were going to live.
Jones ran this "temple" like a prison camp. The people there were allowed little food and there were guards everywhere. The "guests" were not allowed to leave because of the armed guards guarding every exit and entrance. To draw people to this place he promised of a better life. He would trick people into giving him whatever they had because he talked about a "utopia" he was going to have. He took everything from everyone until they had nothing left, until they were forced to stay with him. Without Jones those people had nothing, he took everything, they could not live without him. They gave him such things as their property and anything else they had.
Psychological Disorder
The real question is whether or not Jones actually had a psychological disorder that led him to doing this. Jones was extremely paranoid throughout his life, and he was said to have had NPD(Narcissistic Persons Disorder). Jones was said to be possibly sick, but he did not get any medical attention for it. Jones being sick is only a rumor that was spread after the massacre, it cannot be proven.
Jones was left alone all of his life. His parents didn't pay much attention to him, and the only love he was shown was that of what a church could give him. It makes sense that he would want to start a church so he could show people love the way that it was shown towards him. As he got older he had severe trust issues because of his parents. This led him to need to make sure that each person would never leave him like his parents both did at one point. I normally look for a breaking point when it comes to a situation like this. In this case there was one. He had those ingredients for his suicide drink that he gave his followers for a long time before the massacre happened. He had everything he just didn't use it. His breaking point was when the cameramen and Ryan came to the camp. I believe that he didn't want to do this, but he felt that he needed too. In the end he realized what he did, and he didn't want anyone else hurting. He purchased those ingredients, but he didn't use them right away. I think that was his backup plan. He was planning something bigger, but when the cameramen showed up it put everything into perspective for  him.
Conclusion
In conclusion, it is not a proven fact that Jones has a psychological disorder that led him to making these decisions. This does not mean that he did not have a psychological disorder, only that he was not formally diagnosed. Nobody really understood what he was thinking, and nobody ever will because he is not with us anymore. The Jonestown massacre was horrible and how he decided to kill those people made it worse. Insead of a quick death they could feel they were dying which is just sick Jones promised a utopia but ended up just giving them a prison camp. Tricking people into giving him all they had was his only way to make him feel protected and loved as he got older.
This all goes back to how he was raised when he was young. Could the massacre have been prevented if only his parents could've put more time into him at a young age? Maybe, but we could never be certain. What is certain is that nine hundred people lost their lives while under the influence of James Warren Jones.
Related Topics