An Inspector Calls – The views of Mrs Birling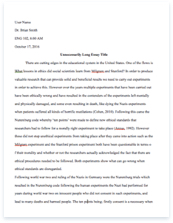 The whole doc is available only for registered users
Pages: 2
Word count: 364
Category:
A limited time offer! Get a custom sample essay written according to your requirements urgent 3h delivery guaranteed
Order Now
I think that Mrs Berling doesn't want to accept any responsibility of killing the girl. Even thought the inspector tells her that the girl is pregnant she won't accept the blame. Mrs Berling seems to be a stubborn character as she doesn't want to any responsibility of the girl's death. She even seems to want to push the blame on Arthur Berling for firing her in the first place. "I did nothing I'm ashamed of" this shows that she is more content on her pride than anything else.
Mrs Berling seems to be aware of her power and status as she used her "influence" to have the girl removed. She also doesn't want the inspector to investigate her and when he does she says "you have no power to make me change my mind", this suggest that she thinks she is more powerful than the inspector. When Sheila and Mr Berling comment on her behaviour she seems to try to push the focus back on Arthur "it wasn't I who had her turned out of her employment" this suggest that she is stubborn and is not ready to accept the blame
Even though the inspector seems to add to the fact that the girl died whilst pregnant Mrs Berling is unmoved by this information and says that "it was her business" stating that she doesn't care for the girl. She seems to have a cold heart as even though her and Sheila are both women in the play she seems to react differently to Sheila. The only reason she seems to give about removing the girl is that "She was giving herself ridiculous airs" this may suggest that Mrs Berling thinks that girls of the working class where lower therefore should behave differently.
This point is proven because she found her behaviour "absurd in a girl in her position. " This shows how she seems to look down on the girls she works with. She seems to have her own opinion of the girl as when the Inpector asks about why Daisy didn't take the money Mrs Berling thinks that it is "nonsense" this shows that she has a narrow minded view of girls in hr position.
Related Topics