An Inspector calls characters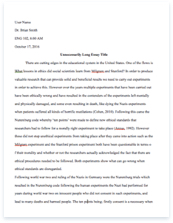 The whole doc is available only for registered users
Pages: 5
Word count: 1151
Category: Character
A limited time offer! Get a custom sample essay written according to your requirements urgent 3h delivery guaranteed
Order Now
Sheila, unlike her father Mr Birling, is honest and lacks the cold-hearted attitude of her parents. She is deeply affected about the inspector's revelations. But she is reviled as a spiteful girl, as she contributed to the death of a young girl. She is the only character that gives optimism for the future. At the start of the play is vain and spiteful but changes to a more caring person to the end. Her father Mr Birling is quite the opposite. He doesn't care about the tragedy, only that it could cause a scandal. He is relieved that the rest of his family is to blame and not just him. He shows through the Act that he is an ignorant and optimistic person who lives to impress the upper class society.
The play starts off with the family celebrating the engagement of Sheila and Gerald Croft. Sheila doesn't see that this marriage is to increase her father's social standing. She is so naive that she doesn't see this. She thinks that her father is happy for her and Gerald, but really wants personal benefit. The family treats her and Eric, her brother like they were still young children and they act like it too. For example, Sheila says, "…go on then Mummy." This word "Mummy" shows how she is still talking like a young child. She is spoilt too. She is centre of attentiopn at the party.
When the inspector tells her and reminds her of the incident with the girl in Millwoods it shows how spoilt she really is. She saw the girl in the dress and that she was beautiful. She was jealous of this and when she saw her smile she used her power to get the girl sacked. But this is the difference between her and her father. She felt guilty and wished she hadn't done it. Annoyed at what she thought of her insulting behaviour at her own expense. Sheila claimed that that was the first time she had ever behaved in that way but that is only her word. She could have done it many times for all we know but she admits that it is wrong. That is the difference between her and her father. She says, "…never, never to do it again to any body." This suggests though that she has done it before. She has realised that it is wrong but she still did it.
Mr Birling would do anything to avoid a scandal and when the inspector enters with information that could harm Mr Birling's reputation, he does anything to get rid of the inspector. He uses a number of different methods from gentle suggestions that he knows his superiors and they are good friends to threats to his job. But when the inspector suggests that it wasn't only him he is relieved and apologises for his arrogance even though it moves the blame to his family.
It is Sheila who realises the inspectors intentions very early on, "You talk as if we were responsible." She is guilty for what she has done and when the rest of the family finds out that it is all a hoax and forgets it she is enraged. She starts shouting at them. There is a complete role reversal as she tells the parents that they should be responsible for their actions. Normally it would be the other way around. "Everything we said had happened really had happened. It is clever, then that Sheila is basically well disposed. Her honesty and integrity seem to recommend themselves to the inspector. There is a point in the play where he personally leaps to her defence. She is insistent on hearing the whole cause and is cruelly accused by Gerald Croft.
Sheila acts almost like an accomplice of the inspector, when the parents realise this they call her a traitor but she only wants to know the truth. Throughout the play she changes and goes through a learning experience which changes her to realise her parents' irresponsible and uncaring nature. She objects to her parents' lies and becomes disgusted of parents and Gerald when they stopped learning about their horrid actions when a way out was found. Because she is less blatant she is the first to realise that the inspector knows all about them. She also is the first to realise who the inspector really is.
Her honesty leads to her being overcritical about herself and identifies herself with the dead girl because she is pretty and nice. She realises that the working class, like Eva Smith, are people not just cheap labour like her father thinks. She feels sorry for Eva's dismissal in the factory by her father for wanting higher prices. But she is not innocent; her spiteful action at Millwards was less justified because it was done in vanity. She got the girl sacked for being 'too pretty' and smiling in a critical way, but she was really just jealous. The only redeeming feature was that she regretted it and then gave responsibility for her death. She realises that what u say and do can affect someone's live drastically.
Throughout the play Mr Birling is making slight hints to impress Gerald and the inspector, like at the beginning of Act One he tries to make Gerald have some port by saying it is the same port as his father gets. He also talks about when he was mayor, two years ago, he met the Royals and might knighted and put in the Honours list. He tries to intimidate the inspector by telling him that plays golf with his superior and could easily get him sacked.
Mr Birling shows that he will do anything to increase his social standing. The play starts off with the family celebrating the fact that Sheila is marrying a young man called Gerald. Mr Birling sees this marriage as a way of increasing his social standing. He has no thought that it will lead to a happy life for Sheila, he just thinks of himself. Gerald's father is one of Mr Birling's rivals and so the marriage might join the two companies.
Mr Birling also tries to impress Gerald so that he can make himself look better that he really is. This can be shown when he speaks to Gerald; he casually mentions that he has the same port. "…Finchly told me it's exactly the same port that your father buys". He then goes on about his past and how he was a mayor and that could help him to become knighted.
Sheila is naturally unable to deal with the full responsible for Eva Smith's death. She is the better mother and has responsibilities. We learn that she wants to learn from her mistakes and treat the people equal. On the other hand we learn that Mr Birling is an arrogant, naive, selfish person that only thinks of himself and believes that you should look after yourself and your own.
Related Topics