An Inspector Calls Analysis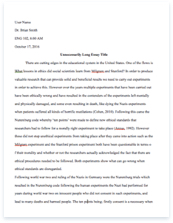 The whole doc is available only for registered users
Pages: 9
Word count: 2118
Category:
A limited time offer! Get a custom sample essay written according to your requirements urgent 3h delivery guaranteed
Order Now
When first reading this book it is very easy of the reader to assume that is it purely about social class, first of all we are shown the Birling family celebrating Sheila Birling's engagement to Gerald Croft. (Note: – Son of a leading manufacturer and rival to Arthur Birling. ) From the beginning it is clear that Birling is a man surrounded by people socially above him (i. e. his wife and Gerald. ) Mr Birling is that of a social climber hoping to one day to become equal to Gerald's father. But in all Mr Billings attempts to before of higher status, his lack of breeding shows through by his comment made at dinner "Very nice.
Good dinner too, Sybil. Tell cook from me. ' Even though Sheila is a girl in her early twenties she is still treated very much like a child and is scolded by her mother "men with important work to do sometimes have to spend nearly all their time and energy on their business. " Sheila is seen to be somewhat incompetent and helpless on her own without her parents. Then there is Gerald who has no need to show off his social status unlike his future father in-law, since he has know it all his life.
This gives him the excuse to take it for granted, it is known by the reader by the fact that he will drink good port but have no need to know about it 'I don't pretend to know much about it. ' Not so long after an inspector calls with the news of the young woman who had poisoned herself and died. First questioning the reluctant Mr Birling, who soon admits that he had once employed the girl but had dismissed her after she was seen as a ringleader in a strike for a wage increase. He refuses to see his actions as a factor contributing to her suicide 'obviously it has nothing whatever to do with the wretched girl's suicide. The inspector then moves on to question Sheila, who admits to having the girl dismissed from the dress shop where she had found a new job. The reason for Sheila's complaint was simply jealous rage because the girl was pretty and looked better that Sheila in a dress that she wanted. Sheila unlike her father is thoroughly ashamed of her-self and feels party responsible for the women's death. This is made clear to the reader by the fact she says 'I felt rotten about it at the time and now I feel a lot worse. '
Continuing on the inspector now questions Gerald Croft. From this it is reveled that Gerald did not only know the dead woman but also had an affair with her confirming Sheila's suspicions about his behavior. This results in Sheila breaking off the engagement. Which if one thinks about is pretty ironic since Sheila mother claimed 'that men with important work to do sometimes have to spend nearly all their time and energy on their business,' But really in fact the real reason for Gerald being absent from Sheila was because of another women.
The inspector then turning his attention to Mrs Birling who lies about any involvement with the girl, until she eventually admits refusing to help the girl partly because she had used the Birling's name to get an appeal to Mrs Birling's charitable committee. The inspector makes Mrs birding reveal that the dead girl was pregnant and that she had refused to marry the baby's father and would not take any stolen money from him. Mrs Birling claims that she persuaded her committee to turn down help because the girl was a lair, ' As if a girl of that sort would ever refuse money. Mrs Birling is prejudiced and has quite a dominant attitude spending most of her leisure time at dinner correcting her husband (being his social superior. ) But very much like her husband she has a typical attitude for the time period and social class she is in, and also is jointly responsible for spoiling and patronizing her children. Soon afterwards it is reveled that Eric is the drunken idler responsible for the pregnancy of the dead girl. He had also stolen money to provide for his mistress from his own father's business, (note: very much like Sheila, Eric is still treated like a child. In some ways Eric is a bit messed up, but with better parenting he may have turned out more like Gerald. Although the Birling parents are angry they soon change their tune, as to wonder how they can cover up this sandal that could tarnish their reputation and terminate any chances Birling had of a knight Hood. Sheila and Eric are both shocked that their parent's concentration on this rater that reflecting on their guilt, leaving them both disappointed in their parents ' I'm absolutely ashamed of you. '
After the inspector leaves Sheila suggests that he was not a policeman at all, which prompts the arguing family to make claims and counter claims, that they knew he was a fake 'The whole damned thing can have been a piece of bluff. ' Gerald returns from a walk and puts forward the idea that since no two people saw the photo of the girl at the same time, indicating perhaps there were several girls. They then telephone the hospital to learn that no one had been admitted and died of poison. The Birling parents and Gerald recover their earlier good spirits and make light of the evening, but Eric and Sheila are horrified at the lack of remorse.
They play closes with a phone call from the police telling them that a girl has just died from poisoning at the hospital and an inspector will be calling to ask some questions. The impression the observer gets when the play first starts is that the Birlings house is fitting for the family of a prosperous manufacturer. This indicates that this family are the sort of people who can expected to have certain attitudes for this time period (1912). From the very beginning of the play and all the way through, there is always some appearance of alcohol in this play.
Alcohol is very much a part of Birling life and symbolizes the affluence, which is abused by those who are new to it. Very much like Eric who unlike Gerald can not handle his drink, which later because of it ends up raping Eva. But one of the must see that Eric isn't entirely to blame, to the extent it is both Mr and Mrs Birling who are to blame by the fact that they choose not to notice the real Eric who drinks 'you're not the type- you don't get drunk. ' Instead there to busy trying to create their own ideal family in their heads, they whish people to see them as perfection when ironically they're far from it.
And because of this Eric finds that he feels a disappointment to not only himself but his family and also feels that he has no one he can turn to with his problems 'you're not the kind of father a chap could go to when he's in trouble. ' Birling then makes a speech full of dramatic irony for all his self-importance. Just about everything he predicts turn out differently for the charters on stage, this speech is meant to be sound voice of age and experience not really to be argued with. But the reader will have the benefit of hindsight.
Priestly has done this deliberately to make the Birlings all who are represent look pathetic, ridiculous and also to an extent old fashioned. Birling has no trouble offering alcohol to the inspector who is the only person who declines (apart from the maid Eden. ) But even the Mr Birling can not help letting the inspector know how chummy he is with the police 'I know the Brumley police officers pretty well. ' It is important to take note that the inspector specks carefully, weightily and stares hard at who ever he is speaking to,, making them feel uncomfortable and reveal their guilt (a trusted and well know police technique. The inspector the show Birling a photo and prevents Gerald or Eric from seeing it (hinting to the readers that their turn will come. ) Birling's opinion through but his questioning is that 'If we were all responsible for everything that happened to everybody we'd had anything to do with it would be awkward. ' Birling uses the word awkward an interesting choice of word, implying that responsibility is only relevant if it contributes to self-advancement, other wise it is found as annoyance. Mrs Birling tries her very best to shutout her conscience and accuses the inspector of being rude.
After Sheila hears about Gerald's affair, she breaks off the engagement. Sheila's obviously angry states that it must be nice for Gerald that she took it so well when Gerald broke off the engagement, Which is rather ironic. Priestly makes sure that the reader knows that Gerald is not the father, when it is made known Eva was pregnant. Priestly had done this to highlight the statement made by Mrs Birling earlier on in the play that the father should take reasonability for the play (which is really quite ironic since she said it not knowing that it was Eric who was the father. )
The inspector leaves making a very powerful and indeed strong statement 'if men will not learn that lesson, then they will be taught it in fire and blood and anguish,' suggesting that although that it is to late to make amounts for what they have done there are still plenty of Eva smiths out there that are going through similar things. After the inspector leaves the Birling parents come to the conclusion that the men was not a real inspector and that they should just forget the whole thing. If is then revealed that the inspector was a fake, which Gerald had found out by the speaking to a policeman, he knew.
Birling decides to confirm this by calling a senior policeman, which instantly invites the reader to see the imposter as an apparition or ghoul. This play ends with two important calls the first with Mr Birling calling the hospital, which confirmed that no girl, had died. The second a telephone call telling them that a police inspector is on his way to ask some questions about a girl who had died on the way to the hospital after drinking some disinfectant. In this Edwinen society play Mrs Birling tries to build up some kind of wall between Eva and herself continually stating that she was no good and that she was a liar.
But in this modern day society we have claimed to do everything in our power to push away those socialistic bonds. So then you are left with that the relevance of this play in the modern society it is linked by the way people are treated. Take for example Eva smith a women who lead a strike for higher wages and got fired, then after finding a new job got the sack, had a flat set up for her and an affair with Gerald, then Eric used her for sex. Mrs Birling refused to help her, which then ended in suicide. Priestly used Eva smith to dispel the notion that the working class had no principles.
Eva would not accept more money from Eric when she knew it was stolen and she is big enough a person to protect him when she meets his mother, even though it is at her own expense. A lesser person with low qualities would have exploited either or both of these men for their money. Showing that people were prejudice then and still are to day. The time period the play was set in showed the way people were treated because of their class. In toady society it comes in may varied forms of prejudice such as racism. Were people are treated depending on their skin colour.
And as time goes on this prejudice will yet again be varied to another. A fair conclusion to this play would be that this play constantly portrays the way people are treated, often one as a dominating superior and the other as a low inferior (i. e. Mrs and Mr Birling. ) But throughout the whole play it is on thing, which determines how someone is treated 'social status. ' It seems that with the "chain of command" that the one with the lowest social status is the one most mal treated. And by a bad chance Eva just happened to be at the bottom of it.
Related Topics