In what ways do obsessions or fixations affect writers, speakers or characters in Heart of Darkness?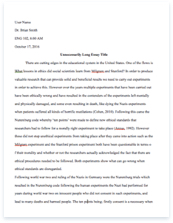 The whole doc is available only for registered users
A limited time offer! Get a custom sample essay written according to your requirements urgent 3h delivery guaranteed
Order Now
Joseph Conrad's Heart of Darkness follows the journey of a European captain, Marlow, up the Congo River in Africa in search for a company operative named Kurtz. The novella deals with a number of themes related to morality, all interwoven through Marlow's recounting of his journey. The motif of obsession reoccurs throughout his story in a number of forms; Kurtz's obsession with ivory, Marlow's obsession with Kurtz and finally Conrad's obsession with the irony of imperialism. The manifestations of these obsessions and their effect on the development of the characters' value systems eventually lead to a belief in conditional morality. Conrad's emphasis on undermining the colonist's obsession with morality then creates an irony to the situation, framing this theme of conditional morality within the picture of European imperialism as a whole.
Kurtz's obsession with ivory is one of the central motifs of the novella, and this particular fixation reverberates with the colonialists in general. The search for ivory is one of the pillars of imperialism in this period, and Kurtz is one of the most productive agents of the company in retrieving ivory. This sees him become an important figure set for promotion to higher ranks. However Marlow, and therefore Conrad, shows through his narration the effect that this need to find more ivory has on Kurtz. Kurtz's initial philosophy about colonizing is expressed when Marlow overhears the Manager speaking to his Uncle at the Central Station, "He [Kurtz] bothered me enough when he was here. 'Each station should be like a beacon on the road towards better things, a centre for trade of course, but also for humanizing, improving, instructing.' "(Conrad 58).
Kurtz believes in civilizing the savages at this point, he wants to be able to help 'bear the torch' of Europe's advancement. Later on, he begins to degrade into savagery, he becomes overly obsessed with finding ivory, "Eventually the appetite for more ivory had gotten the better of his – what should I say? – less material aspirations" (93). He becomes unable to resist his fixation, "Mr. Kurtz lacked restraint in the gratification of his various lusts… there was something wanting in him" (95). The final stage of Kurtz's character development is shown when he attempts escape, "I [Marlow] had to deal with a being to whom I could not appeal in the name of anything high or low… There was nothing either above or below him… He had kicked himself loose of the Earth" (107).
Kurtz had abandoned both traditional laws of morality, the Western ways, but had not assimilated into the 'savages'. His fixation on obtaining more and more ivory had led him to become a free agent, applying whatever rules he saw fit. The skulls on sticks outside his cabin were an act of complete savagery to both the Africans and the Europeans, but both still respected Kurtz's character and admired his resolve. Kurtz's obsession with ivory was what had led to him to the point where he had abandoned morality completely, and adopting his philosophy of what can be called conditional morality, acting 'civilly' or 'savagely' depending on the situation.
This philosophy of conditional morality also impacted the character development of Marlow. Marlow had a obsession with understanding Kurtz, he had begun his journey with grand ideas about the colonists. He disapproved of savagery, admiring the Accountant's persistence on dressing well, and constantly reminding himself to remain civil. He showed high disdain for lack of restraint, condemning both his African helper on the boat and Kurtz, "Poor fool! If he had only left that shutter alone. He had no restraint, no restraint – just like Kurtz – a tree swayed by the wind" (85). As an explanation of his obsession with Kurtz Marlow says, "I was curious to see whether this man, who had come out equipped with moral ideas of some sort, would climb to the top after all, and how he would set about his work when there" (55).
He recognizes that Kurtz's values might have changed and as his obsession with Kurtz grew more potent, he begins to be influenced by Kurtz's behavior. Marlow himself realizes this change in his beliefs, "I went up that river to the place where I first met the poor chap…. It seemed somehow to throw a kind of light on everything about me – and into my thoughts" (21). His meeting with Kurtz impacted Marlow in that he become aware of how the way in which he was used to thinking was not necessarily the 'right' way. Conrad shows the final change in Marlow character through his actions with Kurtz's Intended.
Marlow lies to her about Kurtz's last words, but says, "Would they [the heavens] have fallen if I had rendered Kurtz that justice which was his due? Hadn't he said he wanted only justice? But I couldn't… it would have been too dark" (123). At this point Marlow convinces himself that the morality and virtue of which he was proud was not necessarily a virtue, adopting Kurtz's belief in conditional morality. Marlow's obsession with Kurtz had a great impact on his character, it caused a complete alteration of his value system. The significance of this alteration however is not specific to Marlow alone, through it, Conrad adds a universal element to the book, one of the nature of morality itself and how it is not necessarily perfect.
The element of universality that Conrad conveys through Marlow's value system is further carried out through Conrad's fixation on showing the contradiction between the colonists' morality and their actual obsession with imperialism. Conrad creates an irony to both Kurtz's and Marlow's character developments through consistently challenging the morals of the colonialists. The obsession that the Europeans had with colonizing Africa translates here to Conrad's own obsession with undermining the claims made by them.
The claim that the Europeans were dominating Africa to civilize it is contradicted by Conrad's use of the phrase, "the fascination of the abomination" (20). Conrad uses the phrase to reflect the motives of the European colonialists, and their obsession with the 'abomination', imperialism. Conrad continues undermining the colonist's obsessions, "Principles? Principles won't do. Acquisitions, clothes, pretty rags – rags that would fly off at the first good shake. No; you want a deliberate belief" (63). Conrad's criticism of the obsession with alleged morality is not only an echo of Marlow and Kurtz's eventual realizations that morality was not a truthful concept, it is also an echo of his position on European imperialism.
Conrad's emphasis on the motif of obsession in Heart of Darkness carries the theme of conditional morality. Marlow and Kurtz both come to the realization that morality is relative through their obsessions, while Conrad's undermining of the European obsession with imperialism supports that the colonialists' morality is also relative. The motif also supports a number of other themes in the novella, such as the distinction between civilization and savagery and between sanity and insanity. Conrad creates universality in the novella by crafting the motif in a way particular to the novel, but then expanding its effect on the theme in way that allows readers to relate to the issues on a wider level.
Works Cited
Joseph, Conrad. Heart of Darkness. New York: Penguin Books Ltd, 2000.
Related Topics