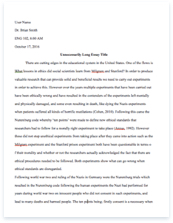 The whole doc is available only for registered users
Pages: 3
Word count: 706
Category:
A limited time offer! Get a custom sample essay written according to your requirements urgent 3h delivery guaranteed
Order Now
The play "In two minds" is now complete; we decided to give it the name "In two minds" because I am literally in two minds. Schizophrenia is commonly associated with spilt personality. Now that my performance is complete I can analyse my performance, I have many strengths and weaknesses thought the performance. In the first half of the play the audience believe that my character is a normal girl who is trapped in a restricting family, they do not yet know that they are seeing the play through my eyes.
Therefore in the first half I must act normal, but bored and tired of my family's strict ways as I am "different from them, that's all" To make my character appear like a normal 17 year old girl my body language and movements must portray this to the audience. In the scenes when I am escaping away from my family such as the fairground and opening scene at a disco, my body language must be relaxed to show that I feel comfortable in the surroundings. Also I will have my hair down to represent freedom and my glasses off to create an individual.
My Body language will change when I am in the presence of my parents, I will be rigid and timid, to emphasise how scared I am of my parents. In the second halve of the play when the audience realise that they are seeing the world through my eyes my body language and movements must change. They change to that a small child, quick uneasy walking, fast, slurred speech and utter confusion painted on my face. Body language change has been a problem within the group, especially between the changes from Parent and friend.
This change becomes obvious in the cinema scene, all three of Lorraine's friends do several changes from parent to friend, and their body language is a key clue to the change. From being lazily sitting on a cinema chair, to straight back rigid, arms crossed for parent. In that scene my body language is split between the position for a friends and parents, to show my confusion between the two. I lay back on the chair but still have my arms crossed.
This scene has been a weakness for me, as I have to be oblivious of what the rest of my friends are saying to each other during the film, to show the separation from my character to theirs. To help me with this I can use part of the Stanislavsky's method of totally getting into the character. Stanislavsky believed that in order to produce a convincing role, one should completely turn into the character they are playing. To do this I need to think of the background and the thoughts that my character will be feeling in the cinema. The main thing on my mind is the aspect of time; time is a theme that runs throughout the play.
I have just been at the dinner table with my parents, for the first time the audience realise that they are seeing through Lorraine's eyes at the table scene, as time seems to speed up before her very eyes. The absolute horror and fear that I will be feeling at the table will still be in my mind in the cinema. I must think of these thoughts and the confusion that I will be feeling. Although I have many weaknesses, throughout the play I experience some strength in my performance. The most powerful moment of my character in the play is my monologue in the final scene, (see final scene for monologue).
The monologue is the first time in the play that I realise that I have a problem and I try to explain it to my parents, I tell them what I hear, see and feel. This monologue is probably my most powerful scene. I think this because I can use emotion memory from a past play that I performed where my character had an obsession with her best friend. Throughout that play I have a few monologues explaining to the audience how I felt. The experience of that Character has given me experience in performing monologues, performing to an audience and it also has helped me apply emotion memory to the scene.
Related Topics