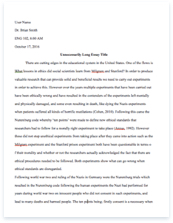 The whole doc is available only for registered users
Pages: 4
Word count: 854
Category:
A limited time offer! Get a custom sample essay written according to your requirements urgent 3h delivery guaranteed
Order Now
Have you ever heard a song that gives you goose bumps all over your body? The way the song is expressed and sung with all those different kinds of emotions are the ones that get to you the most. "Dance with The Devil" by a successful underground rapper, is an amazing song. Reading the lyrics makes you think more into thought about what they do. You'll be shocked once you read them.
In the beginning of the song Technique is talking about how he knew a guy names William, who his primary cared for making easy money. He was a young kid, with the age of thirteen, who was growing up without a father and whose mother an addict. The older the boy got the tougher things he did. "He started hanging out, selling bags in the projects, checking the young chicks, looking for the hit and run prospects" (9-10). He didn't have feelings the minded what was happening. All he cared about was the material objects. As time passed, he dropped out of school to sell weed and to become part of the hustler life.
The hook in the song explains how people always take any easy route, but don't take in consideration of what the consequences will be. Raping, selling illegal substances, and murder is something the devil will make you do if you worship him. He wants to gain power and strength over you and everyone else. "Devils used to be gods, angels that fell from the top" (31). No one could ever be superior, other than god himself.
William, also known as Billy, attempted to have a spot in a crew. To accomplish that he had to steal, get into fights, sell crack cocaine, and to fully prove himself he had to stab someone till they died, cold blooded. The members of the crew wanted to test him before he was admitted. He had a chance to turn back around to his normal life, but the mentality of being a hardcore "nigga" demanded him to meet them Friday night. Friday night, a quarter to three, they drove around the projects. They were enjoying themselves, drinking, smoking and telling each other jokes. They saw a woman walking home from work, late at night. They pulled off to the side and decided to follow her. The guys told Billy, it was a chance to prove himself. Billy was eager to be in the gang, so he abducted the lonely women, covering her face with her shirt. Terrified as she was, they took her to a lobby, and forced her walk up the stairs.
As they were standing in roof top, she did everything she could to try and escape. They started screaming at her saying, "Shut the fuck up, and stop moving around" (70). They stomped and kicked her till she wasn't able to move at all. Blood was leaking from her ribs, and tear drops were falling from her face. Those cowards knew exactly who she was. They continued to rape her violently, they wanted Billy to go first but each and every one of them took a turn. Breaking her jaw, they didn't care. As she was on the floor all bloody, bruised and sore, one of them took out a brand new gun. "They told him she was a witness of what she'd gone through and if he killed her he was guaranteed a spot in the crew" (82-83). He ducked down and pointed the gun to her face.
Before he pulled the trigger and destroyed her life, he had so many thoughts running in his head. They way he sold drugs, and the money he got was all he ever did to be close to his "new brothers". When he seen her face, he started to shake, and blench over. He was starring into the eyes of his own mother. "She looked back at him and cried, cause he had forsaken her, she cried more painfully when they were rapping her" (94-95). What he had done wasn't worth having a spot in the crew. His extortion had changed completely. All her hard work wasn't appreciated. He cried and cried, because he was lonely and scared but only the devil responded cause god wasn't there. At that very same moment he finally found out what it felt to be empty and cold. "And so he jumped off the roof and died with no soul, they say death takes you to a better place but I doubt it after that they killed his mother, and never spoke about it" (104-105).
The message that is given through this song is that money, fame, and riches take you to a whole new level. Doing horrible things to get the material objects isn't worth anything. The mentality people have of illusionating themselves blinds them to realize what they do and who they will do it to. Selling your soul to materialism will kill you.
Works Cited
(Valente saw this. it is fine.)
Immortal Technique. "Dance with The Devil." Revolutionary Vol.1. Lyrics.com January 13, 2013
Related Topics