I Am A Black Woman Analysis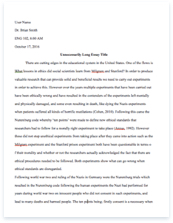 The whole doc is available only for registered users
A limited time offer! Get a custom sample essay written according to your requirements urgent 3h delivery guaranteed
Order Now
When reflecting on history, it is evident that there has been much struggle for Black people, especially woman. The poem, "I am A Black Woman," by Mari Evans, portrays a relationship between Black women of our history and today's society. By the usage of vivid and inspiring words, Evans is able to capture the reader's attention. It is clear that the speaker is a very strong black woman. She portrays this in a way that she describes moments where she has struggled and when other black women of history have struggled as well. She implies that those hard times have made her the person she is today, which is the main point of this poem. In lines 1-2, Evans uses a style of language that portrays that who she is has come from what she has been through and she is proud of it, "I am a black woman/ the music of my song" (1-2).
These lines are saying her pride in being black is her best attribute. In this short line much meaning is present, and can be interpreted many ways. Evans writes, "some sweet arpeggio of tears/ is written in minor key/ and I can be heard humming in the night/ humming in the night" (3-9). An arpeggio is a chord that is played the notes of a chord played in succession, either ascending or descending. This relates to the constant battles that the speaker repeatedly as a black woman.
In the second stanza, the speaker states "I saw my mate leap screaming to the sea and I/with these hands/cupped the life breath from my issue in the canebrake" (10-12). It is seen that the speaker is talking about the past and is reflecting about it. The elaborate usage of words provides the readers with an understanding of what it was that the speaker was refereeing to. These lines depict a horrifying moment where the speaker witnessed her husband or "mate" being taken for slavery and being sent away by sea. Following this, in lines 13-17, its reads, "I lost Nat's swinging body in a rain of tears/ and heard my son scream all the way from Anzio/ for Peace he never knew…. I/ learned Da Nang and Pork Chop Hill in anguish" The speaker reflects on many moments in history that she relates to in her personal life. Although the speaker was not alive during the time, "The swinging of Nat's body" refers to when blacks were being hung when they were fighting for their rights. This relates to when the speaker referred to her son because he was in Vietnam also fighting for freedom and his rights
In the third stanza, Evans uses first person to come back from the past tense she was using in the second stanza. This stanza serves as the conclusion and wraps up the main point that the experiences that black women, like her, have gone through make them "strong." In lines 21-27 it reads, "I am a black woman tall as a cypress/ strong/ beyond all definition still/ defying place/ and time/ and circumstance." The reference to the cypress tree is used to describe the speaker as strong, tall, and able to withstand hard times. The speaker is able to emphasize the beliefs and images about black women being worthless and insignificant in the line "beyond all definition still defying place and time and circumstances."
This is a very powerful statement because regardless of what people thought about black women, they still remained as strong as a cypress tree. The last few lines of this stanza reads, "Assailed/ impervious/indestructible /Look/ on me and be renewed" (28-33). Evans uses very bold words to provide an powerful images for the readers in hopes to instill an understanding of what it means to be a "strong black woman," and why. Evans finishes the poem by saying "Look on me and be renewed" (30-31.) After explaining her experiences and the experiences of others in the past, the speaker is saying to reflect on what she has gone through and reevaluate the many inputs about black women.
"I Am a Black Woman," by Mari Evans is a very powerful and meaningful poem about the hard journey black women of history faced and how it still connected to the time when the poem was written. Evans set a tone that was one of hope but also had a lot of pain and sadness. Evans went from present to past tense foreshadowing and relating two different eras in time to provide a glimpse of what black women had to go through for quite some time. Evans described black women of the past and black women today, explaining the battles they had to overcome and why these battles made them so strong. All in all, the imagery that Evans used thought-out the poem is what makes this poem so amazing. She was able to really grab the reader's attention and explain not only the constant struggles they faced but also the never-ending strength they had throughout history.
Works Cited
Evans, Mari. " I Am a Black Woman." Literature: An Introduction to Reading and Writing. Ed. Edgar V. Roberts and Robert Zweig. 10th ed. New York: Person Longman, 2012. 844. Print.
Related Topics