Human Behavior in Organization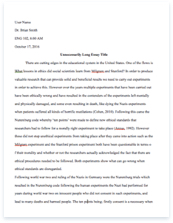 The whole doc is available only for registered users
A limited time offer! Get a custom sample essay written according to your requirements urgent 3h delivery guaranteed
Order Now
The moment we are asked to interview a professional for our subject in Human Behavior in Organization (HBO), the biggest question for me was—who should I interview? Then I was roaming around our house and found my aunt in the living room, watching the television. That's it! , I told myself, who should I better interview than a teacher who were the ones who have inculcated the values and knowledge that person needs and even the successful managers accountants, doctors, engineers lawyers and many others. . Furthermore, they are the one who have molded those individuals who are now experts in their own chosen field. The one that I decided to interview is my aunt, Ms. Melania F. Nortez who is a teacher who has been practicing her profession for 15 years. She earned her degree of Bachelor of Secondary Education at the Central Luzon State University. She worked at Capintalan National High School for 13 years and is currently working at Carranglan National High School (CNHS) as a Technology and Livelihood Education (TLE) teacher.
The first question that I asked her was, "How was your relationship with your co-teachers?" and then she replies, "So far, I have been working well with my co-teachers considering that I've been with them for a year and a half. Although at first it was hard, especially because every one of them has their own personalities and attitudes, so I guess what we always have to do was to adjust." The next thing I asked her was, "Was it always easy for you to work in a team, I mean to blend with your co-teachers?" then she replied, "Not really, as I told you a while ago, every person has their own personalities and attitudes, so adjustment must really be a must." She chuckled, "My first weeks after I transferred in CNHS were the most difficult part, I have new co-teachers except for some who I already know and also the change of environment. I had to really do my best in order for me to make them believe in my capabilities and also to gain their trust." "What motivates you?" my third question. She answered, " I enjoyed teaching the students—that is my biggest motivation, when I got to impart your knowledge with them and share with them my experiences and that hopefully they could learn from it.
One more thing that motivates me is the knowledge that I would also learn from my students, because learning as we know it is a give and take process, right? My students learn from me, and I also earn from them in return." "How do you motivate your students?" motivating them is hard for me honestly, especially at their age, my students are in their teenage years where they start to develop their own viewpoints and beliefs. Sometimes what I do is to give them some extra credits for them to perform and take action." "What is a good leader for you?" "A good leader for me is someone who leads by example. Hindi yung puro salita lang ng salita pero walang gawa (her exact words), particularly in my case as a TLE teacher you really have to show them how things are done. "Do you consider yourself a good leader?" "Somehow, because you know, when you're in the academe, you really have to be one in order to truly make your students learn. And also, from being a good leader, you can be able to affect and influence them effortlessly." she replied.
As I was thinking about this interview that I had with my aunt, I was also trying to ask myself about the questions that I asked her and I realized that at this point of my life I don't really know if I could make myself a good leader someday. Maybe because I was the kind of person that would always go with the flow. I always get carried with the bandwagon and perhaps I could somehow change it, because in life there would never be a captain of your own ship but yourself. As to the motivation part of the interview, I guess what motivates me is personal achievement. I like to work hard for me to get good grades and also to accomplish some goals that I set out for myself, and I am sometimes discouraged when I don't get to achieve them. All in all, the interview went well. The interview had given me a way to look at my aunt not just someone whom I usually mingle with, but an experienced individual who grew flawlessly in her chosen profession.
Related Topics