How fashion professionals are inspired by history and culture?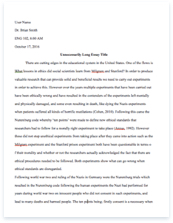 The whole doc is available only for registered users
A limited time offer! Get a custom sample essay written according to your requirements urgent 3h delivery guaranteed
Order Now
It has long been claimed that fashion is a repetition of well-forgotten old. For centuries, designers drew inspiration from ancient cultures and traditions, ancient civilizations, mythical gods and exotic countries. Often the Greek goddesses, who have long manipulated the arts and war, intervened also in fashion. For years the dresses are current, familiar from mythology and the movies with mythological themes – naked shoulder, enchanting sets, lavish tale folds and embellishments of gold. Retro trends, which also inspired designers, recently make an impact and in their collections. One of the most inspired collections in autumn and winter this year is Marc Jacobs, who devoted current trend – points. Karl Lagerfeld's new designs for this year are strongly influenced by Indian culture. White, gold, black, dress saree type, heavily smokey eyes and very beautiful embellishments are the focus of his fashion show. Vivian Westwood shows a series of dresses inspired by the diamond jubilee of the Queen, which were designed for the red carpet events. The models are unique, the colours more than fine – pastel, sparkle and grays, and exclusive patterns.
In the new couture collection spring / summer for "Chanel" the main theme in the views of Karl Lagerfeld's game between the rigid lines of jackets – so narrow that fit like a glove, and fairy multilayered skirts reaching just under the knee. The German designer has developed this idea before, but this time supplementing it with long tweed jackets and shirts with turned sleeves. This collection gives both romantic and modern feelings. The Fashion House of "Christian Dior" is inspired by Egypt. John Galliano recreated the splendor of the ancient state in his new fashion line dresses, decorated with precious stones, suitable for a modern Cleopatra, and mummies, wrapped in black tulle, sequins and glittering in rainbow colors. Christian Lacroix spring/summer collection consists 39 glamorous and expensive-looking, outfits gaining the inspiration from Japan for its – kimonos, tops and jackets.
Lacroix also finds inspiration in 18th century artists Boucher, Fragonard and Nattier and mixed them up with different varieties of ruffles, feathers and fringes, and also the gypsies from his hometown Trinquetoulle, Provence. Lacroix's puffball skirt – a taffeta or satin balloon of fabric that gathered a crinoline at the hem – reinvented the ball gown for the late 20th century. "Personally I've always hovered between the purity of structures and the ecstasy of ornament," says the designer who brought Rococo back to couture. John Galliano is a true fashion chameleon. He became an attractive classic art of haute couture. His collections are awaited with great impatience, as necessary trends. Not accidentally identified as image-maker of the modern woman. American Gothic inspires the theme of John Galliano's fall/winter 2006 collection, and the dark dusty romance of the West lends itself.
Oskar de la Renta was inspired by the Victorian era for his new jewelry collection for autumn-winter 2012/The collection includes large bracelets made of leather and gold rings inlaid with red, emerald, as well as necklaces. While jewelry is not intended for women who like minimalism, it includes decorations for them, such as pink leather bracelet and simple earrings of white and yellow gold. A very well known fashion house was also inspired by the same era and this is Alexander McQueen for its fall 2011. The Victorian era also inspired designers Valentino, Marc Jacobs, Emilio Pucci and Dior. ''Lolita "is a style that originated in Japan, inspired also the by Victorian era, Baroque, Rococo, the fashion of the 50s and so is focused on modesty and elegance. Since the focus is on style modesty, skirts must be at least knee length and under women must wear tights or socks. Breasts or thighs were not allowed to be shown. The ''Lolita'' style clothes are divided into several elements: Onepiece. These are dresses with sleeves. Short or long. Usually worn alone
Jumper skirt, strapless dresses or very thin ones. They are worn with a blouse underneath or alone on hot summer days.
Tops. – Long or short sleeves, usually overflowing with buttons and conservative design. They often have much lace, puffed sleeves or those, which are expanding at the end.
Skirts. With standard or high waist with lace around the edge short or long, in a tone or with prints, a corset or zip ties.
Coats. – With "Peter Pan" style collars with dial-down with or without hood. Important to them is that the coats have to be wide enough to accommodate Lolita skirt underneath it.
Petticoats. – Perhaps the most important part in the clothing of a Lolita. They leaped to make the skirt big and puffed and are therefore important in the Punk also. It is very unlikely to be missed.
Fashion was not well known before and a huge role in promoting it, plays iconic rock guitarist of the Japanese Wood Maliz Mizar, Mana-alone. He is also leading designer at Lolita clothing, and their model. He was also the first Punk and Gothic magazine and in the Lolita. Robin Hood inspired other designers like Roger Vivier and Tiago Marcon. ''I wanted to create some boots that were both feminine and masculine. Sexy: seduction on a horse!" Another fashion house that has recently presented their autumn/winter 2012/2013 collection also inspired by historical element is Givenchy, which brand designer Ricardo Tisci has developed the idea of pre-fall collection, inspired by the clothing for horse riding in the 70s in France.
Elements of menswear designed by Tisci over the years, also influenced the making of the designs. Givenchy's new collection for the next cold season is very strong and involves a lot of strict silhouettes and many pants, borrowed from the male wardrobe. Tisci has also provided different combinations of pants and boots to the knee combined with a short jacket or leather jacket, most of them very suitable for all accompanying events before and after the horse riding event. Dresses from leather with knew length or mini skirt combined with a turtleneck and jacket, or dresses combined with s sleeveless top and cape is another possibility that is not missing. Dresses made in bright colours and decorated with lace are part of the nightly visions. There is a lot of accessorizes that complete the outfits. Wide belts, emphasizing the waist, unique boots that are again knee high, reminding leg covering boot. Short leather gloves complete the collection. Street culture and art is Jean Paul Gautier's new autumn/winter collection for this year.
He presents his favorite punk themes in the form of colorful rebellious hair, combined with visions entirely made of smooth black leather. The designer uses natural fur in the form of large collars or ironically mixed it with artificial materials in the form of hair coats in neon colors. The main reason given in the collection, however, is substandard street art. Colorful graffiti in the form of abstract images and colorful characters sprinkled bulky clothing. They appear everywhere – on tight dresses and skirts of medium length on shirts and on broad casual pants. Even the most formal occasions Jean Paul Gautier's designs are provocative, sexy and bold.
Its various nightly visions consist of long black dresses to the ground with huge slits, a combination of lacy pants and blouse or sweater combination of volume and sex-roll made of colored pieces of leather jackets. After replacing John Galliano with Gaytan, Christian Dior presented a beautiful and feminine collection for the sophisticated lady, which also gain inspiration by the French history and ballet. The designer combines Parisian chic elements of light and enchanting ballet. Solid materials such as wool and tweed are interwoven with delicate chiffon and organza, making the models looks very stylish. There is an additional dose of elegance given by the belts place around the high waist.
A designer can experiment with different patterns, details and proportions, but the end result should be salable. People are looking for fashion that is fresh and innovative, yet it is also practical. This fashion must express the personality of carrying and using it, and be adaptable to this lifestyle. Designers are looking for new ideas everywhere, usually inspired by everyday life. The observation of human activities, clothing, lifestyles of the people and their personalities are commonly used as inspiration for new design and fashion. Information preferences and desires of people providing magazines, movies, sports and the Internet. New trends in fashion coordinate modern lifestyles while providing comfort, functionality and durability. Fashion is an art form that can express the aesthetic reality of the intellect and the type of people. Good design in fashion is created through the use of aesthetic and creative approach.
The purpose of fashion is not just comfort. To provide aesthetic beauty of its design, fashion designers comply with the presence of factors aesthetics throughout design process. During the assembly phase of inspiration, designers often view the available art materials, such as reading books and magazines, and visit museums. The concept of different artistic movements can stimulate their thinking when creating a new collection or product. At the initial stage of the design process designers consider which elements such as color, shape, details and fabrics can be used in order to impart aesthetics of fashion. By balancing these design elements is derived aesthetic beauty. The evaluation phase designers confirm, modify or reject they generate fashion depending on the availability factor of aesthetics. Creativity and originality of design are also determined when evaluating new fashion. The new design should contain something original, something like a new skyline, new combination of materials or design details.
Only thus will have a newly fashionable style used in each season and meeting customer needs. During the years fashion is becoming more important for human culture. Looking at the historical-cultural development of a cultural era can be found at any stage mass agitation by the emergence of innovations in lifestyle, which subsequently acquired a public character. They are universal, but not always perceived or introduced into everyday life. Fashion most often present in the bourgeoisie and elite classes. Due to its material wealth, affluent society innovates and fills their free time through fashion events.
From moods and aspirations of society at different ages it can be seen entering and validating a long period of time given fashion trends and also deleting some of them forever. An example is the clothing and architecture in the famous Rococo period. Hairstyle with surprising dimensions, quantities of expensive materials and architectural pomp – flowers, ornaments, arches and so on. This fashion has long lost its importance and cost, but still use parts of it to create an appropriate, contemporary product. Subsequently, after the emergence of mass culture, fashion becomes a broad, covers and unites different cultures.
Reference list:
http://www.milanoo.com/Lolita-Specials-c634
http://www.elle.com/Fashion/Trend-Reports/Fall-Trend-Guide-Hail-Victoria
http://www.wgsn.com/?q=Home
http://www.vogue.co.uk/fashion/trends
http://weheartit.com/
The Culture of Fashion by Christopher Breward
Vogue Magazine
Wonderland Magazine
Harper's Bazzar Magazine
Related Topics