Hindu-Muslim Conflict in India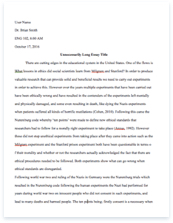 The whole doc is available only for registered users
A limited time offer! Get a custom sample essay written according to your requirements urgent 3h delivery guaranteed
Order Now
India is in the centre of a very serious conflict in the world today. It is a very diverse place composed of people from many different religious backgrounds that come from many different regions. Two of the country's main religions, Muslim and Hindu, have been fighting for hundreds of years for many different reasons. Their feelings of hatred and mistrust for each other are embedded in their memories and will not be forgotten easily. The worst part is there seems to be no initial plan for compromise between the two groups. Though there are many reasons for this conflict, only a few will be touched on. Those that will be touched on are the Islamic attacks on Indian Parliament, the anti-Muslim textbooks, and the Deganga Riots. These are all recent examples of the feud between these two religions and how they are not letting the past go. The Muslim-Hindu relationship is declining and there is no sign of letting up in the near future.
The first reason is one that happened in the past decade and that is the attacks on the Indian Parliament by Islamic military groups. On December 13, 2001, 5 men armed to the teeth attacked the Indian Parliament building. The men used fake official labels to gain access to the building then opened fire once inside. The results of the attack were: five policemen, a Parliament security guard, and a gardener killed, as well as 18 others injured. All 5 gunmen were killed before they could escape. One was shot and killed wearing a explosive vest which exploded when shot. No members of the government were hurt in the attack. This attack greatly angered the government for it was yet another religion based attack and they set all their resources on finding those responsible for the attack. All fingers pointed to the Kashmir, a Islamic militant group, and the Indian government set out to find the organizers of the attack. Then on December 15, 2001, the Indian Police arrested four locals from the Kashmir: a Delhi University lecturer Abdul Rehman Geelani , Mohammad Afzal, Shaukat Hussain Guru and his wife Navjot Sandhu as their prime suspects in arranging and leading the Indian Parliament attack.
All men were sentenced to death but only Mohammad Afzal's sentence was carried out. Abdul Rehman was acquitted from all charges and Shaukat Hussain's sentence was changed to 10 years in prison. Later on, the leader of another Islam militant group, Ghazi Baba, was killed in a raid by Indian forces. Ghazi Baba was believed to be the mastermind on the Indian Parliament attack. (Global Jihad, Indian Parliament Attack http://www.globaljihad.net/view_page.asp?id=538) This is one example of the Hindu-Muslim conflict in the past decade. The Muslim's launched a direct attack against the government and to this day the government and Hindus haven't forgotten it. There are still remnants of that memory in their minds and to this day Muslims are affected by it. This grudge is one of many that need to be forgotten for peace to return to India.
The second reason for the continued feud is when Hindus produced anti-Muslim textbooks and distributed them to schools. In 2004, the curriculum taught to school children was changed and textbooks were rewritten to promote anti-Muslim teachings to the children. Over 100,000 textbooks were written and distributed and now they all have to be scrapped. It is said that those who wrote the textbooks were hand-picked by the Hindu Nationalist Administration. The textbooks depicted India's Muslim rulers as barbaric invaders and the medieval period as a dark age of Islamic rule which extinguished the greatness of the Hindu empire that came before it. (Another rewrite for India's history books. Randeep Ramesh) The textbooks ignore the Muslim elements of Indian history, and offer childish and one-sided views of Muslims as not quite Indian. (Indian Muslims – Beleaguered and Alienated, Amit Pandya, http://www.stimson.org/spotlight/indian-muslims-beleaguered-and-alienated/)
Here is an example of a direct Hindu attack against Muslims. They rewrote textbooks and taught kids to hate Muslims and completely disregard them as important historical people. They stole the truth from the books and replaced it with their own false teachings. This sounds familiar to what happened in WWII when Hitler had all textbooks rewritten to promote anti-Judaism. All textbooks have been disposed of and new ones are being used but this attack is still fresh in the minds of Muslims and Hindus. This is not something to be easily forgotten but it is something that needs to be for relations between them to be restored to a peaceful nature.
The third and final reason is the Deganga riots which happened little more than 2 years ago. On September 6, 2010, riots broke out in Deganga after a comment was made when a religious procession was passing by a disputed plot of land. The military had to be called out to quell the mobs rampaging through streets throwing stones at the police. They could not be held under control by personnel of the Rapid Action Force, the Central Reserve Police Force and the Border Security Force. Nearly 200 armed troops had to be called in and the mobs were dispelled. The military had not been needed ever since riots in 2007 over religious writings. The riots resulted in no deaths but nearly 30 people, including two policemen, injured. (Army out after Deganga rioting, http://articles.timesofindia.indiatimes.com/2010-09-08/kolkata/28268373_1_deganga-army-personnel-senior-army-official) The riot started because there was an old conflict over what land was whose. The comment made the others angry for they assumed the land was theirs. Mobs formed and rampaged through the streets all because of a piece of land. Seems sort of a dumb thing to fight over but with past attacks on each other still fresh in their minds, they grew angrier and their judgment was based on hatred and revenge. Should there have been no past conflict, this comment would be discussed in a peaceful manner with little or no retaliation. Just goes to show how forgive and forget is a lot better than holding a grudge.
The Islam attack on Indian Parliament, anti-Muslim textbooks, and Deganga riots are only a few reasons for the declining Hindu-Muslim relationship. Each was an attack against the other religion using either physical force or promoting untrue and discriminatory statements. Reconciliation between these two groups won't be easy with fresh memories from past attacks, but with a little time it can be done. Without any attempt to create peace, their relationship can only go downhill from here. Holding a grudge is easy but wrong, and forgiving and forgetting is harder but it is right thing to do.
Related Topics