Group Therapy Assumptions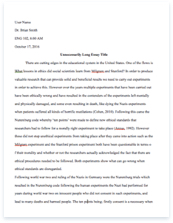 The whole doc is available only for registered users
A limited time offer! Get a custom sample essay written according to your requirements urgent 3h delivery guaranteed
Order Now
The very mention of the word group therapy likely generates a varying images and thoughts. Though this aspiring practitioner possesses no personal experience with formal group therapy, experience in informal contexts suggest group counseling has the potential to be more superficial and less meaningful. Drawing on informal counseling experiences, counseling within a group is much more difficult than with individuals. In a group, individuals feel self-conscious, intimated and are often unwilling to be vulnerable because they are afraid of being judged by others. My experiences and assumptions have the potential to either hinder or help my ability to provide effective group therapy. First, disillusionment with the ineffectiveness of group therapy may convince this aspiring practitioner that group therapy is a waste of time.
Taken to the extreme, the notion of group therapy will be discarded altogether. If forced in a scenario to provide group therapy, disillusionment will create doubt and convince this aspiring practitioner to superficially go through the motions of group therapy already convinced it will be ineffective and provide the individuals involved with minimal benefits.
Alternatively, disillusionment with group therapy may propel this aspiring practitioner to exert intense effort to create a group therapy setting that will facilitate meaningful interaction. The only way to validate the accuracy of these assumptions is to compare them to literature and exposure to group experiences. Rosenthal (2005) partially validates my assumptions indicating resistance to group therapy is a common thread especially in the beginning stages of group therapy.
Kivlighan and Miles (2007) confirm perceptions and attributions are a very important theme of group therapy. Additionally, Karau and Elsaid (2009) indicate the range of individual differences in beliefs about groups. In light of this information, it is essential for every individual (whether a practitioner or client in a group setting) to evaluate their assumptions and beliefs before beginning or leading group therapy. As the practitioner leading group therapy it is essential to address perceptions and attributions of group therapy in order to ensure therapy will be successful (Kivlighan & Miles, 2007).
References
Kivlighan, D. r., & Miles, J. R. (2007). Content themes in Group Dynamics: Theory, Research, and Practice, 1997-2002. Group Dynamics: Theory, Research, And Practice, 11(3), 129-139. Karau, S. J., & Elsaid, A. M. M. K. (2009). Individual differences in beliefs about groups. Group Dynamics: Theory, Research, and Practice, 13(1), 1–13. Rosenthal, L. (2005). Resistance in group therapy: The interrelationship of individual and group resistance. Modern Psychoanalysis, 30(2), 7–25.
Related Topics