Group Dynamics Case Study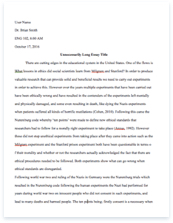 The whole doc is available only for registered users
A limited time offer! Get a custom sample essay written according to your requirements urgent 3h delivery guaranteed
Order Now
I have always had a logical bent of mind, due to this attribute decision making and identifying areas of potential concern or action come naturally to me. This is reflected in the way I think, the way I live and the way I even dream . This innate sense has been a constant enabler and the solution provider of many trivial and serious issues of my life. Since the day realization dawned on me, I knew could somehow grasp many organizational skills naturally, skills which would not come so easily to other kids of my age. In due course of time I got the perfect opportunity for honing this trait in the prestigious organization called Tata Steel, where I worked as a line manager ( 4 Yrs) and managed equipment, spares ,inventory detailing and purchase and work requisition for mechanical maintenance. Leading a team of 7 members ,I had to quickly learn soft as well as organizational skills, whilst making critical decisions, thus in turn learning how to multi task and manage my time effectively. With respect to my organizational experiences, I have chosen to share a few experiences that I have had and will effectively highlight the elements of fundamental attribution error, conflict and motivation in them Company Overview:
At Tata Steel, every employee is responsible for the scale and scope of initiatives that one takes, with the organization supporting the endeavor through various sources. Countless opportunities await one who has the drive, the tenacity and the dream to go beyond the obvious and achieve glory.
Freedom to Work
Besides giving our employees the complete freedom to work, we encourage them to revolutionize themselves instead of letting the system limit their growth. So as a Tata Steel employee, if you are confident of handling extended responsibilities beyond your defined area of work, we give you the platform to outshine the best in the world. Sincerity of disposition and excellence in work is all that it takes to make a mark in this global organization.
Work Culture
Believing that an individual only realizes his true potential when he is given the opportunity to think and act differently, Tata Steel gives its people complete freedom in taking initiatives and shaping their career paths. The work culture of the Company ensures that when you undertake a responsibility, you are in full charge of leading it to success. We understand the importance of aspirational goal setting and encourage employees to take calculated risks and be creative and original in pursuing ambitions and dreams. Every employee has the independence to harness individual interests and make use of all the opportunities and resources available in the organization. So if you have the passion for excellence, Tata Steel will provide you with the platform to soar high.
The Case –
Ravi Shankar had a very difficult week. He was not able to concentrate on his work. His performance was getting hampered. He started ignoring his colleagues and remained aloof. P Ravi Shankar was in his mid-40s and belonged to the economically weaker strata of the society. He started working at the age of 21. Having lived in slums and seen the adversities since childhood he had become a strong person by nature. But he wanted to change his future for which he worked really hard. He learnt some technical skills and started working in Tata Steel as a fitter. Later he got married and had three children. He joined the Union at his workplace. At the age of 44 he had reached the designation of Foreman which was the highest in the workers' hierarchy in Tata Steel. Gautam, 39 years old, was assistant foreman in Tata Steels. He had joined Tata Steel under P Ravi Shankar 8 years back. Gautam respected Ravi and they shared a very cordial relationship. Ravi had been a friend and a mentor to Gautam throughout this time. Gautam had been observing change in Ravi's behavior after Ravi returned from leave. Ravi had stopped interacting with him as well. One afternoon Gautam approached Ravi at lunch time.
He said "You have stopped talking to almost all your friends here. I understand that you are going through a rough time but you should try that your personal problems should not affect your professional life. You can count me for any help that you need." This interaction did not have a major effect on Ravi's behavior. His behavior worsened in the next few weeks. He started coming late and left early. He became disinterested towards work and became reclusive. Gautam at another occasion said, "Yearly hike time is around. I am really worried for you. Please show some seriousness towards work." B D Roy, assistant manager, called Ravi at the yearly discussion time before hike rollout. He said, "Ravi, your performance had not been up to the expectations of the management. All the other workers have performed better than you. Don't be disappointed as this shall get reflected in the hike structure." B D Roy had replaced Raghuveer six months before only. Raghuveer was the manager who had observed Ravi in his best of times. He used to appreciate Ravi for his dedication, caliber, punctuality and mentoring skills. Raghuveer moved out of the company as he got a better opportunity in Bangalore. The new manager Roy did not get much time to interact with Raghuveer and hence had not much idea about his subordinates. After the week Roy joined the company, Ravi went on an emergency leave.
This impacted the production at the plant. Ravi joined back the plant after 2 weeks' time. Roy observed that Ravi was not punctual and disinterested. He found him irresponsible towards work. He called Ravi twice in his cabin and asked him to improve his performance. When he saw that there was no improvement from Ravi's end he gave him the least hike possible. Ravi got a meager hike of 500 Rs. as compared to his colleagues who got more than 5000 rs each. Gautam also got a big hike and appreciations from Roy for his dedication. Next month the workers got promotions. Gautam became foreman but Ravi did not get any promotion as expected. This widened the gap between Gautam and Ravi. Ravi started ignoring Gautam even more. He remained at his desk and hardly talked to anyone in the plant. Despite many efforts from Gautam to approach and talk to him the situation did not improve. Tata Steel suffered a loss in the financial year. There was lot of movement in the management hierarchy of the company. Managers were asked to find out people who could be sacked in the name of cost cutting. Roy had put Ravi's name in that list. Before any decision could have been taken Roy was asked to move to the Kallinga Nagar plant. He was replaced by Satya Tiwari.
Before leaving his office Roy briefed Satya about the situation of the plant including about Ravi. Satya was a rational manager. He did not allow Roy's statements, about the plant and about Ravi, to create a perception in his mind. He wanted to join his office with an open mind. Satya met every worker personally and tried to understand them. Ravi did not speak much in this introductory session also. Satya observed Ravi and his behavior for a month. Satya realized that there was indeed something wrong about Ravi's behavior. But then also he did not reach to any conclusion. He called Ravi in his cabin. "Ravi I have observed you in this last one month. I realized that you are technically very strong. But because of lack of motivation you are not putting efforts. Your past performance does not matter to me. All I want is that you put your best foot forward and act responsibly. I realize that because of some personal issues your work suffered in the past and that impacted your evaluations. But I promise you that your next evaluation will depend solely on your present performance. I have full faith in your capabilities and expect you to rise and act responsibly." That night somebody knocked on Satya's door at 2 in the morning. When Satya opened the door he found Ravi standing there and crying like a child. Ravi was quite drunk. He told Satya about everything. He felt better after this conversation. He had some belief in his new manager and was quite optimistic about his future.
Related Topics