Global Cosmetic, Fragrance and Toiletry Industry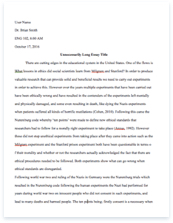 The whole doc is available only for registered users
Pages: 5
Word count: 1099
Category:
A limited time offer! Get a custom sample essay written according to your requirements urgent 3h delivery guaranteed
Order Now
In 2001 Global CFT Industry was highly fragmented in terms of distribution, products, and subcategories of beauty products as well as sales growth rates for the subcategories of the CFT. The sales Growth was driven by product innovation.
Distribution Channel – Direct Selling and multiple subcategories existed within product categories. Other Distribution Channels are Supermarkets, drugstores, Discounters, specialty retailers and department stores. Direct selling remains the firm's modus operandi, but sales also come from catalogs, mall kiosks, a day spa (The Avon Center), and a web site. The company's products include cosmetics (Avon Color), fragrances (Perceive, Women of Earth), toiletries (Skin-So-Soft), jewelry, apparel, and home furnishings.
The cosmetic industry could be divided into 2 categories:
1) Color Cosmetics category: This includes products such as eyeliner, mascara, foundation, concealer, nail polish and lipstick.
2) Hair Care Category: This includes Permanents, Shampoo, Wave-setting lotions, cream rinses, conditioners, hair coloring and hair spray.
The Drugstores was the largest US Retail sellers of cosmetics and hair products.
The Discounters was the largest sellers of Fragrances.
As the case mentions the sales growth varies greatly among the various subcategories of CFT, from exhibit 3 we see that in US which is the largest market for cosmetics, the Mass Merchandise distribution system has had a compounded growth rate of 9.3%, from 5.6 billion dollars in 1996 to 6.8 billion dollars. Other notable distribution system is the specialty stores which have grown up to 9.4% in 2000. Drugstores and supermarkets also are prominent in the distribution system as there has been a 3% growth in this channel.
From exhibit 4 we see there is a projected increase in the growth of cosmetic industry by 8.7% and also in the skin care segment by 10.3% by 2005 which the industry players can capitalize upon. We also observe that there is projected decrease in the growth rate in Hair care industry reducing from 25.9% in 1996 to 25.2% in 2000 and a projected growth of 21.6% which sums up the compound average growth rate from 1996-2000 is 5.3%. Similarly there is reduction in the Fragrance industry which shows a compound average growth rate (1996-2000) at 1.7%. These 2 exhibits shows the US market which is the biggest in the cosmetics, fragrance and toiletries and the cosmetic industry itself amounts to 6 billion dollars offers the least growth opportunities.
The other growing markets were Japan and Western Europe which is approximately 8 billion dollars sales in 2001. China and Mexico with 16% annual growth rate and 8% annual growth rate respectively was another prospective country for the CFT Industry. Another observation made was that the growth rates for hair care products, skin care products, fragrances and bath products greatly varied between countries.
Product Innovation:
As mentioned sales increases in the global CFT Industry was primarily driven by Product innovation. The points to be noted are by mid 1990's skincare was the fastest growing product category as the consumers who were primarily late and the early baby boomers focused on wellness and youthfulness.
The Products manufactured was technologically built to focus on not only cleanliness and moisturizing but also antiaging, antipollution, firming, sebum regulation.
Manufacturers formulated products with natural ingredients such as plant extracts, vitamins such as vitamin A, C and E.
Most of the companies started using Retinol, a form of Vitamin A which is an antiaging component. This increased the sales.
Manufacturers introduced products containing plant extracts to be used as antioxidants. We understand that skin care research was basically used by many of the manufacturers in product in creating product differentiation based on all the methods of antiaging.
Innovation also drove sales in the cosmetic and hair care products. Manufacturers invented skin care products which deflected light and thus mask wrinkles. Some manufacturers created innovative lipsticks which lasted for a long periods of time, and which firmed and plumped the lips.
Innovation also took center stage in Haircare Products. Products that touted aromatherapy, herbal or other natural benefits, enhanced hair volume and body. All these characteristic drove sales. The manufacturers also created Gels, waxes and creams which gained popularity as hair treatment products.
The fragrance industry also had innovation by products for aromatherapy and herbal products. Many of the manufacturers increased their product offerings by adding high level of fruit and floral fragrance that provides therapeutic and mood environment.
Consumer Demographics and Cosmetics:
From the case in US and the world the target markets are as follows:
1) Baby Boomers ( antiaging)
2) Teens and Preteens (
3) Young Women (who despised traditional routine of separate cleanser and tones)
4) Women of 20s and 30s (concerned with the effect of aging)
5) Men
6) Skin Color, Tones and nationality
* Baby Boomers accounted for a major population in US and there was a 2 percent growth in this industry in US. The CFT industry focused on their needs of antiaging formulas. This resulted in innovation as well as sales growth in hair care, cosmetics as well as skin care industry.
* Teens and Preteens were another target market for the CFT manufacturers as they constituted of more than 23 million. The basic reason being the high disposable income of around 85 dollars weekly. For example, Givenchy, Donna Karan and FUBU introduced fragrances in 2000 and 01 specifically fro the teens and the preteens. Hence a specialized emerging market.
80% of the teens used complexion care skin care products on daily basis and this was another attractive product category.
* Young Women who hated traditional routine of separate cleanser and tones were another target market for CFT manufacturers who manufactured cleansing wipes such as Nivea and Biore and Johnson and Johnson.
The sales growth in cleaning wipes reached 40% during 2000 and 2001.
* Women in the age group of 20s and 302 were other important target consumers, who were interested in delaying first signs of aging. The product was not antiwrinkle or antiaging but active formulations to reduce wrinkles and skin discolorations. These products such as Alpha Flavon was said to activate the natural ability of skin to delay aging and wrinkles and discoloration
* Another growing target market is men who have started focusing on daily skin care which are easy to use and are fuss-free.
* The Target markets also included people of different color, skin tones and complexions. The darker complexioned consumers such as Afro-Americans, and other dark skinned consumers' needs were different compared to the European consumers.
* Observations indicate that this is one segment of the market which has gone largely unmet. The needs of this target market is basically on skin oiliness, hyper pigmentation caused by abrasions, blemishes or excessive exposure of the sun
* The Skin care needs of the Asian women were again different as emphasis was placed on maintain natural or pain skin tones.
Related Topics