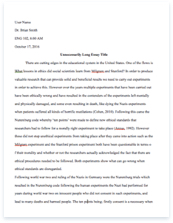 The whole doc is available only for registered users
A limited time offer! Get a custom sample essay written according to your requirements urgent 3h delivery guaranteed
Order Now
It might sound a little silly, but archaeologists can find out a lot about people by looking through their trash. More is told about people's culture and lifestyles by studying there refuse then by asking them directly. Think about what you consider an average week then take a step back and compare the story you would tell and what your trash would tell. The revelation of how different the story's are would astonish you. A person's trash will tell several things about their life and culture including the way they care for their home, what they eat and how much, and how environmentally conscience they are. This is a study of one household's trash collected over one week.
The first thing I have learned from going through the trash is the household lives a clean and sanitary home. Evidence for this finding is the Lysol disinfecting wipes and other house hold cleaning supplies such as kaboom and cleaning gloves. Another thing I have noticed is that the household has pets due to the potty training pads and empty fish bags. Due to the quantity of potty pads and empty fish bags indicate to me that they clean up a lot after a young pet that is currently being potty trained and they either have a lot of fish or have an animal that eats a lot of fish. I also noticed that in the trash there was no baby food, child waste, and or child food which indicates to me that the household has no children.
Secondly there is a rising amount of concern for the environment in American culture and the trash shows similar concerns. Evidence shows that the house hold tries to recycle as well as save energy for instance there is no plastic bags in the garbage which tells me either they use environment friendly bags or reuse/recycle plastic bags. The energy saving light bulb found in the trash tells me they try to save energy either to save money or help the planet. There was minimum plastic, glass, and metal waste in the garbage indicates to me that either all of it gets recycled or there are no items that would produce such garbage. All this shows how the residents try and do their part to help the environment.
Lastly the food waste shows a major impact of modern American culture from fast food to the increased amount of meat consumed. What the food related waste shows me is that the household tries to eat healthy due to the lean pockets, rice cakes, and fruit peels and indicates that even though a balanced low fat diet is being attempted the several fast food bags found shows a fast easy meal is preferred. The cereal and eggo waffle boxes show at least breakfast is eaten at home, but with the lack of more food waste indicates at least one meal is eaten away from the home. There is at least one person on medication pointing out the American view of not preventing or curing the disease but make medication to keep it in check.
In conclusion the whole picture can never be shown by just studying someone's garbage, as we see with these findings. Everything that I have noted and seen in a week's worth's of garbage can only been a guess of what really happens. One has to be unbiased to fully comprehend a culture other than their own since human culture is an ever changing concept motivated by religion, environment, and family. So what is considered truth about someone's life can always be changed by new more understood evidence.
Related Topics