Games Fro Teaching Preschoolers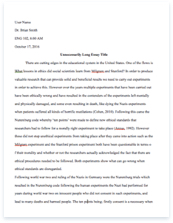 The whole doc is available only for registered users
OPEN DOC
A limited time offer! Get a custom sample essay written according to your requirements urgent 3h delivery guaranteed
Order Now
There are different ways on how to develop the skills of the child; they have their parents who guide them in every step since the very start, there are schools where teachers assist the children in their lessons, and there are multimedia which could be used as an aid for preschoolers to learn. At the age of 3 to 5 years old, a child spends more time playing and less time studying. In order to catch the child's interest to engage in the learning process, we have to find a way which could make him/her enjoy while learning. Most teachers nowadays are changing their approach on how to handle their classes and make the atmosphere between them and the students more suitable for learning. They explore and introduce new ways and techniques in teaching which could make learning process more enjoyable for the students. In preschool, teachers oftentimes initiate activities inside the classroom which is fun for the pupils and at the same time develops the skills of the child.
To improve the learning process of the pupils, teachers are encouraged to use multimedia as a part of their teaching. Integrating a tutoring system in a form of an interactive game in preschool could greatly improve the learning process of the pupils. Aside from the traditional tools used by the teachers in presenting their lesson, this tutoring system could be used as a part of their daily teaching routines. Toddlers, being playful in nature could greatly appreciate this kind of approach in their learning process. To make this tutoring system more effective, we can design an interactive computer game which is based on the children's lessons in preschool. They might find it interesting and enjoyable while they are learning and developing their social and mental skills.
Statement of the Problem
Computer games influence the users much more than they know. It greatly affects the users' different skills in both positive and negative ways. It is this reason that the researchers would like to use this media in developing a tutoring system in a form of a windows-based interactive game which would be used as an additional tool in teaching preschoolers. This study aims to answer the following questions: 1. Is a tutoring system in a form of an interactive game effective in developing the learning skills of preschool pupils? 2. Will this tutoring system in a form of an interactive game improve the comprehension level of the preschool pupils?
Objectives of the study
The objective of the study is to help preschool teachers and pupils in developing a "play-to-learn" environment inside the classroom with the use of interactive activities through multimedia. General Objectives
The general objective of the study is to develop and to know the effectiveness of a windows-based interactive game integrated in an Intelligent Tutoring System as an additional tool for teaching preschoolers in developing their different learning skills.
Specific Objective
These are the following objectives that the researchers would like to achieve.
* To analyze the different learning skills of preschoolers. * To identify the type of games and activities that would get the attention of preschoolers. * To be able to know what specific approach for an interactive game should be used in developing the Tutoring System. * To be able to identify which subject should be given emphasis by knowing the strength and weaknesses of the pupils, specifically the Kinder II – St. Simon of the CDC Department of the Divine Word College of San Jose. * To be able to determine whether the use of an interactive game integrated in an Intelligent Tutoring System could improve the level of comprehension of the pupils or not.
Significance of the Study
Preschoolers
This study would be able to help preschool pupils develop their learning skills as well as their social skills while enjoying themselves by playing the developed game. It would also be able to improve the child's learning process.
Teachers
Teachers would benefit from this study as they would be able to easily catch the child's attention when using this tutoring system. It would make their teaching effective and easily understood by their pupils Future Researchers
Giving emphasis on game development to be used as an intelligent tutoring system could give the future researchers a great idea that they could also conduct similar studies with.
Scope and Delimitation
This study focuses on developing an interactive game in windows platform which would be used as a tutoring system for preschoolers. Children tend to learn more when they enjoy what they are doing. This study aims to prove that children develop better learning skills when they are being taught their lessons in a form of an interactive game. The study limits its coverage to the pupils and teachers of the CDC Department of Divine Word College of San Jose. CHAPTER 2
REVIEW OF RELATED LITERATURE
Pre-school education is the learning program given to children ages three to five or six years in preparation for their formal primary education. It is also known as nursery, day care, or kindergarten schooling (http://en.wikipilipinas.org/index.php?title=Pre-school_education). Pre-school, or early childhood, education (ECEd) operates on a certain framework that includes structural (administration, class size, teacher-child ratio, etc.), process (classroom environment, teacher-child interactions, etc.), and alignment (standards, curriculum) components that are connected to each child involved in the preschool educational system. Teaching preschool looks simple from the outside. In reality, preschool teachers come into a child's life at a crucial developmental age. What happens in that classroom will build a foundation for the rest of the student's academic career. There are certain key strategies that a dedicated preschool teacher must understand and employ (Kristin Wood, eHow Contributor). Child development is a process every child goes through (CASRC, 2008). This process involves learning and mastering skills like sitting, walking, talking, skipping, and tying shoes.
Children develop skills in five main areas of development
(http://www.howkidsdevelop.com/developSkills.html):
1. Cognitive Development
This is the child's ability to learn and solve problems. For example, this includes a two-month-old baby learning to explore the environment with hands or eyes or a five-year-old learning how to do simple math problems. 2. Social and Emotional Development
This is the child's ability to interact with others, including helping themselves and self-control. Examples of this type of development would include: a six-week-old baby smiling, a ten-month-old baby waving bye-bye, or a five-year-old boy knowing how to take turns in games at school. 3. Speech and Language Development
This is the child's ability to both understand and use language. For example, this includes a 12-month-old baby saying his first words, a two-year-old naming parts of her body, or a five-year-old learning to say "feet" instead of "foots". 4. Fine Motor Skill Development
This is the child's ability to use small muscles, specifically their hands and fingers, to pick up small objects, hold a spoon, turn pages in a book, or use a crayon to draw.
5. Gross Motor Skill Development
This is the child's ability to use large muscles. For example, a six-month-old baby learns how to sit up with some support, a 12-month-old baby learns to pull up to a stand holding onto furniture, and a five-year-old learns to skip.
Teaching preschool aged children is largely repetitive. You will need to establish simple learning objectives for the year and repeat them as often as possible. Exercise your patience. The students are unlikely to remember anything the first, second, even fifth time. Be ready to explain the same things over and over (http://www.ehow.com/list_5856458_effective-teaching-strategies-preschool.html). Aside from helping preschoolers with letters and numbers, it is a preschool teacher's job to guide the development of fine motor skills. This can be accomplished through any activity that engages the smaller muscles in a child's hands, toes, lips, tongue and eyes. Fine motor skills also promote good balance and coordination. For decades, educators have been scrambling to find better ways to prepare students for the real world (Greg Ferenstein, 2010). Today, technologically eager schools are replacing textbook learning with social video games, and improving learning outcomes in the process. Using games in a meaningful way within lessons depended far more onthe effective use of existing teaching skills than it did on the development of any new, game-related skills (Richard Sandford, Mary Ulicsak, Keri Facer and Tim Rudd, 2006).
Computer games could become part of the school curriculum after researchers found they had significant educational value (http://news.bbc.co.uk/2/hi/uk_news/education/1879019.stm#map). The UK study concluded that simulation and adventure games – such as Sim City and RollerCoaster Tycoon, where players create societies or build theme parks, developed children's strategic thinking and planning skills. Using gaming in educational settings opens the doors for new possibilities in teaching and learning. Games, if done right, can become a powerful tool to get groups to work together (http://www.wideopendoors.net/educational_technology/gaming.html) According to Elliot Masie, gaming allows learners to "fail to success". This concept of failing forward allows learners to test their limits in a safe environment. In addition, gaming increases muscle memory, or the rehearsal necessary to solidify correct behavior. Computer games encourage different ways of learning, imagination, creativity and exploration. For example, Simulation games could be used as a means of preparing learners for the world of work. Computer games also help pupils to develop key learning skills such as cognitive process, logical thinking and independent decision making (http://www.essayforum.com/writing-feedback-3/essay-advantages-computer-games-6571/).
THEORETICAL BACKGROUND
The integration of technology in the traditional way of teaching is slowly getting shape in the Philippine setting. This study aimed to develop an Intelligent Tutoring System with windows-based interactive to be used as an additional tool in teaching preschoolers.
This is how the traditional way of teaching preschool students works. This will help the proponents to identify how the existing system works and how the researchers can improve it. The theory of Input-Process-Output Diagram. PROCESS
Oral and written evaluation of pupils
OUTPUT
Development of learning skills of pupils
INPUT
Traditional style of teaching using books and visual aids
In the traditional system of teaching, the Input-Process-Output is illustrated in a manual way. The traditional system also shows that pupils are evaluated through written examinations and oral recitations every after lesson which is taught using books and visual aids which could be quite boring for pupils ages 3 to 5.
CHAPTER 3
DESIGN AND METHODOLOGY
This study entitled "Windows-Based Game as an Additional Tool for Teaching Preschoolers" attempts to create an Intelligent Tutoring System integrated with Interactive Windows-Based Games which would be used by preschool teachers in presenting their lessons. This study wishes to depict the benefits of utilizing the available media and advances in technology when it comes to developing the child's different learning skills.
Research Design
The research would utilize both descriptive and exploratory research methods in the conduct of the study. Descriptive research is a method used to obtain information relating to the current status of an issue or phenomenon to describe "what exists" within the variables or conditions of the situation. One of the most common type of descriptive research tools is observation. The researchers would make use of their observations from teacher-pupil interaction inside the classroom in order to come up with a personal description of the answer to the research problem. Exploratory research, on the other hand, is often utilized in order to yield information to explain problems which are not yet clearly defined or the real scope is still unclear. It allows the researcher to familiarize himself/herself with the concepts of the problem under study to facilitate development of insights and hypotheses
(http://www.htm.uoguelph.ca/MJResearch/ResearchProcess/Exploratory Research.htm).
The present study is an exploratory attempt since it would try to gather information regarding the effects of technology of interactive games in the development of the learning skills of preschoolers.
Site Visit
To formally present the letter of request and to have a clearer background, the researchers/developers visited the location of the Divine Word College of San Jose Grade School/CDC Department at Gen. Lukban St., San Jose, Occidental Mindoro.
Data Gathering Procedures
The researchers/developers begin the study by asking permission from the administration. A request letter was addressed to the principal of the Grade School/CDC Department of the Divine Word College of San Jose to allow us to conduct a thesis study on the level of comprehension of the CDC pupils using traditional style of teaching and the possibility of introducing the proposed ITS for teaching preschoolers.
Related Topics