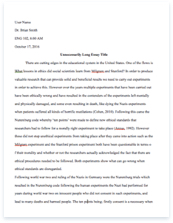 The whole doc is available only for registered users
Pages: 5
Word count: 1058
Category: crime
A limited time offer! Get a custom sample essay written according to your requirements urgent 3h delivery guaranteed
Order Now
Frank Serpico, the renegade cop from New York City made famous by actor Al Pacino in a film about his life as a cop who would not stand for corruption, changed the world of criminal justice. Serpico stood up against police corruption, which he saw first-hand as a New York City police officer. His constant complaints about the widespread corruption he saw in the department made him an outsider. Serpico's courage and determination to expose corruption made him the bravest and most honest man in policing history. Serpico was so determined to rid the NYPD of corruption that he testified against his fellow officers amongst the Knapp Commission to better his department. If more police officers took on such a high standard of courage, honor, and determination as Frank Serpico, Police Departments and the Criminal Justice system in general would become a far better and coherent system. Francesco Vincent Serpico was born on April 14, 1936 in Brooklyn, New York to Italian immigrants.
From a young age, Frank admired the local policemen (Up Against the Cops). He loved detective stories on the radio and dreamed of wearing the uniform. When Serpico turned eighteen, he joined the United States Army and served in Korea for two years (Kilgannon). Upon his return to the United States, Frank decided to go to college to study law enforcement. After graduating, Frank applied to the New York Police Department. He was accepted and on September 11, 1959, he became a probationary patrolman of the NYPD. Serpico officially became a patrolman on March 5, 1960 where he was assigned to the 81st police precinct (Freeinfosociety.com). From the beginning Frank Serpico was appalled at the cliquishness, payoffs, free meals, and the big, blatant bribes from criminals, gamblers, numbers men and ordinary merchants to other officers (Kilgannon). He was already convinced the whole system needed cleaning up, and began carrying extra guns for protection and a concealed tape recorder to gather evidence (Up Against the Cops). Serpico transferred into vice and racketeering and became a plainclothes undercover officer on the street.
As a plainclothes officer, he was involved in drug dealing, prostitution, and gambling (Freeinfosociety.com). At this point, he lived a carefree life, with a small garden apartment on Perry Street in the West Village, where he was known as Paco and hid his police badge. Serpico was already known as an upstanding officer who refused to accept bribes from criminals. He had become despised for it both inside and outside the department (Kilgannon). In 1967, Serpico began to describe the corruption he saw to high-ranked officials at police headquarters and City Hall. He presented names, places, dates, and other information to support his claim, but no action was taken. Frustrated, he and a friend on the force, David Durk, contacted a reporter for The New York Times (Kilgannon). Finally, on April 25, 1970, the New York Times reporter David Burnham published a front-page story about the NYPD's corruption. Burnham also pressured Mayor John V. Lindsay to form the Knapp Commission. As a result of the article, Serpico received numerous death threats and was even assaulted by fellow officers. (Freeinfosociety.com). Even after the article was published, Serpico continued working as an undercover officer, refusing to let death threats weaver his efforts.
He was forced to continue working with other officers that he had exposed, who despised him for it (Up Against the Cops). At approximately 11:00 p.m. on February 3, 1971, Serpico and three other officers were involved in a drug bust. The bust included Serpico along with Officers Gary Roteman and Arthur Cesare, who were waiting in a car in front of an apartment building, and another officer, Paul Halley, who was standing in front of the building. Serpico then climbed up a fire escape to listen in on the heroin deal (Freeinfosociety.com). The two men involved in the deal then left the building, where Officer Halley swiftly apprehended them. Officer Roteman then instructed Serpico to enter the building and show interest in buying heroin so they could enter the dealers' apartment. When he approached the dealers' door and indicated that he wanted to buy heroin, the door opened slightly, so Serpico began to enter the apartment. The dealer then slammed the door shut, pinning him in the doorway (Freeinfosociety.com). Officer Serpico was then shot in the face. He called for help, but no one answered; the officers that Serpico was with had left him for dead.
Eventually, an elderly Hispanic man came to his aid and called an ambulance. Serpico was permanently deafened in his left ear and the fragments of bone lodged in his brain cause him chronic pain (Kilgannon). After recovering from his wounds, he went on to testify against corruption in front of the Knapp Commission, an act that no other police officer would have the bravery to do. I hope that police officers in the future will not experience the same frustration and anxiety that I was subjected to for the past five years at the hands of my superiors because of my attempt to report corruption.
We create an atmosphere in which the honest officer fears the dishonest officer, and not the other way around. The problem is that the atmosphere does not yet exist in which honest police officers can act without fear of ridicule or reprisal from fellow officers, Frank Serpico said before the Knapp Commission. (Freeinfosociety.com) Frank Serpico's testimony to the Knapp Commission forced a massive reform in the New York City police department. Although change was not immediately seen, Frank Serpico's testimony brought national attention to police corruption, which put police departments under a microscope and led to reforms. Frank Serpico was the model for an honorable, brave, and outstanding police officer that upheld his duty to fight crime no matter where it may have come from. If more police officers took on such a high standard of courage, honor, and determination as Frank Serpico, police departments and the Criminal Justice system in general would become a far better and more coherent system.
Works Cited
Freeinfosociety.com. N.p., n.d. Web. 2 Oct. 2012. <http://www.freeinfosociety.com/article.php?id=402>. Kilgannon, Corey. "Serpico on Serpico." Nytimes. N.p., 22 Jan. 2010. Web. 2 Oct. 2012. <http://www.nytimes.com/2010/01/24/nyregion/24serpico.html?pagewanted=all&_r=0>. "Up Against the Cops." Time 31 May 1971: n. pag. Academic Search Complete. Web. 2 Oct. 2012. <http://web.ebscohost.com/ehost/detail?vid=4&hid=113&sid=db82acf1-9acd-4b29-94c1-76b831cee14d%40sessionmgr114&bdata=JnNpdGU9ZWhvc3QtbGl2ZSZzY29wZT1zaXRl#db=a9h&AN=53806670>.
Related Topics