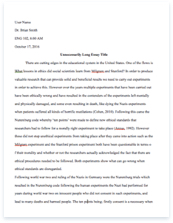 The whole doc is available only for registered users
A limited time offer! Get a custom sample essay written according to your requirements urgent 3h delivery guaranteed
Order Now
It was the first day of Teacher Appreciation Week in 3rd grade, and no one really did anything for their teacher except maybe give them a hug and say thanks, or maybe the occasional suck up would give them candy. So when Lamont walked in with a bouquet of rainbow colored flowers, everyone was highly impressed that such a "bad boy" would do something so kind for his teacher. That day he shocked everyone who paid attention, but his actions made me bitter. At the beginning of 3rd grade, a new boy moved to my school. It was rumored he got expelled from his old school for fighting, smoking, or doing other unimaginably bad things and that's why he had to move. But I, on the other hand, was the model student; perfect grades, never talking in class, and teachers just adoring me was the reputation that I loved to fulfill. But one of my biggest flaws at the time, as many can teens can attest, was my fashion sense. My clothes made me look like the dorky goody goody I was deep down inside. My staple attire contained: one oversized t-shirt, one pair of jeans with holes in the knees, one sweater tied around my waist, and to top it all off a messy, horrifyingly frizzy and poufy ponytail.
But as a little eight year old kid, I wasn't one to consider the appearance of my clothes important, but rather the functionality of them. I personally, had no interest in involving myself with such an uncontrollable student—I later learned his name is Lamont—. But he did not have the same idea. When he ended up moving into my class he took it upon himself to really get to know me. Every day, before class started, he would walk up to me with a smug smile and mockingly say, "Hello beautiful." I would always reply in answer, "Goodbye ugly." and storm away. I wasn't acting like the nice little girl all my teachers knew, but then again, he wasn't the nice little boy that I was used to talking to either. But no matter what I would say to make him leave me alone, he would always come the next day: "Hello beautiful." This was the little game he liked to play. He knew what he did made me frustrated and mad, and that is why he would not stop. But boys had cooties so I was supposed to stay far away from them; or at least that's what my mom had always told me to do.
So later when he escalated his greeting by asking me out every day, I would always say no and run away. One day though, I really lost my cool. When Lamont walked in with a bouquet of flowers on the first day of Teacher Appreciation Week, everyone was highly impressed that such a "bad boy" would do something so kind for his teacher. Everyone expected him to hand the flowers to the teacher ̶ it was teacher appreciation week after all ̶ but that is not what he had in mind. The entire class had their mouths open wide as he simply dropped the flowers on my desk and continued to his own seat. After a silent moment of realization, every person in the class started to laugh. I furiously snatched the flowers off my desk and rushed outside, tears streaming down my cheeks, and anger and humiliation filling my heart. I threw the flowers by my backpack and thought angrily inside, "How could he do that to me? Everyone was laughing at me! Is this what he wanted, just to humiliate me in front of everyone?"
After that traumatic event I avoided him entirely; not letting him have the satisfaction of mocking me anymore with his dumb game. I would be very short and rude around him, in hopes it would make him not want to be around me, but he just ate it up. The madder I got, the more he irritated me, and the more he irritated me, the more I knew he would never stop. Now that I am older and think about the story, I laugh to think that the most traumatic, humiliating, and unimaginably terrible moment of my elementary life was because of flowers. Looking back I realized all my anger, hatred, and frustration towards Lamont was totally uncalled for.
If the same situation happened now, when I'm 14 years old, there is no way I would be so mean. I now can see, without hate and anger blinding me; that the humiliation I felt wasn't really for a good reason. Maybe, Lamont really did like me; maybe I was just too young to understand that, and maybe I missed an opportunity for friendship. Although I didn't learn anything back in 3rd grade, I did learn six years later, that anger will always shield your perspective on life. It always makes you do things in a way unbeneficial for yourself and those around you, and always makes you become someone you want to be: angry and eventually alone.
Related Topics