Figurative Language in the song "25th Floor" by Patti Smith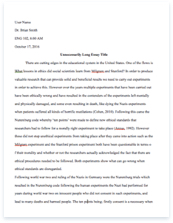 The whole doc is available only for registered users
A limited time offer! Get a custom sample essay written according to your requirements urgent 3h delivery guaranteed
Order Now
Patti Smith's song "25th Floor" is a song about the rigid structure of society. In the beginning of the song, the ladies' room has lost electricity, so they explore the men's room, at which she says "we don't give a shit," which means that they don't care what others think about what they are doing. This introduction, when taken in the context of the entire song, gives the song heavy undercurrents of anarchism and feminism. Going into the men's room symbolizes their rejection of social rules and, at the same time, of the segregation between men and women, where men are almost always "superior," as symbolized by the men's room having electricity while the ladies' room does not. She then wants to explore the 25th floor, which may symbolize her desire to ascend and escape from the bounds of social convention.
Zeus and Christ, who are "up there," are then mentioned Zeus and Christ are both masculine figures, and both are "at the top." Thus these two figures represent the whole of what anarchism and feminism wants to remove from society, which is patriarchy and rigid social hierarchy. She wants to destroy the "veil of smoke" which man calls order (again, patriarchy and social hierarchy).
She then speaks of the "transformation of waste," where "waste" refers to the current evils in society. The desire to create something valuable from something worthless is inside all of us—this refers to the noble intentions of people, which oftentimes become misdirected. She says that "all must not be art; some art we must disintegrate," which means that however valuable the current social structure may seem to be, it may be worth it to destroy it and try something else.
She then says that she is "waiting above for you baby," meaning that she is waiting for the rest of humankind to "see the light." She is then "…floating… on boundaries over this world," meaning that she has, is some way, escaped from the rigid structure of society, although she is "floating," which is a way of saying that she is somewhat helpless and cannot really control her environment. All she can do is wait.
Related Topics